Samuel L. Jackson, the Swearing King, will teach us how to curse in 15 languages
September 15th, 2020 under Samuel L Jackson. [ Comments:

none

]

Samuel L. Jackson is as known for cursing in his movies as much as starring in them. Now, the mother f*cking actor will teach us how to cuss like him. In not one, not two, not three, but 15 different languages.
Since there is always a catch, what is his? He needs 2,500 of us to go to HeadCount.com, and make sure we are registered to vote. If you are not, then you can do it via this page. Once you are done with that, then you can make your Vote Plan.
Once enough of do this, then we will be able to swear like a sailor in multiple languages. That is something we are going to need to know how to do on November 3rd when the news declares the winner.
If you want to curse with your winning candidate, then you have to register to vote and actually vote. This way when Donald Trump loses we can call him a 💩 and 🍑🕳️ in many different tongues. If he wins, then we can say 🐂💩 in ways, we never knew we could.
Happy f*cking voting, mother f*ckers!
UPDATE: Want to see his titalacious tutorial, then click here!

---
Samuel L. Jackson wants us to 'Stay the F*ck at Home'
April 2nd, 2020 under Jimmy Kimmel, Samuel L Jackson. [ Comments:

none

]

Remember when Samuel L. Jackson read "Go the F*ck to Sleep"? Well, Jimmy Kimmel asked the legendary bad a$$ to read an updated version of the book called "Stay the F*ck at Home."
When it aired on ABC the other night, there were a lot of words that were bleeped out, for some reason. Today, Jackson released the uncensored version and it is so much f*cking better. Then again, the actor could read bleep 100 times, and it would still be the best audiobook on the market. However, all of his audiobooks are better when they are filled with four-letter words because he is Hollywood's biggest MoFo.
While, he can say all of the words I grew up saying, I cannot use them on here. F@ck, sh!t. I will just stay the f*ck at home and think about that.

---
Ryan Reynolds has seen better days
March 12th, 2019 under Better Days, Ryan Reynolds, Salma Hayek, Samuel L Jackson. [ Comments:

none

]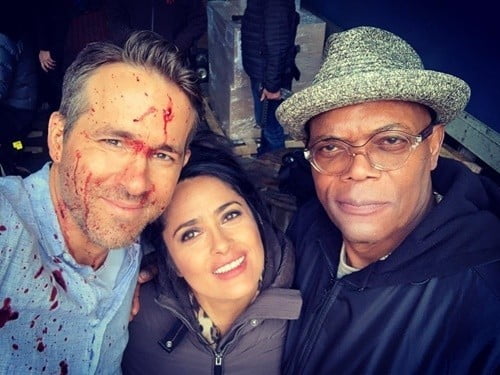 Ryan Reynolds posed with his costars Salma Hayek and Samuel L Jackson, and there is something bloody different about him. He is covered in blood and they are not.
Why? All we know it is for the sequel to their movie The Hitman's Bodyguard, The Hitman's Wife's Bodyguard. Wonder if they take him out? Since production began earlier this month, not much is known about the film.

---
Samuel L Jackson was college cheerleader
March 8th, 2019 under James Corden, Samuel L Jackson. [ Comments:

none

]

Back when Samuel L Jackson went to college, he was a cheerleader. James Corden had to know more, so he asked the actor about it on The Late Late Show the other night.
The man, who is in like every movie, explained that he did it to meet girls because Moorehouse was an all-male school. Now it makes sense, right?
Now, you know him, you know his cheer was going to have at least one curse word in it, and it did. He would be like, "James, James, he's our man. If he can't do it, f*ck him!" And that is why Jackson is the baddest MoFo in Hollywood and why we love him!

---
Samuel L Jackson was a Sugar Plum Fairy!
January 15th, 2019 under Kelly Ripa, Ryan Seacrest, Samuel L Jackson. [ Comments:

none

]

Before he was Mother F*cking Samuel L Jackson action star, he starred in his aunt's production of The Nutcracker as the Sugar Plum Fairy. Hard to believe? Yes, and sadly there is not photographic proof that it happened. We just have to take his word for it.
He also told Kelly Ripa and Ryan Seacrest how he got into ballet today on Live with Kelly and Ryan. It was not that he wanted to be the next great ballet star, it was because his aunt was a dance teacher who had not boys in her class. Thus, he was the go-to male. I am sure that is something he did not mind when puberty kicked in.
Now, that we know he was trained in ballet when are we going to Snakes in Swan Lake? The dancers have to pirouette their way to safety from the Mother F*cking snakes. Actually, can you curse in ballet? If not, then it cannot be done.

---