Ryan Reynolds has seen better days
March 12th, 2019 under Better Days, Ryan Reynolds, Salma Hayek, Samuel L Jackson. [ Comments:

none

]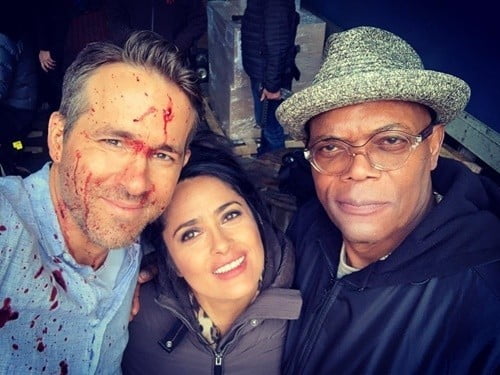 Ryan Reynolds posed with his costars Salma Hayek and Samuel L Jackson, and there is something bloody different about him. He is covered in blood and they are not.
Why? All we know it is for the sequel to their movie The Hitman's Bodyguard, The Hitman's Wife's Bodyguard. Wonder if they take him out? Since production began earlier this month, not much is known about the film.
---
Samuel L Jackson was college cheerleader
March 8th, 2019 under James Corden, Samuel L Jackson. [ Comments:

none

]

Back when Samuel L Jackson went to college, he was a cheerleader. James Corden had to know more, so he asked the actor about it on The Late Late Show the other night.
The man, who is in like every movie, explained that he did it to meet girls because Moorehouse was an all-male school. Now it makes sense, right?
Now, you know him, you know his cheer was going to have at least one curse word in it and it did. He would be like, "James, James, he's our man. If he can't do it, f*ck him!" And that is why Jackson is the baddest MoFo in Hollywood and why we love him!
---
Samuel L Jackson was a Sugar Plum Fairy!
January 15th, 2019 under Kelly Ripa, Ryan Seacrest, Samuel L Jackson. [ Comments:

none

]

Before he was Mother F*cking Samuel L Jackson action star, he starred in his aunt's production of The Nutcracker as the Sugar Plum Fairy. Hard to believe? Yes, and sadly there is not photographic proof that it happened. We just have to take his word for it.
He also told Kelly Ripa and Ryan Seacrest how he got into ballet today on Live with Kelly and Ryan. It was not that he wanted to be the next great ballet star, it was because his aunt was a dance teacher who had not boys in her class. Thus, he was the go-to male. I am sure that is something he did not mind when puberty kicked in.
Now, that we know he was trained in ballet when are we going to Snakes in Swan Lake? The dancers have to pirouette their way to safety from the Mother F*cking snakes. Actually, can you curse in ballet? If not, then it cannot be done.
---
James Corden gets shafted by Samuel L Jackson
August 15th, 2017 under James Corden, Samuel L Jackson. [ Comments:

1

]

I never thought of James Corden as a brave man, but turns out he is one because he challenged Samuel L Jackson to Drop the Mic on The Late Late Show last night. Which is a Rap Battle and there is no way the CBS late night host had a chance of winning. He gave it his best shot but the biggest M*ther F*cker in Hollywood dominated it all before he even said one single syllable. Jackson treated his opponent like a snake on a plane and he was sick of it. And yet Corden gave it his best shot, but just did not have chance in hell.
---
Samuel L Jackson acts out his motherf*cking career!
March 9th, 2017 under James Corden, Samuel L Jackson. [ Comments:

none

]

Samuel L Jackson has been in so many movies, even he doesn't know how many it has been.
Yesterday, on The Late Late Show, James Corden and him acted out a small fraction of them from Pulp Fiction to Soul Men with some huge hits in between like Snakes on a Place, Star Wars: Episode I and II, Shaft and many more in an 11 minute retrospect that will make you stand up and applaud his amazing work through the decades.
There is a reason why he is in so many films because no one takes over a scene like the biggest MoFo in Hollywood, Samuel L Jackson!
The best part of this highlight reel was watching him laugh hysterically when something went wrong because he is always serious in his movie. He needs to do a movie where he really gets to let go and have some fun. Could you imagine Ice Cube and him doing a straight-up comedy? Actually we would be laughing the hardest because both of them would try their hardest not to crack.
---