What are Samuel L. Jackson's substitute words for Mother F*cker?
March 25th, 2022 under Ellen DeGeneres, Leslie Jones, Samuel L Jackson. [ Comments: none ]
Samuel L. Jackson likes to use curse words when he acts, especially the phrase Mother F*cker. However, not every channel can air that phrase during the broadcasting of his movies. Therefore, he has to come up with new phrases that are PG for the TV networks that can't use words like that.
Today when Jackson was on The Ellen DeGeneres Show, he told Leslie Jones, who was filling for Ellen, what substitutions he uses MoFo. They are monkey fighter, Marilyn Farmer, and my friend. The latter is the best one because it is like bless your heart.
What do you use for alternatives for curse words?

---
Santa knows that Samuel L. Jackson being off the naughty words is Pulp Fiction
November 11th, 2020 under Ads, John Travolta, Samuel L Jackson. [ Comments: none ]

Samuel L. Jackson and John Travolta reunited for a Capital One commercial, and Christmas came early this year for us. I have no idea what was going on, but it brought a smile to my face that I can't turn upside down. It is the joy that 2020 has been longing for, and we finally got it.
Now, we need someone to give them a holiday movie because Travolta is a natural Santa Claus. It can be an odd couple film like Santa and Krampus, or in Jackson's case Crapmus. Just one requirement, Quentin Tarantino can't direct it. It needs to be a comedy and not a bloodfest.

---
Samuel L. Jackson, the Swearing King, will teach us how to curse in 15 languages
September 15th, 2020 under Samuel L Jackson. [ Comments: none ]

Samuel L. Jackson is as known for cursing in his movies as much as starring in them. Now, the mother f*cking actor will teach us how to cuss like him. In not one, not two, not three, but 15 different languages.
Since there is always a catch, what is his? He needs 2,500 of us to go to HeadCount.com, and make sure we are registered to vote. If you are not, then you can do it via this page. Once you are done with that, then you can make your Vote Plan.
Once enough of do this, then we will be able to swear like a sailor in multiple languages. That is something we are going to need to know how to do on November 3rd when the news declares the winner.
If you want to curse with your winning candidate, then you have to register to vote and actually vote. This way when Donald Trump loses we can call him a 💩 and 🍑🕳️ in many different tongues. If he wins, then we can say 🐂💩 in ways, we never knew we could.
Happy f*cking voting, mother f*ckers!
UPDATE: Want to see his titalacious tutorial, then click here!

---
Samuel L. Jackson wants us to 'Stay the F*ck at Home'
April 2nd, 2020 under Jimmy Kimmel, Samuel L Jackson. [ Comments: none ]

Remember when Samuel L. Jackson read "Go the F*ck to Sleep"? Well, Jimmy Kimmel asked the legendary bad a$$ to read an updated version of the book called "Stay the F*ck at Home."
When it aired on ABC the other night, there were a lot of words that were bleeped out, for some reason. Today, Jackson released the uncensored version and it is so much f*cking better. Then again, the actor could read bleep 100 times, and it would still be the best audiobook on the market. However, all of his audiobooks are better when they are filled with four-letter words because he is Hollywood's biggest MoFo.
While, he can say all of the words I grew up saying, I cannot use them on here. F@ck, sh!t. I will just stay the f*ck at home and think about that.

---
Ryan Reynolds has seen better days
March 12th, 2019 under Better Days, Ryan Reynolds, Salma Hayek, Samuel L Jackson. [ Comments: none ]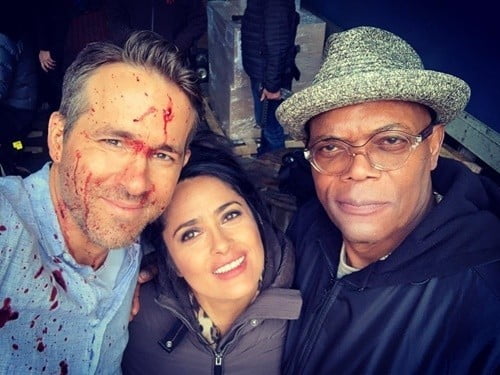 Ryan Reynolds posed with his costars Salma Hayek and Samuel L Jackson, and there is something bloody different about him. He is covered in blood and they are not.
Why? All we know it is for the sequel to their movie The Hitman's Bodyguard, The Hitman's Wife's Bodyguard. Wonder if they take him out? Since production began earlier this month, not much is known about the film.

---