Is Seacrest out of American Idol?
September 20th, 2019 under American Idol 9+, Ryan Seacrest. [ Comments:

none

]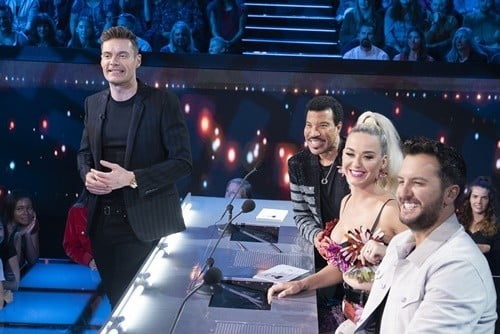 Earlier this summer, ABC announced that Lionel Richie, Luke Bryan, Katy Perry and Bobby Bones will all be back on American Idol next year. However, there was one name missing from the list and of course, it is AI original Ryan Seacrest.
Today, after months of is he or isn't he, we finally got our answer. The host is going to Hollywood! He had this to say about embarking on his 18th season with the show, "It's the greatest gift to be able to play a part in discovering new talent with a franchise that has been such a relevant part of American culture for so many years."
Are you happy he is back or were you looking forward to a change? I was hoping they would have gotten a new host. It needs to grow up now that the singing competition is no longer a minor.
---
Seacrest Out?
August 5th, 2019 under American Idol 9+, Ryan Seacrest. [ Comments:

none

]

ABC announced today that Lionel Richie, Luke Bryan, Katy Perry and Bobby Jones will all be back on American Idol next year. However, there was one name missing from that group. It is Ryan Seacret. The only on-air talent who has been with the show since the beginning.
Does that mean he is making like his catchphrase and Seacrest out? Karey Burke
President, ABC Entertainment, said, "We are in ongoing conversations with Ryan and we hope he will be returning."
No reason was given for the delay, but I am sure it is a money issue. Does he really need more of it? He hosts and produces so many shows, what it is going to do with all of that dough? The other reason, I am assuming for the delay, is that he does not want to be traveling back and forth from New York to Los Angeles every week for the singing competition show.
If he does leave Idol, it makes you wonder what his future with Live with Kelly and Ryan will be. Most TV contracts are three years and this is his third year on the morning talk show. I would not be surprised if he left at the end of his contract. The same way it was hard for me as an NYer to live in Atlanta, I am sure it is hard for that boy from Atlanta to live in NYC.
Would you miss him on Idol?
---
Is Luke Bryan losing it on American Idol?
April 18th, 2019 under American Idol 9+, Katy Perry, Lionel Richie, Luke Bryan. [ Comments:

1

]

Lionel Richie shared a video of Luke Bryan dancing for Katy Perry after a long day of filming at Disneyland, and I think the Country singer might be losing it. I mean how else can explains those moves? They are those of a drunk guy at the bar around 3a trying to pick up the last few women that are still there and not someone who is a judge on American Idol. Which makes it a good thing that dancing is not one of the requirements for the singing competition or he would not be sitting at the judges' table.
---
Luke Bryan made me cry on American Idol!
March 25th, 2019 under American Idol 9+, Luke Bryan. [ Comments:

none

]

Yesterday, Colby Swift gave one heck of a performance on American Idol, but Luke Bryan was focused on something else. The singer noticed that the contestant's boots had holes in the soles, so Bryan gave him the boots off of his feet. Which was a really noble and sweet gesture, and it made me cry.
That is what American Idol is all about giving someone who really deserves a chance for a better life, one. I hope Swift makes to the top 10 and ultimately wins because he also has a really has a great voice.
When it comes to Bryan, it just made me like him a whole more and I already love him.
---
Would you say that American Idol and The Voice are the same show now?
May 22nd, 2018 under American Idol 9+, The Voice. [ Comments:

none

]

I don't know about you, but I have not watched The Voice nor American Idol in years. Therefore, I would not know how different or similar the two shows are these days. Thankfully, I have Twitter to do that for me.

Adam Shapiro was able to point out something that the two shows have in common this season. Not that they are singing competitions. Not that American Idol is represented on both of them. What he noticed is that the finalists for both shows look almost identical. On the ABC show, they had Caleb Lee Hutchinson and Maddie Poppe. Meanwhile, on the NBC one, they have Britton Buchanan and Brynn Cartelli.

Therefore, if Cartelli wins tonight like Poppe won last night, then we know both shows are the same and we are right not to watch either. But let's be honest if we had to choose, we would always choose…The Voice.

UPDATE: The blonde girl one proving that both shows are the same but on different networks.
---