Carrie Underwood is hitting the road with Guns N' Roses
May 31st, 2023 under Axl Rose, Carrie Underwood. [ Comments: none ]
Jesus, take the wheel because Carrie Underwood is the special guest for three Guns N' Roses shows in August.
Those two go together like milk and Pepsi. But then again, I like that combo. So maybe it will work.
But not everyone can be a Donny & Marie song. You know, a little bit Country, a little bit Rock'n'Roll.
We shall see if you go to see them at Moncton, Montreal, or Nashville. Are you going to rock with them in one of those Paradise cities?

---
Carrie Underwood wants you to listen to her legs
February 24th, 2023 under Carrie Underwood. [ Comments: none ]
Carrie Underwood couldn't wait to model her new pair shiny black pants, but there is only one problem with them. When she walks, it makes the same sound as when you rub two balloons together.
Could you imagine if she wore them at a concert? All of her fans would think that she was farting every time she moved. They would be like Jesus better take the wheel and get her to the bathroom.

---
Will Carrie Underwood still be pretty when she is older?
February 9th, 2021 under Carrie Underwood. [ Comments: none ]

Carrie Underwood tried the old filter out on her and her husband, and the effect was very different for both of them. Mike Fisher is a sexy silver fox. When it comes to his wife. Jesus take the wheel because she looks like a witch.

That app is sexist but very funny. Well, to everyone but the American Idol.

---
Carrie Underwood quits the CMAs
December 31st, 2019 under Carrie Underwood. [ Comments: none ]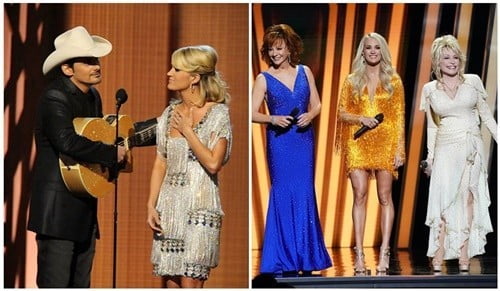 For the last 12 years, Carrie Underwood has hosted the CMA Awards for ABC, but she will not be back for lucky 13. The singer feels that she cannot top last year's show, so why try. She posted a long letter explaing her decision why.
One of the highlights of 2019 and of my entire career so far was being on stage with the legends that are Reba and Dolly Parton. I'm so proud that we could celebrate the incredible female artists that are part of the legacy of country music, past, present and future, and I'm thankful for the huge audiences all over the world that tuned in to see it. It's hard to believe that it was my 12th year hosting and I will always treasure every show, from the 11 that I was so lucky to do with my partner in crime and friend for life, Brad Paisley, to sharing the stage with two of my all-time heroes. I'm so incredibly grateful to everyone involved with the CMA Awards all these years. It's hard to imagine topping what we have accomplished together, so I've decided that it's time to pass the hosting torch (at least for now!) to others that will cherish it and honor it as much as I do. I've got so many exciting things coming in the new year and beyond, and I can't wait to see what the future has in store for all of us. #blessed #MemorableMoments
Will you miss her? I say they should replace her with Trace Adkins. He is the Ricky Gervais of Country Music. You never know what he is going to say, but you know it will be funny.

---
Carrie Underwood is cheesy!
June 21st, 2019 under Carrie Underwood. [ Comments: none ]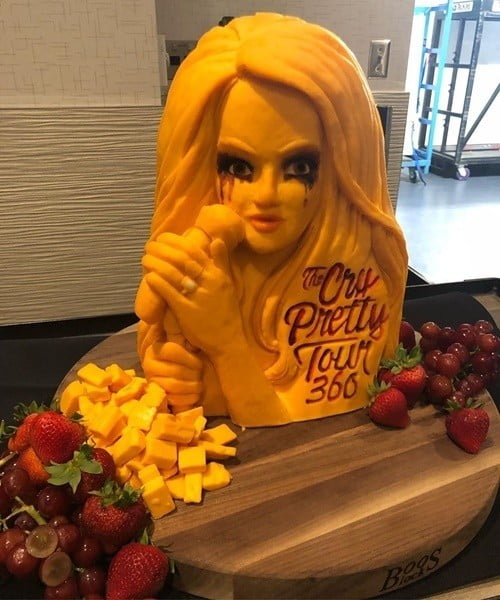 Carrie Underwood played the Fiserv Forum in Milwaukee, Wisconsin yesterday and they had a beautiful gift waiting for the singer in her dressing room. A bust of her made with 40lbs of cheese and it left her speechless.
If someone made me that as a present, then I would be crying ugly. I love cheese so much and that would be the best thing anyone could ever get me. The only problem is that I could not eat my own face. Therefore, I would keep it until it is old moldy. Which might not be a good thing.
Seriously, you got to love Wisconsin, don't you know. Because they carve things like this out of cheddar. While the rest of the country does ice, they do cheese! Now that is a talent!

---