Carrie Underwood is cheesy!
June 21st, 2019 under Carrie Underwood. [ Comments:

none

]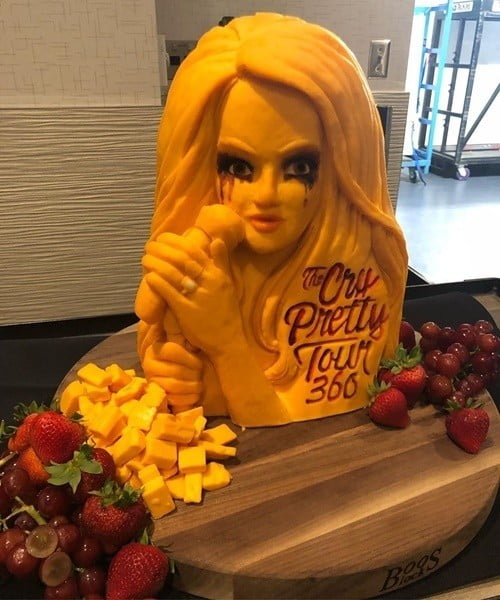 Carrie Underwood played the Fiserv Forum in Milwaukee, Wisconsin yesterday and they had a beautiful gift waiting for the singer in her dressing room. A bust of her made with 40lbs of cheese and it left her speechless.
If someone made me that as a present, then I would be crying ugly. I love cheese so much and that would be the best thing anyone could ever get me. The only problem is that I could not eat my own face. Therefore, I would keep it until it is old moldy. Which might not be a good thing.
Seriously, you got to love Wisconsin, don't you know. Because they carve things like this out of cheddar. While the rest of the country does ice, they do cheese! Now that is a talent!
---
Carrie Underwood finally had her baby!
January 23rd, 2019 under Carrie Underwood. [ Comments:

none

]

Is it just me or does it seem like Carrie Underwood has been pregnant for like ever? Not anymore. Today she announced, "Jacob Bryan Fisher entered the world in the wee hours of the morning on Monday…his mom, dad and big brother couldn't be happier for God to trust them with taking care of this little miracle! Our hearts are full, our eyes are tired and our lives are forever changed. Life is good…"

As she said this her and Mike Fisher's second child. The couple, who have been married for 8 years, have a son, Isaiah, who turns 4 next month.
---
Carrie Underwood is shows off her little baby bump
August 11th, 2018 under Carrie Underwood. [ Comments:

none

]

Earlier this week, Carrie Underwood announced that she is pregnant with her second baby with husband Mike FIsher. Yesterday, she showed off her growing belly at the Grand Ole Opry and it is cute just like her.

She has not said how far along she is, but I am assuming she is between 4-5 months. I would not be surprised if she had a Christmas baby. What about you?
---
I guess Carrie Underwood is not too old to have more kids
August 8th, 2018 under Carrie Underwood. [ Comments:

none

]

Less than a week after Carrie Underwood, 35, told Redbook that she is too old to have a large family, she announced that she is pregnant with her second child with Mike Fisher.
The singer did not say when she is due, but we can make some assumptions after listening to her announcement. She will not be starting her tour until May, so you can pretty much assume she is due in either January or February to give her some time with baby #2 before she hits the road.
The couple, who just celebrated their 8th anniversary, have a 3-year-old son named Isaiah.
---
Carrie Underwood does her first interview since her accident
April 19th, 2018 under Carrie Underwood. [ Comments:

none

]

Back in November, Carrie Underwood took her dogs for a walk and she lost her balance going down the steps outside her house. That fall caused her to break her wrist and get 40 stitches on her face.
After she announced her accident, she went radio silent for almost 2 months. Then she took to her website and revealed that she is going to look different. Over the next three months, she gave us glimpses of her face, but we did not get to see it all until Sunday at the ACMs. It was then, that we were all like she looks the same.
Today, she sat down with Bobby Bones on his radio show and he asked her about it. She told them that she got lucky in the healing department and that is why she looks the same. The American Idol also revealed that she is also wearing a lot of makeup and even her son, Isaiah, says it covers the scar.
When it comes to what part of her face she needed the stitches on, she motioned that it was pretty much from her nose down to her chin. Front and center. Thankfully, she healed up and we cannot notice. Not that we would care.
---