Alfonso Ribeiro welcomes his fourth child
May 14th, 2019 under Alfonso Ribeiro. [ Comments:

none

]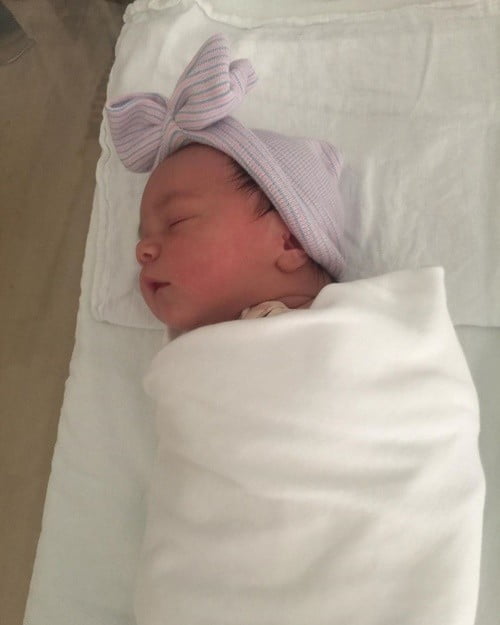 Alfonso Ribeiro and his wife Angela welcomed their third child together, his fourth. His wife went into labor on Mother's Day, but Ava Sue Ribeiro waited until yesterday to come out.
The actor has a 16-year-old daughter with his first wife and 2 boys, Alfonso, 5, and Anders, 2, with his Angela. I just realized that this couple, who have been married for 6 years, is naming all of their kids with names that start with A. Who do they think they are, Kris Jenner?
---
Did Alfonso Ribeiro just hint something Fresh Prince related is in the works?
May 9th, 2019 under Alfonso Ribeiro, Steve Harvey, Will Smith. [ Comments:

none

]

For years, whenever Alfonso Ribeiro was asked if we could get ever get a Fresh Prince of Bel-Air revival, he said no. Carlton is on Steve Harvey's show today and he explained why it would not happen.
The first reason is that Will Smith makes too much to do TV again. The second is that without James Avery, who passed away in 2013, it would not be the same. Then he told Harvey, "Now I won't say that there can't be a spinoff or a different kind of reboot or something like that." Then he added, "In terms of a true Fresh Prince of Bel-Air remake, yeah, that won't happen."
This is where it gets good. He put on that hinting voice and said: "But, I mean, but, I'll say, there's maybe, some things can happen." What those things are, we don't know. But that is the first glimmer of hope he has ever given us. Thus, it is OK to do a slow Carlton Dance but not a full-fledged one just yet.
---
Belinda Carlisle got the beat on Alfonso Ribero
December 19th, 2018 under Alfonso Ribeiro. [ Comments:

none

]

Earlier this week, it was revealed that Alfonso Ribero is suing Fortnite for a likeness they have to this Carlton Dance during the game. Even though he made those dance moves famous it was not the first time we saw them.
We actually saw then nearly a decade beforehand by The Go-Gos and Belinda Carlisle wanted him to know that. She wrote, "i would suggest that he takes a look at early gogo's….. in fact he should look at the 'head over heels' video from 1983…. :)) no such thing as an original idea…" With that, she showed him that not heaven but hell is a place on earth!
Maybe it is time for The Tap Dance Kid to take a Vacation on his lawsuit. BTW he cannot use the excuse that he was doing that Broadway show when that video was all over MTV. We might not have had MTV in Riverdale back then but we had Friday Night Videos and American Bandstand on our TVs for free. Sorry to sell out a JHS alum, but I have to give this beat down to best girl group of all-time. Yeah, better than Destiny's Child, I said it!
Anyways, no one tell Carlisle and Ribero that the Yeti in Candy Crush Friends does that same dance when you win a round with him.
---
Alfonso Ribeiro had to choose between Fresh Prince and Different World?
November 2nd, 2018 under Alfonso Ribeiro, Larry King. [ Comments:

none

]

Back in 1990, Alfonso Ribeiro guest starred on A Different World and they really liked him. So much so, they wanted to bring him back on the show.
Around that same time, he auditioned for a show with some guy who went by Fresh Prince and got that part. Now he had to choose which sitcom he wanted to be on. A blessing and a curse for any actor.
Was the decision hard for him? He told Larry King, "I made the decision to go with the Fresh Prince of Bel-Air cause I really believed there was something special about him and the show."
It was a huge risk to go with a barely known rapper over an established show, but I think we can all agree he made the right choice. Imagine a different world without the Carlton dance? Let's not because it is too sad to think about.
UPDATE: Alfonso Ribeiro revealed that he and his wife, Angela, are expecting baby #3, his fourth, next year.
---
Alfonso Ribeiro quashes our Fresh Price revival hopes
October 9th, 2017 under Alfonso Ribeiro, Revivals-Reboots. [ Comments:

none

]

If you have been hoping that Fresh Prince of Bel-Air would join shows like Full House, Will & Grace and The X-Files and get a revival series, then I have some really bad news for you. Alfonso Ribeiro told ABC News, it is never going to happen. Then he elaborated, "I can never say never, but I feel really confident in the fact that we would never do it."
Then Carlton explained why, "When James Avery passed [in 2013], it was basically the last possibility of the show coming back in any form." He says that Will Smith feels the same way about playing the role that made him a star, but added, "I don't know whether other people would want to do it. But, I just feel like, you know, the past is the past. We have to kind of just let it go."
I have to wonder if he does not want to do it because he does not want to do the Carlton dance every week. I mean after all, the Tap Dance Kid did win Dancing with Stars and can do more than just dance like that.
Are you sad Homes that we won't we will not be going to Bel-Air again?
---