What is Mandy Patinkin actually got his own Jeopardy category?
July 2nd, 2019 under Jeopardy, Mandy Patinkin. [ Comments:

none

]

Out of all of the celebrities, Mandy Patinkin was not one of the ones I would expect to get his own category on Jeopardy. However, for some strange reason, he got one yesterday.
I was not the only one shocked by this decision. The contestants saved his category for last. How did they do? They did the same as me and got four out of five right. Which is impressive because neither Homeland nor Dead Like Me were on the board. What does the game show have against those Showtime shows? Dead Like Me was the best show he quit.
Who would you want to see get their own category next?
---
The Rock got his own category on Jeopardy
June 19th, 2019 under Jeopardy, Kevin Hart, The Rock. [ Comments:

none

]

Some might say that The Rock getting the Generation award at MTV on Monday night proves that he has truly made it. Not even close. "Mr. Dwayne Johnson" getting his own category on Jeopardy really proves it. How many people can say that? How many people want to say that? Who wouldn't?
When it comes to the category, it was pretty easy for anyone who is a fan. However, they had a lot of fun with one clue, "In Central Intelligence, Dwayne teamed up to catch a spy with this actor of small stature." Of course, it is Kevin Hart. You know, as soon as DJ saw this, he cut just that clue out and made it is his ringtone for his best friend. Then he sent it to Hart and was probably like, "You made Jeopardy in a category dedicated just to me, the Scorpion King! You were just a little mention." The fun DJ is going to have with that! So much!
When it comes to the category, I got all of them right unlike the contestants. How did you do?
---
BTWF: James Holzhauer on The Chase
June 4th, 2019 under Before They Were Famous, Jeopardy. [ Comments:

none

]

Before James Holzhauer held the record for single-day winnings on Jeopardy, he still holds that title on The Chase. He looks the same now as he did when he was 29 in that 2014 episode.
---
What is, is James Holzhauer's Jeopardy winning streak ending tonight?
June 3rd, 2019 under Jeopardy. [ Comments:

none

]

Whether you watch Jeopardy or not, you have heard about James Holzhauer's incredible winning streak on the game show. He has won 32 games and $2,462,216 so far. Tonight is his 33rd appearance and it looks like it will be his last.
Somehow Goliath got his hands on tonight's episode and it shows the champion finally losing during Final Jeopardy. Is it real? We will find out.
If he really does lose, then that means he did not beat Ken Jennings' grand total of $2,520,700. A record amount he has been held since 2004.
Ironically enough, according to RetroNewsNow, Jennings started his unbeatable winning streak 15 years ago yesterday. When something begins something else must ends. Someone somewhere said that.
---
What is Alex Trebek is 'near remission'?
May 29th, 2019 under Jeopardy. [ Comments:

none

]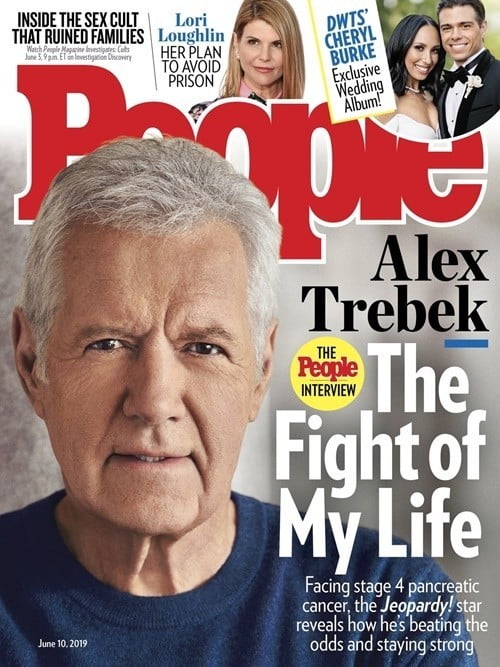 Back in March, Alex Trebek revealed that not only was he hosting Jeopardy, but that his life is also in jeopardy. The beloved talk show host told his fans that he is battling fourth stage pancreaatic cancer which has less that a 10% chance of survival.
Today, the 78-year-old told People magazine that his doctors say he is "near remission." He says that the chemotherapy is working so well, that "The doctors said they hadn't seen this kind of positive result in their memory…some of the tumors have already shrunk by more than 50 percent."
Even though he is "near remission," he is not in remission. He still has several more treatments to go through before he can say that. Until then, he will continue to fight.
However, he needs something for all of us. The love and support has been getting him through this, so keep on sending him those vibes. Then when it is time for him to begin taping the new season of his show, he can tell us all that he is cancer-free.
Alex, I will take miracles for $1,000!
---