What is, do you know what happened to the cast of In Living Color?
September 13th, 2023 under Jeopardy. [ Comments: none ]
In Living Color launched the careers of several of today's biggest stars, including an Oscar winner, a Tony winner, and the Wayans brothers.
So, Jeopardy wanted to see if the contestants knew what happened to the cast of the sketch comedy since it ended its run on Fox in 1994.
It turns out they do know what happened to them After In Living Color. But do you? Press play and find out.

---
What is, is Mayim Bialik out of Jeopardy?
August 31st, 2023 under Jeopardy, Mayim Bialik. [ Comments: none ]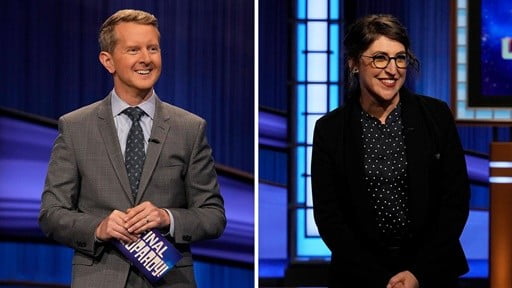 I don't know about you, but I don't know anyone who likes Mayim Bialik as a host on Jeopardy. And now we know that she will not be back hosting Celebrity Jeopardy on ABC. Instead, Ken Jennings is taking over the role.
So, was the actress fired? "She wasn't fired," an insider told The Messenger. "She's choosing to stand with her union, and because of that, she was told it is unlikely she will return for the rest of the year, even if the strike is resolved before then."
So what about the daily show? She is hoping to split duties with Jennings again when the strikes are over. But will they want her? We know we don't.

---
What is, do you know your Cereal Mascots?
August 8th, 2023 under Jeopardy. [ Comments: none ]
Snack, Crackle, Pop are as famous as their cereal Rice Krispies. And they are not the only Cereal Mascots that most people know.
Jeopardy just wanted to see how well three people know them, so the breakfast characters got their own category on the game show.
Would it be a cereal killer for the contestants, or would they make a cereal killing?
All I will say is that I finished that category like the last drop of milk in a bowl of Cap'N Crunch.

---
What is, did you know this is how these bands got their names?
June 26th, 2023 under Jeopardy. [ Comments: none ]
Jeopardy is an educational show. But most of the stuff they teach me I don't care about. However, thanks to the category Musical Act Etymology, I was actually interested in the lesson that they taught me.
I learned that a singer from one of the rockingest bands came up with their name while reading books on UFOs. How out of the world is that? Do you know which band it is? I am not going to tell you. You are just going to have to watch the video above to find out.

---
What is, how well do you know Andrew Lloyd Webber?
June 1st, 2023 under Andrew Lloyd Webber, Jeopardy. [ Comments: none ]
Andrew Lloyd Webber is one of the most successful Broadway producers of all time. Therefore, it would make sense that Jeopardy would give him his own category.
And if the producers of the game show are smart enough, they will ask him to read the answers to the contestants. And if Webber is smart enough, he will say yes. So they asked and he agreed to do it.
Yesterday, he made his Jeopardy debut, just like he made his Broadway debut in 1971. Can you guess which show was the first one of his to hit the Great White Way?

---