BTWF: James Holzhauer on The Chase
June 4th, 2019 under Before They Were Famous, Jeopardy. [ Comments:

none

]

Before James Holzhauer held the record for single-day winnings on Jeopardy, he still holds that title on The Chase. He looks the same now as he did when he was 29 in that 2014 episode.
---
What is, is James Holzhauer's Jeopardy winning streak ending tonight?
June 3rd, 2019 under Jeopardy. [ Comments:

none

]

Whether you watch Jeopardy or not, you have heard about James Holzhauer's incredible winning streak on the game show. He has won 32 games and $2,462,216 so far. Tonight is his 33rd appearance and it looks like it will be his last.
Somehow Goliath got his hands on tonight's episode and it shows the champion finally losing during Final Jeopardy. Is it real? We will find out.
If he really does lose, then that means he did not beat Ken Jennings' grand total of $2,520,700. A record amount he has been held since 2004.
Ironically enough, according to RetroNewsNow, Jennings started his unbeatable winning streak 15 years ago yesterday. When something begins something else must ends. Someone somewhere said that.
---
What is Alex Trebek is 'near remission'?
May 29th, 2019 under Jeopardy. [ Comments:

none

]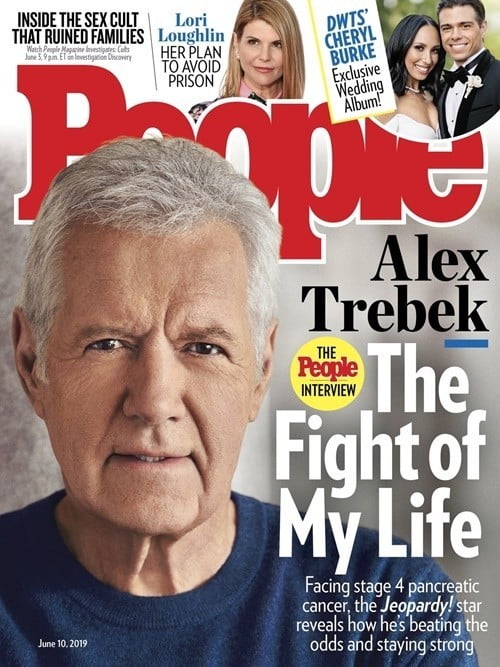 Back in March, Alex Trebek revealed that not only was he hosting Jeopardy, but that his life is also in jeopardy. The beloved talk show host told his fans that he is battling fourth stage pancreaatic cancer which has less that a 10% chance of survival.
Today, the 78-year-old told People magazine that his doctors say he is "near remission." He says that the chemotherapy is working so well, that "The doctors said they hadn't seen this kind of positive result in their memory…some of the tumors have already shrunk by more than 50 percent."
Even though he is "near remission," he is not in remission. He still has several more treatments to go through before he can say that. Until then, he will continue to fight.
However, he needs something for all of us. The love and support has been getting him through this, so keep on sending him those vibes. Then when it is time for him to begin taping the new season of his show, he can tell us all that he is cancer-free.
Alex, I will take miracles for $1,000!
---
BTWF: James Holzhauer on The Chase
May 15th, 2019 under Before They Were Famous, Jeopardy. [ Comments:

none

]

Before James Holzhauer was on an unbelievable winning streak on Jeopardy, he broke two records on The Chase. He looks the same now as he did when he was 30 in that 2014 episode.
---
Alex Trebek gives a speech worthy of his Daytime Emmy win!
May 6th, 2019 under Emmys, Jeopardy. [ Comments:

none

]

Alex Trebek won Outstanding Game Show Host at the Daytime Emmys yesterday and his speech was award winning. The Jeopardy host, who is battling fourth stage pancreatic cancer, told the audience that he did not want to win due to sympathy votes. Then he realized that last year when he was nominated, he just had surgery to remove two blood clots in his brain that could have killed him.
If that did garner enough votes for him to win, then it caused him to have a realization. He realized he is like Sally Field, as in he explained, "I look at this as a sign, you guys like me and that you value my work." Then he added, "If that's the case, I can live with that."
It is that warmth and humor which is why he won that award. It was not about sympathy votes, it was all about honoring the best game show host on television. He will again next year and he will be there to accept the award again!
On another note, I had not seen Days of our Lives Kristin Alfonso in a while. What has she done to her face? I did not recognize her at first and then I was like, girl stop with fillers.
---