Barbara Corcoran washes her own floors
July 28th, 2020 under Shark Tank. [ Comments:

4

]

Barbara Corcoran recently showed us that she, not a maid, actually cleans her own bathtub. Now, she is showing us that she also washes the floors in her bathroom.
Isn't this shocking that Shark Tank Shark, who has enough money to buy companies, does her own dirty work?
She doesn't clean the floors like the rest of us, so she showed us her fun trick. First, she sprays the dirty area with Windex. That is right, the real estate mogul uses something you can buy in Walmart for $3.
Back to her method of maidness, get it? Sorry. Corcoran then puts two hand towels on the floors, steps on them, and then glides on the floor like an ice skater. Then when the whole area is cleaned, it is time to turn the cloths over and repeat the motion to dry the tile.
The Shark has almost as much fun doing that as when she beats Kevin O'Leary out on a deal on Shark Tank.
---
Shark Tank leaves Los Angeles
July 28th, 2020 under Shark Tank. [ Comments:

1

]

Due to people not wearing masks in Los Angeles, television production has barely begun in the city. While the Soap Operas are back at work, very little else is, and it doesn't look like much else will start anytime soon.
Wendi McLendon-Covey revealed this weekend that The Goldbergs has no set start date because of the pandemic. The Bachelorette fled their LA mansion for a remote undisclosed resort. The dating show is not the only ABC series to change locals. Deadline is reporting that Shark Tank will be filming their 12th season in Las Vegas.
The site says that the crew and Sharks are staying in one location to minimize their risk to catching COVID-19. Even though the show airs over 22 weeks, they actually only film over 2, two-week time periods. This way they can rush out half a season in a quarantine period.
Looks ABC's fall will now pretty much be The Bachelorette, Shark Tank, and Dancing with the Stars. I wonder if the latter will go to Vegas too. Imagine Bruno Tonioli in Vegas? Good thing what happens there, stays there.
BTW I hope for their first episode they have products that can help us fight the coronavirus pandemic like masks, hand sanitizers, and ultraviolet lights.
---
Barbara Corcoran cleans her own bathtub
July 20th, 2020 under Shark Tank. [ Comments:

none

]

Barbara Corcoran has a lot of money, otherwise she would not be one of the sharks on Shark Tank. Therefore, you would think that the mogul could afford to hire people to clean her bathtub. If I had that money, I would. However, she is a better person than me, so she does it herself.
Does she the most expensive cleaner out there? Nope, she uses Soft Scrub. The same thing you and I use. Who knew we used the bathroom cleaner used by millionaires. Don't you feel all fancy now?
Especially, after you see her using old socks as gloves. She is just like us. Except her bathroom is much nicer than ours.
---
Is Mark Cuban in trouble with the law?
September 16th, 2019 under Do they have something to tell us?, Nathan Fillion, Shark Tank. [ Comments:

none

]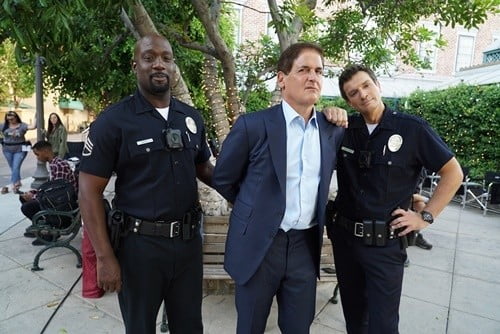 Mark Cuban was seen in handcuffs being escorted away by two police officers. Does that mean the mogul is going from the Shark Tank to the drunk tank? Nope, it was just Cuban, Nathan Fillion and Richard T. Jones having some fun behind the scenes of the season premiere of The Rookie.
You can see the Mavericks owner twice Sunday, September 29th on ABC. First on the business reality show and then on the police procedural. Where he might or might not be arrested.
---
Shark Week is getting its own movie
July 10th, 2019 under DIscovery/TLC, Shark Tank. [ Comments:

none

]

Discovery released their schedule for Shark Week and they are doing something they have never done before. Throughout the years, they have done documentaries and talk show, and this year they are doing their first original movie called Capsized: Blood in the Water with Josh Duhamel and Tyler Blackburn on July 31st.
The telemovie is, "Based on the harrowing true story of an October 1982 shark encounter. After a yacht bound for Florida capsizes during an unexpected storm, its crew is left to drift for days in the chilling waters of the Atlantic where they become prey to a group of tiger sharks. With the hope of rescue dwindling, the crew must do everything in their power to survive as the sharks continue to hunt them."
Not only that, but they are also doing a Baby Shark special. Just joking! Why aren't they doing anything with Baby Shark, it seems like a no brainer. No?
To what they are doing this year, then click here!
---