Bad Boys meets Coming to America
October 30th, 2019 under Eddie Murphy, Martin Lawrence, Strange Encounters, Tracy Morgan, Will Smith. [ Comments: none ]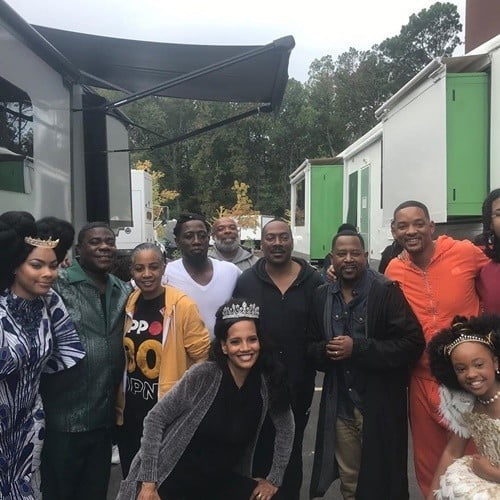 Bad Boys 3 and Coming to America 2 are both filming on the same lot, and both casts met up for this epic photo. Imagine the movie all of these actors could make together!
Seriously could you get a funnier cast than Eddie Murphy, Tracy Morgan, Will Smith, Martin Lawrence and Wesley Snipes? It would be the Avengers movie of comedy. Tyler Perry, since this is at your studios, make it happen!
BTW where is Arsenio Hall?

---
Tracy Morgan Freeman
April 18th, 2018 under Morgan Freeman, Tracy Morgan. [ Comments: none ]

Tracy Morgan met Morgan Freeman yesterday and the two men became fast friends. Hopefully, such good friends, that they will do a father/son movie together. Can you imagine?

Screw up Tracy takes in his grumpy old dad and the two are complete opposites. Morgan constantly criticizes his bum son and his son keeps biting his tongue as he comes up with evil plans to get rid of his dad. He thinks he can up one his old man, but his father always seems to be one step ahead of him. At the end of the day, they are still a loving father and son. OK, maybe loving is going too far. Either way, it can be highlarious comedy. Especially, if they can get Samuel L Jackson to play Tracy's uncle and Freeman's brother-in-law who hates them both. He makes things even more difficult for them while pretending like he is a good guy who loves them both.

---
This is a pretty impressive front row for the Knicks!
February 27th, 2018 under Amy Schumer, Tracy Morgan. [ Comments: none ]

The Knicks get a lot of celebrities to go see them play, and sometimes they get to sit in the front row to root for the team. Yesterday, they had a quite an impressive row of celebs. Amy Schumer took a photo of the lineup and she sat next to Chris Rock, Tracy Morgan, Leslie Jones and all the way on the other end was Jon Stewart. He seems to be surprised to be there with all of them. Or maybe he is surprised they got the the good seats along side him? What do you think?

Either way, I would have loved to have sat right behind them to hear all the jokes they must have been telling to each other. That is all comedians do when they hang out, tell jokes. Right?

---
Tracy Morgan was a troublemaker even when he was just a kid!
May 16th, 2017 under Seth Meyers, Tracy Morgan. [ Comments: none ]

As we know, Tracy Morgan had a near death experience and he told Seth Meyers yesterday on Late Night why he was sent back from the Pearly Gates.
He explained, "Gd, he saw the angels bringing me through the Pearly Gates, and he said, 'Ah, take him back down…He is going to do the whole 89 years for what he did in the third grade.'" What did he do? He shared the story that doomed him to live a full life, "You know, how you are supposed to put an apple on the teacher's desk? I put a bag of doo doo on the teacher's desk." Here's a reason why he did that, "He failed me in Social Studies. I didn't even know what Social Studies was. I know I didn't fail it because I copied off of the smart girl and I was sitting right next to her. She passed and I failed." I think Morgan was in the right!
You can hear more stories about what the comedian went through over the last few years since his accident when you watch his Netflix comedy special Staying Alive that is streaming now.
He has such an unique and hysterical way of viewing things that I just want to be friends with him, so I can listen to him tell me jokes all the time. Plus, I heard from several of my friends who lived in the same building as him in my hometown, that he is the nicest guy. Thankfully, Gd returned him to us because the World is a better place with him in it. And plus he keeps the population numbers up by putting babies in our bellies.

---
Why Tracy Morgan has forgiven the Walmart driver that crashed into him
November 4th, 2016 under Conan O'Brien, Tracy Morgan. [ Comments: none ]

It has been two years since Tracy Morgan survived that horrible accident on the NJ Turnpike and the comedian has finally forgiven the man who crashed into his party bus. He told Conan O'Brien why, "I forgave him and I am not even mad at him no more." Then he added, "But you know who is mad at him..all my White neighbors."
Morgan was afraid he would not be able to be funny again after his brain injury. But I laughed more in this 2:10 minute section of his interview on the TBS show than I did with any other in the last year.
Now back to his White neighbors, I know all my friends who lived in the same building as him on Riverdale, miss having him live there with them.

---