Watch Eric Stonestreet become Mad Santa
November 15th, 2023 under Disney+, Modern Family. [ Comments: none ]
View this post on Instagram
The Santa Clauses is back for a second season on Disney+, and there is a new Santa in town. Well, actually, he is back in America while Tim Allen is still doing the job at the North Pole.
Magnus Antas (Eric Stonestreet) had the title in the Middle Ages. But he went mad. So, the Elves transformed him into a nutcracker to get rid of him. However, an accident reanimates him back to life.
And now we get to see how the hair and makeup department on the series spends 45 minutes transforming the actor into Mad Santa.
I love how they make his frost-bitten skin look so realistic.

---
The Santa Clauses is back with a Man Santa
October 17th, 2023 under Disney+, Tim Allen. [ Comments: none ]
The Santa Clauses, the sequel series to the Tim Allen movies, will return to Disney+ for its second season on November 8th.
This season, things are going to get mad with Eric Stonestreet because he is a past Santa who wants to be the current one. Will Scott Calvin (Allen) and his family be able to keep the sleigh that they just got back, or will Mad Santa win?
We will find out when the first two episodes drop on the show's premiere day.

---
ZOMBIES gets re-animated on Disney Channel
June 13th, 2023 under Camryn and Milo Manheim, Disney+. [ Comments: none ]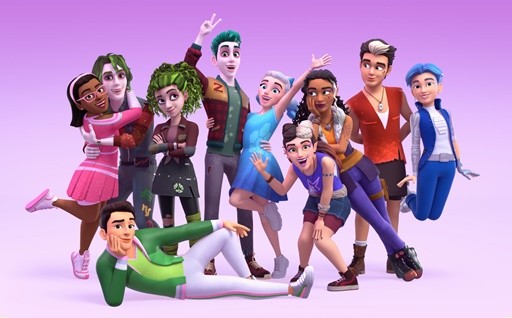 We got not one, not two, but three ZOMBIES movies from Disney Channel and Disney+. We thought after the third one; it was the last we were going to see of Zombie Zed (Milo Manheim) and his girlfriend, Cheerleader/Alien Addison (Meg Donnelly).
Today, we found out the couple and their friends are going to be back on July 21st. But they are going to look different. That is because they are getting animated.
ZOMBIES: The Re-Animated Series Shorts is an animated short-form series that continues the adventures of fan favorites Zed, Addison, and the Seabrook crew from the hit ZOMBIES franchise. The shorts, which keep the spirit and jam-packed music of the movies, find the friends encountering new monsters — a carnivorous plant monster, horrifying mega-cricket, and even evil clones — while dealing with school and new experiences like a never-ending summertime loop.
ZOMBIES will premiere on Disney Channel and then stream on Disney+.
This so made my day because I love the ZOMBIES franchise, and I can't wait to watch what trouble they get in and hear their new songs.

---
Tracy Morgan is hopping into Santa Clauses
May 3rd, 2023 under Disney+, Tim Allen, Tracy Morgan. [ Comments: none ]
Tracy Morgan is joining Disney+'s Santa Clauses season 2 with Tim Allen. Even though he would be great as one of the other Santas, along with Fluffy and Eric Stonestreet, he will not be playing one.
So what is the funny man going to do on the sweet series? He is going to play a legend who rhymes with funny. That's right. He will be the Easter Bunny, according to Deadline.
However, they didn't say what he is going to do. But you know it is going to be hilarious because he always is. Plus, how cute is he going to be in the costume?

---
Disney+ cancels Big Shot and The Mighty Ducks: Game Changers
February 17th, 2023 under Disney+, John Stamos. [ Comments: none ]
Today is not a good day for sports shows on Disney+. That is because they cancelled two of their series, Big Shot starring John Stamos, and The Mighty Ducks: Game Changer. Emilio Estevez reprised his role in the latter but opted not to return to the show for the second season. He was replaced by Lauren Graham.
Both shows lasted two seasons.

---