Justin Theroux reveals how the Tramp went from a shelter to Hollywood
August 26th, 2019 under Disney+, Justin Theroux. [ Comments:

none

]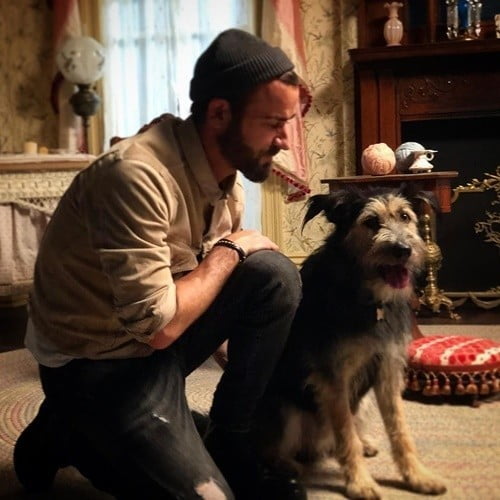 Over the weekend, we fell in love with Lady and The Tramp all over again. Today, we have more reason to arfdore the live-action film that is coming to Disney+ on November 12th. Justin Theroux shared Monty's (The Tramp) story and it is the perfect tail, I mean tale, for National Dog Holiday. A day, my cat thinks is far from purrfect.
Anyways, here is what Theroux wrote:
MEET MONTY!!!! 🐕 ❤️ Sometimes things work out perfectly. PLEASE scroll through for HIS VERY very cool story.. Monty was rescued from @halorescue … an amazing NO KILL shelter in Phoenix AZ 🙏🏼 … he was found by @disney who was looking for shelter animals to cast in LADY AND THE TRAMP! IN which there are TONS of rescue dogs. 🐾 Woohoo! Including, yours truly… KUMA who was given a really huge starring role (okay, it was teensy but don't tell her 😬). A huge thank you to @disney for giving not just Monty, but so many dogs a big break, not just in the movie, but a life outside of the shelter!
And a huge thank you @ladyandthetramp for letting me be Monty's voice, so he can show the world how amazing shelter animals really are.
#adoptdontshop
@ladyandthetramp
#DisneyPlus
#LadyAndTheTramp
@tessamaethompson my Lady! ❤️
I love when movies, like this and Pet Sematary, give rescue animals a second chance of life. One that is better than us people, who walk on two legs, can ever imagine. Thank you, Disney, for rescuing Monty and all of the other dogs.
My first cat was a stray and my other two are rescues. Therefore, I strongly believe is Adopt Don't Shop. Thank you to Seth and Rachel MacFarlane, and Heaven on Earth for letting me adopt my latest furbaby from Perry's Place.
---
Disney gives a small glimpse at Star Wars: The Rise of the Skywalker
August 26th, 2019 under Disney+, Star Wars. [ Comments:

3

]

We are less than four months away until the final episode of Star Wars comes out and now we are seeing some video from Star Wars: The Rise of the Skywalker. Over the weekend, Disney released a special look at the film during a panel at D23.
Fans of the franchise say that they can predict what might be happening, but they will not know for sure until December 20th. At that point, all the answers will be answered. Unless you cannot get the day off of work to see it. Then you will have to wait until the 21st. Or if you are Jewish, then on the 25th.
I wonder if this movie will beat out Avengers: End Game in box office titles. I doubt it, so it will be interesting to see how it does as compared to Star Wars: The Force Awakens. I still have not seen that movie.
---
Disney+ is reanimating Lizzie McGuire!
August 23rd, 2019 under Disney Kids, Disney+, Hilary Duff. [ Comments:

none

]

Like OMG! Hilary Duff is going back to where it all started for her because Disney+ is doing a Lizzie McGuire revival for the streaming service. We don't know when it will air, who will be part of it or what it is about. However, we do know that show creator Terri Minsky and Hilary Duff are attached!
The series that was a mix of live-action and animation aired from 2001-2004 with a 2003 movie on the big screen.
If that is not enough exciting news for you Disney Channel fans, they also announced Phineas and Ferb The Movie: Candace Against the Universe.
How excited are you that that is happening? Netflix must be getting nervous or at least they should be.
Disney+ launches on November 12th.
---
Disney+ gets a launch date
August 19th, 2019 under Disney Kids, Disney+. [ Comments:

none

]

As if we did not already have enough to watch wherever we are traveling to during the holiday season, Disney gave us another option today. That is because they announced today that their streaming service Disney+ is launching on November 12th.
For just $6.99 a month or $69.99 a year, you can watch all your favorite Disney, Marvel, Star Wars, Pixar and National Geographic movies and TV shows in one place. Not only that every The Simpsons episode will be available there too. Along with original movies like Lady and the Tramp, and Loki and TV shows like High School Musical: The Series to name a few of the projects they are working on.
If I were Netflix and Amazon, I would be a little nervous. At least the latter gives you free two-day shipping. But $69.99 is not a bad deal for all of that.
---
Disney to Netflix, let it go
August 9th, 2017 under Disney+, Netflix. [ Comments:

none

]

Before Netflix started winning a whole bunch of awards for its original programming, they used to stream some of today's biggest movies. Then they lost their partnership with Epix and those films went away. Luckily they signed a deal with Disney and that company's movies and TV shows started to stream. But that will be going away in 2019 because Disney is launching their own streaming service for their home videos along with one for ESPN according to The Hollywood Reporter.
If I were Netflix, I would start begging every studio to Netflix & Chill because without one I see their numbers rapidly declining. I mean, I love cheesy Horror movies and I am struggling to find ones to watch. I hate to say it, but I am OK with losing their shows and gaining ones on Hulu or Amazon Prime. I want variety and without Disney, they are not offering enough of it.
Will you let Netflix go when Disney does?
---