Looks like Beverly Hills Cop 4 is going to Netflix
November 15th, 2019 under Eddie Murphy, Netflix. [ Comments:

none

]

Eddie Murphy's career is having a resurgence thanks to the success of Dolemite Is My Name on Netflix. Well, the streaming service is not stupid, so they spoke to Paramount and asked them if they can do Beverly Hills Cop 4 with Murphy. The studio agreed to not only give them the license for the fourth film, but also a 5th one.
Before you get too excited, unlike Coming to America 2 that is filming now, BHC does not have a script, a director or a release date according to JoBlo. All the movie has is a home, which is a start.
---
Bad Boys meets Coming to America
October 30th, 2019 under Eddie Murphy, Martin Lawrence, Strange Encounters, Tracy Morgan, Will Smith. [ Comments:

none

]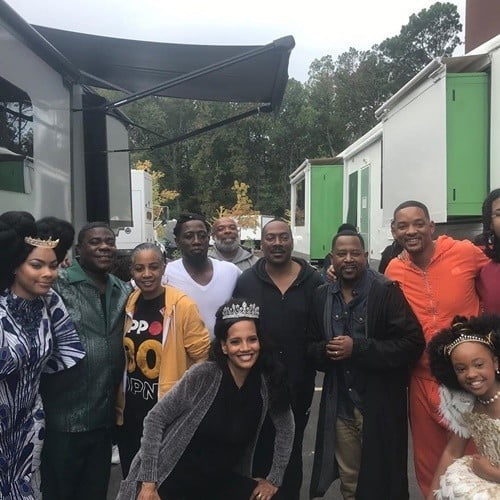 Bad Boys 3 and Coming to America 2 are both filming on the same lot and both casts met up for this epic photo. Imagine the movie all of these actors could make together!
Seriously could you get a funnier cast than Eddie Murphy, Tracy Morgan, Will Smith, Martin Lawrence and Wesley Snipes? It would be the Avengers movie of comedy. Tyler Perry, since this is at your studios, make it happen!
BTW where it is Arsenio Hall?
---
Does Eddie Murphy have a foot fetish?
October 3rd, 2019 under Eddie Murphy. [ Comments:

none

]

When Eddie Murphy did Boomerangm, his character had a foot fetish. Hip Hollywood's Jasmine Simpkins wanted to know if he has one too. He let her know he does not.
Considering he has 10 children, I think we all knew the answer to that question.
Since we are talking about Murphy, he gave Collider an update on Beverly Hills Cop 4. He said, "Yeah that's what we're doing after Coming to America 2. We're doing Beverly Hills Cop and then the plan is to get back on stage and do standup. That's what I'll be doing mostly is standup. These movies and Saturday Night Live it's kind of like…I'm looking at it as a bookend. If I decided I wanted to stay on the couch forever, I ended it on a funny note."
Am I the only person who will miss his horrible movies like Pluto Nash. They were so awful, they were actually funny.
---
Eddie Murphy is back!
August 12th, 2019 under Eddie Murphy. [ Comments:

none

]

From the '80s until 2010, it always seemed like Eddie Murphy always had a new movie out. However, since 2010, he has only starred in 3 live-action films. That is all about to change because he has a new movie coming out this fall on Netflix.
Dolemite Is My Name is different than what he is known for and yet he makes it work. Could be because playing Blaxploitation legend Rudy Ray More. To me, it kind of looks like The Disaster Artist, but with a much better cast.
Will it be Oscar worthy? We will find out in a few weeks. I am just hoping that Eddie Murphy is back to making enjoyable movies.
If not, then someone will make a movie like this about him and one of his films like Pluto Nash.
---
Eddie Murphy does a better Tracy Morgan than Tracy Morgan
September 10th, 2016 under Eddie Murphy, Jimmy Kimmel, Tracy Morgan. [ Comments:

none

]

Eddie Murphy was on Jimmy Kimmel Live yesterday and the two men talked about their friend Tracy Morgan. Then all of sudden, Pluto Nash did an impression of his friend and it was spot. Not only did he sound like him, he also mastered his mannerisms. It was amazing to watch.
So much so, I want to see Morgan and Murphy do a body switch movie where they have to have to imitate the other one for most of it like Freaky Friday. How hilarious would it be to to see skinny and "Fat Murphy" in the same film together.
---