9-1-1 gets an Austin spinoff with Rob Lowe
May 12th, 2019 under Fox, Rob Lowe, Ryan Murphy. [ Comments:

none

]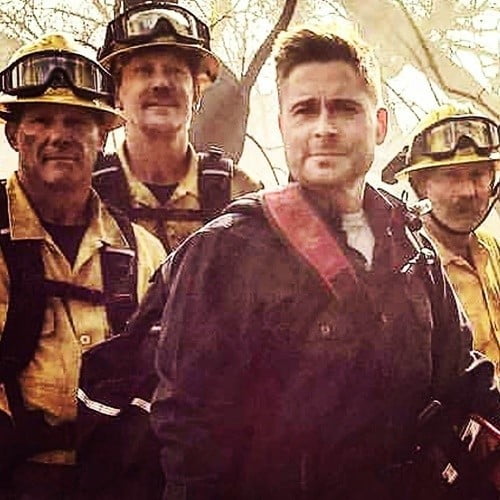 9-1-1 is doing so well, Fox is giving it a spinoff. 9-1-1: Lone Star stars Rob Lowe and will debut next season.
The drama centers around a sophisticated New York cop (Lowe) who, along with his son, re-locates to Austin, and must try to balance saving those who are at their most vulnerable with solving the problems in his own life. No word how old his son will be.
Personally, I wish they would have gone with Florida as a location because imagine the stories Ryan Murphy and his crew could have come up with for 9-1-1: Sunshine State? It is so much more up his alley. Maybe they will do that for the 2020-2021 season?
---
Elle Fanning boycotted Friends because of her sister
April 17th, 2019 under Dakota and Elle Fanning, Friends (cast), James Corden, Rob Lowe. [ Comments:

none

]

Back when Elle Fanning was just a toddler she auditioned to be on Friends and play one of Phoebe's triplets. Since you do not remember her on the show, then you know she did not get the part. Even though she could barely talk, she was very devastated about it.
A few years later when she was about 5, her sister, Dakota, landed a part on the show. When that episode came on, she told James Corden on The Late Late Show that she boycotted it. There was no way she was going to watch her sister on her dream show. I wonder if that still happens in the Fanning household?
Talking about missed opportunities, Rob Lowe, who was also on the CBS talk show last night, says his wife is more devastated that he turned Grey's Anatomy to star in Dr. Vegas, a show that filmed a whole 10 episodes. Would he make the same choice all over again? Yes, he would. Not to be the lead in that dud, but had he said yes, then he never would have done Parks & Recreation. Also had he taken the role, Dempsey would not have gone from nerd to McDreamy thanks to the medical soap opera.
---
Is Rob Lowe really 55?
April 10th, 2019 under Are they really their age?, Rob Lowe. [ Comments:

none

]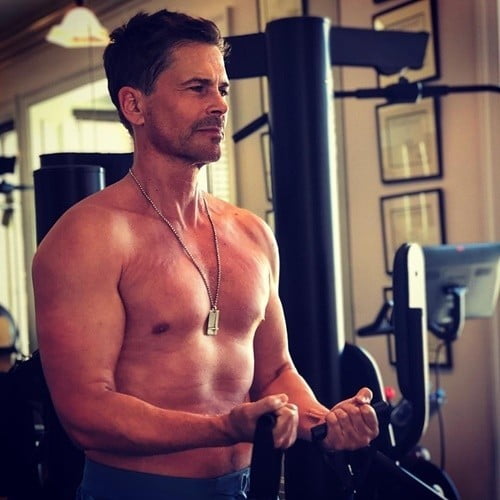 Last month, Rob Lowe celebrated his 55th birthday, but you would never know by looking at this topless photo of him. That is not the torso or face of a man in his 50's or even his 40's. Heck I am not sure even men in their 30's looks that good. Age has been very good to him.
BTW I don't know why he is hosting a game show called Mental Samurai because I am definitely not looking at his brains!
---
Rob Lowe said he was ahead of his time with his sex tape
March 27th, 2019 under Rob Lowe. [ Comments:

none

]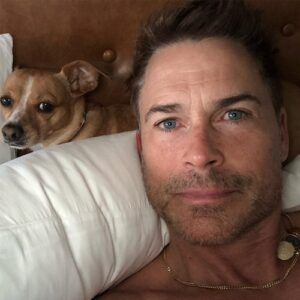 Back in 1988, Rob Lowe was one the first celebrities to be caught in a sex tape scandal and now the actor says he did it to 20 years too early. He explained to Marc Maron, "It would have helped my career."
Instead, his career took a downward spiral and he was not fully welcomed back into Hollywood until 1992's Wayne's World. Even then, it still took over a decade before his career really got going again.
As his career stalled, he became a big drinker. Within a year it caused him to hit rock bottom until he sought help. That is when he got sober and remains so until this day almost 30 years later.
Lowe also took a positive turn from all of that. He says without those incidents he would not have his memoirs and his a one-man show. If you have not read the book, it is worth the read.
Lowe also revealed that John Hughes never called him to be in any of his movies. Which seems kind of shocking because he is a member of the Brat Pack.
---
An '80s teen girl's wet dream: Rob Lowe and Robert Downey Jr.!
October 1st, 2018 under Brat Pack, Rob Lowe, Robert Downey Jr., Wet dream. [ Comments:

none

]

Back in the '80s, Rob Lowe and Robert Downey Jr. were part of the infamous Brat Pack, but yet the two of them never did a movie together. Can you like totally believe that? Finally, after 30 years, the two of them did something together. They took this photo at Gwyneth Paltrow's wedding this weekend.

I know that John Hughes is no longer with us, but there has to be a way to do a movie with all the Brat Packers. Fifty Candles at the Brunch Club?
---