Did Paula Abdul give Julianne Hough whiplash?
May 2nd, 2019 under Dancing with the Stars, Julianne Hough, Paula Abdul. [ Comments:

1

]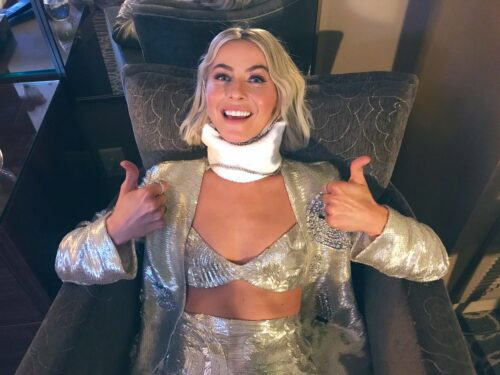 Last night at the Billboard Music Awards, Paula Abdul performed a medley of hits. Since it was the So You Think You Can Dance judge, she did a huge dance number that included a hat. As she was dancing in the audience, she threw her top hat and it hit Julianne Hough on the neck. I guess it caused her some damage because the Dancing with the Stars winner was seen with a neck brace after the show.
Hough wrote, "The result of the honor of being hit in the neck by @PaulaAbdul's flying hat! Love you, babe!!! 💛💙💜 #BBMAs." How did the assailant respond, she wrote back "OMG IM PEEING MY PANTS!!!!! You know it was with love 🤣🤣🤣 xoP"
Let's see how much they love each other when the two judges see each other in court? Or in the ratings, if America's Got Talent and SYTYCD go neck to neck with each other.
To see the moment when Abdul almost decapitated Hough, then click here!
---
Paula Abdul's embarrassing wardrobe malfunction!
November 26th, 2018 under Paula Abdul. [ Comments:

none

]

Some days, you rush to go to the bathroom and then you quickly need to wipe, wash and hurry back. Sometimes you don't even realize that you brought something back with you. Like a piece of toilet paper and it is stuck to your butt.
Well, that is what happened to Paula Abdul. When she realized what happened, she was not able to stay straight up! Thankfully for her, her friends were not hush, hush about it. I will stop now because these jokes are going down the drain.
---
Jessica's Christmas goes down faster than the Titanic on Fresh Off the Boat
December 12th, 2017 under ABC, Constance Wu, Paula Abdul. [ Comments:

none

]

Tonight at 8:30p on ABC's Fresh Off the Boat, it is Christmastime 1997. Do you remember what movie came out that holiday? One word, Titanic, and Louis wants to see it. Only problem is no one wants to go see it with him, so he goes by himself. While he is there, he runs into Honey (Chelsey Crisp), his wife's BFF who also has no one to see it with. They go to see the movie together, but don't tell anyone they did. Now Honey's husband, Marvin (Ray Wise), thinks his wife is having an affair and asks his best friend Louis who she is sneaking away to the movies with. What will he do?
Meanwhile, Jessica (Constance Wu) is the head of her neighborhood Christmas Caroling group and they don't want her in charge. They hire Holly (Paula Abdul) to replace her and she kicks Jessica out because she does not have Christmas spirit. When her youngest son, Evan (Ian Chen) calls her out in it, it breaks her heart. What will she do?
Jessica's other two sons, Eddie (Hudson Yang) and Emory (Forrest Wheeler) are trying to help their next door neighbor, Nicole (Luna Blaise), get a date with the barrister she has a crush on at this new place called Starbucks. Will she be able to land the girl with the help from her friends?
All of this leads to some sweet surprises and someone getting the perfect Christmas gift. And we get the gift another Huang Christmas! What more can you ask for tonight?
---
Paula Abdul is a Dancing Weathergirl
October 23rd, 2017 under Paula Abdul, TV News. [ Comments:

none

]

Paula Abdul was in Philadelphia this weekend for a Wigs & Wishes charity event and she promoted it on Fox 29. While she was doing their morning news yesterday, they asked her do the weather. Something she found almost as hard to do as dealing with Simon Cowell on American Idol. Instead of just sitting there or in this case standing, she did what she does best and danced! You know, I could see her totally having a career as a Dancing Weathergirl. I would watch, even though we do not have weather here in Los Angeles. Who needs Al Roker or Sam Champion when we could have the Dancing Weathergirl?
---
Paula Abdul and Randy Jackson reunited
September 27th, 2017 under American Idol 1-5, Paula Abdul. [ Comments:

none

]

Remember when Paula Abdul and Randy Jackson were judges on American Idol and Clive Davis was producing their albums. Those were the good old days. So seeing them together reminds when American Idol was worth watching. Which makes me sad that Idol is coming back without them on ABC. Doesn't it make you miss when the show was great?

When it comes to why they had that mini reunion. They were there to see the record mogul's movie Clive Davis: The Soundtrack Of Our Lives that is out today.
---