Steve Martin Short postpone Vegas due to COVID
September 20th, 2023 under Coronavirus, Martin Short, Steve Martin. [ Comments: none ]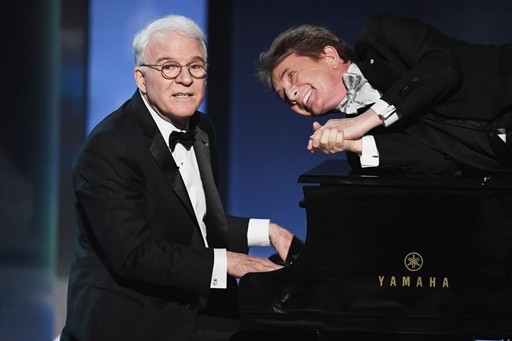 Steve Martin Short were going to bring their shenanigans to Las Vegas this weekend, but they had to postpone their shows.
The Wild and Crazy wrote, "Dear fans and enemies,
"Unfortunately, our sold-out shows at the Wynn in Las Vegas this Friday and Saturday has to be postponed because of rampant Covid in our crew and one other essential guy. We are sorry for any inconvenience, but we are moving to mid-December, where your tickets will be honored with an added 'date-moving tax,' of nine thousand dollars."
Hopefully, "the essential guy" will be feeling better soon. He is a national treasure, even though he is Canadian, and needs to be around for a long time.

---
Sherri Shepherd cancels her show due to COVID
September 20th, 2023 under Coronavirus, Sherri Shepherd. [ Comments: none ]
Sherri Shepherd is one of the few daytime talk shows that is still airing during the strike because she doesn't employ any WGA writers. However, her show will not be going live for the rest of the week.
That is because the host tested positive for COVID. So, instead of her going live, they will be airing repeats of Monday's and Tuesday's episodes.
Sherri said, "I am absolutely heartbroken that I cannot return to host my show this week. As soon as I get the all-clear from my doctor, I look forward to coming back strong to deliver the fun, laughter and a real good time."
Hopefully, she will be better soon.
As COVID cases rise, please protect yourself from the virus. Wear a mask, and get the new booster shot.

---
Chita Rivera has COVID-19
September 19th, 2023 under Coronavirus. [ Comments: none ]
Broadway legend Chita Rivera was supposed to speak about her memoir Chita: A Memoir at the New York Public Library of Performing Arts yesterday, but the 90-year-old had to cancel.
The NYPL wrote, "Unfortunately, Chita Rivera has tested positive for COVID, and will be unable to attend our panel discussion on Monday, September 18. We will follow up to all who have signed up for the event if we have any updates in the future. We hope to schedule a new date for this event.
"In the meantime, please keep Chita Rivera in your thoughts. We hope to see you soon at the Library for the Performing Arts."
Hopefully, she will be better soon and not suffer any lingering effects from the virus.

---
Whoopi Goldberg was absent from The View's season premiere
September 5th, 2023 under Coronavirus, The View. [ Comments: none ]
Today is the 27th season premiere of The View, and the daytime talk show debuted its new set. But there was something missing. Or should I say someone because Whoopi Goldberg wasn't sitting at their new table?
Where was the EGOT winner? She is home fighting COVID-19. According to Joy Behar, who was sitting in her seat, she is on the tail end of the virus and should be back hosting later this week.
Hopefully, she won't suffer any long-term effects from the coronavirus.
COVID-19 is back. So please wear a mask and get a booster shot if need be.

---
The COVID bell tolled for Metallica's James Hetfield
September 4th, 2023 under Coronavirus, Metallica. [ Comments: none ]
Metallica is rocking out on tour, but they had to cut their Glendale, Arizona, concert short on Friday, according to the Arizona Republic. Now we know why.
"We're very sorry to report that tomorrow's [September 3rd] scheduled M72 date at State Farm Stadium has been postponed to Saturday, September 9, 2023, as, unfortunately, COVID has caught up with James [Hetfield]," the band said in a statement. "We're extremely disappointed and regret any inconvenience this has caused you; we look forward to returning to complete the M72 No Repeat Weekend in Glendale next Saturday."
Last week, Metallica went to the dogs when a German Shepard enjoyed their LA concert. This week, you can say, Hetfield is as sick as a dog with COVID.
Hopefully, he will be better soon, and none of his bandmates get it from him.
Hetfield is not the only person to come down with COVID this week. First Lady Jill Biden tested positive today. I am praying she has a quick recovery.
Stop whining about masks and put one on because the new strain is highly contagious.

---