COVID is causing celebrities to drop out of The Critic Choice Awards
January 15th, 2023 under Colin Farrell, Coronavirus. [ Comments: 4 ]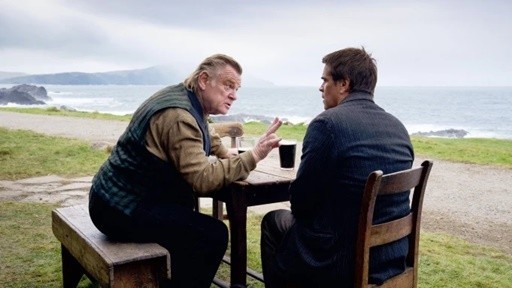 On Tuesday, several celebrities attended the Golden Globes Awards, and today they are cancelling on The Critic Choice Awards because they tested positive for COVID-19.
So far, Jamie Lee Curtis, Brendan Gleeson, Colin Farrell, and Michelle Pfeiffer are negative to attend but positive for the coronavirus.
And there might be even more because Deadline says that all attendees need to take a COVID test before they show up tonight. If you get a single line on your test, then you can be in line to enter the theater.
Although, the test has to have been taken 72 hours before the show. They should make it so that you need to take the test before you get into the limo. That is the most accurate way to know if someone has it. And even that isn't perfect.
This is going to be a fun awards season!

---
Jamie Lee Curtis went to the Golden Globes and all she got was COVID-19 
January 13th, 2023 under Coronavirus, Jamie Lee Curtis. [ Comments: none ]
Jamie Lee Curtis attended the Golden Globes on Tuesday and watched her Everything Everywhere All at Once co-stars, Ke Huy Quan and Michelle Yeoh, win awards, as did their film, but she went home empty-handed. Or so she thought.
"Fuck COVID," the actress wrote. "Sadly, this head cheerleader is not going to be at all the weekend festivities cheering on her friends and colleagues. Life on life's terms. I'm glad that there are all these home tests available so that I didn't go to the @americanfilminstitute lunch and spread my germs. I was SO looking forward to going to the @bafta tea and the @criticschoice awards as a nominee and member of a motley crew! I'm so proud of these people, and I look forward to cheering them on through my TV set. Stay safe out there people."
Hopefully, she will be better soon.
And I know she didn't get COVID at the Globes. It takes longer than two days for symptoms to show and to test positive.

---
James Cameron to miss Avatar: The Way of Water premiere due to COVID
December 12th, 2022 under Coronavirus. [ Comments: none ]
James Cameron and the cast of Avatar: The Way of Water hit up London, Tokyo, and South Korea over the last week. However, the director has to pull out of tonight's Hollywood premiere because he tested positive for COVID-19, according to Variety.
Cameron, 68. is not the only director to contract COVID-19 recently. Steven Spielberg missed the Gotham Awards on November 28th because he had coronavirus. He is better and back doing press for The Fablemans.
The second Avatar movie opens nationwide this weekend.
UPDATE: James Cameron spoke with Deadline. "I am in LA, just back from Tokyo, and I managed to pick up Covid on the plane, so I'm isolated and can't go to my own premiere tonight," the director said. "The number of people I've told over the years, 'ah, we'll catch up and I'll see you at the premiere…well, I guess not. Man proposes, and God disposes."
Oh well, there is always the next Avatar movie.

---
Steven Spielberg can't avoid COVID
November 29th, 2022 under Coronavirus, Steven Spielberg. [ Comments: none ]
Steven Spielberg was all set to attend the Gotham Awards tonight to present to Michelle Williams, but he had to cancel at the last minute. Why? According to Variety, he tested positive before he was about to walk the red carpet.
The director is in NYC to promote his biopic The Fablemans, but all of his events are rescheduled for the time being.
Hopefully, the 75-year-old will be better by awards season because it sounds like his film will be nominated for several of them.

---
Will Smith is such a wimp when taking a COVID test
November 27th, 2022 under Coronavirus, Will Smith. [ Comments: none ]
Will Smith was going to have a meet & greet with some people who saw his new movie. Before he could meet them, he had to take a COVID-19 test to make sure he was negative.
During the test, he cried out like a baby. Do you know who doesn't cry like a girl when he puts a swab up his nose? Chris Rock! Now, that is a man for you!
Oh, and Smith tested positive for COVID-19. Poor baby.

---