Kenny G back to performing in his regular haunts
February 21st, 2019 under Kenny G. [ Comments: none ]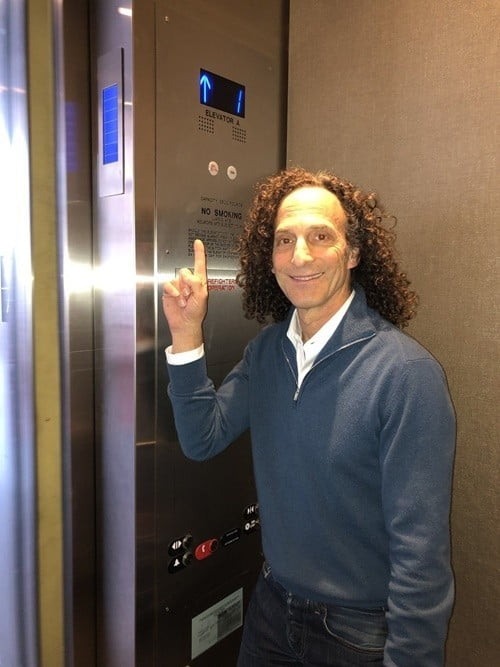 Last week, Kenny G performed in Kim Kardashain and Kanye West's living and James Corden's green rooms. This week, he is back where he belongs, playing in elevators. Now everything is right in the music world once again.
I hope this post does off come off as mean because that is not my intention. He seems like a cool guy who has a great sense of humor. Therefore, I kid the ones I like and I like him.

---
Who did Kenny G serenade at night?
February 15th, 2019 under James Corden, Kenny G. [ Comments: none ]

We know Kenny G spent his Valentine's Day doing a private show for Kim Kardashian and Kanye West. But how did he spend his Valentine's Night? He played his saxophone for some other celebrities. This time The Late Late Show with James Corden footed the bill so he could use the musician to serenade Ray Romano, D'Arcy Carden and Lukas Graham. Were they as impressed as KimYe? Nope, but I was.
If you think of it, Kenny G probably made a year's salary in one day. You know if I were him, I would say screw playing gigs and just do private shows. He would make more money and do less work. Unless the buyers have other ideas for that sax?

---
Did Weird Al Yankovic prank KimYe?
February 14th, 2019 under Kanye West, Kenny G, The Kardashians, Weird Al Yankovic. [ Comments: none ]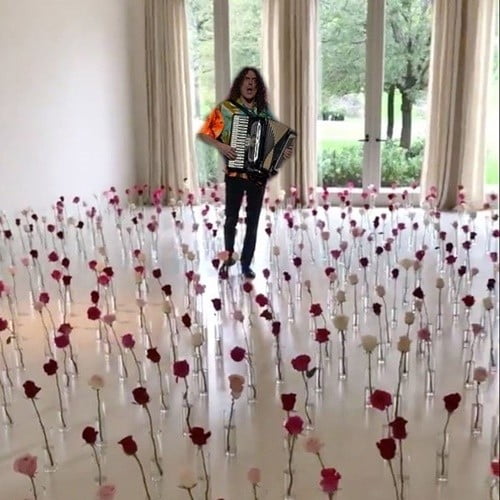 Kanye West got his wife, Kim Kardashian, Kenny G for Valentine's Day, but what does the rapper know about the saxophonist? For all he knows, he could have hired Kenny G's doppelganger Weird Al Yankovic and not even know it. Did he? The above photo posted by the Schlock rocker seems to tell that story. What do you think?
Not sure, then watch the video below for more information. Oh and ignore the Kenny G's tweet, "Thanks for having me be a part of your Valentine's Day 🎷🌹" Maybe that is his way of throwing them off the scent?

---
Wait, Weird Al Yankovic and Kenny G are not the same person!
February 11th, 2019 under Kenny G, Weird Al Yankovic. [ Comments: none ]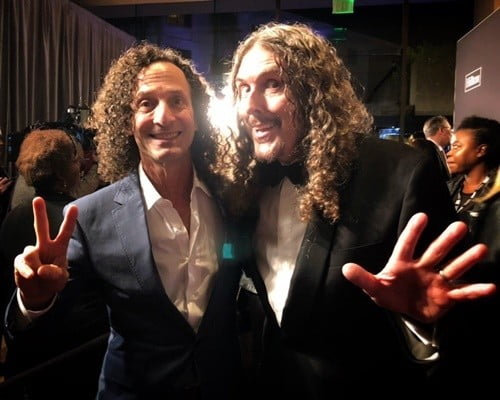 I never thought of Weird Al Yankovic and Kenny G as the same person. That is until now. The Schlock rocker posted a photo with saxophonist and now I don't know which one is which. But I do now know they are not the same person. Although, now I can no longer tell them apart. Can you?

---
An '80s mom's wet dream!
July 5th, 2016 under Kenny G, Michael Bolton, Richard Marx, Wet dream. [ Comments: none ]

Back in the '80s when teens were listening to Duran Duran, Bon Jovi and Madonna, their moms were listening to Richard Marx, Kenny G and Michael Bolton. Mother's Day might've been two months ago, but you can make her day by showing her this photo of three Adult Contemporary heartthrobs. Then you might want to leave her alone, so that she can put on their albums and enjoy. An enjoyment no kid wants to know their mom still partakes in.
When it comes to me, if I were to put on their music the only enjoyment I would get is some much needed sleep. Kenny G knocks me out every time. Works better than a sleeping pill.

---