Kourtney Kardashian says that KUWTK 'became a toxic environment'
July 8th, 2020 under The Kardashians. [ Comments:

none

]

Last year, Kourtney Kardashian announced that she quit Keeping Up with the Kardashians after almost 15 years. Now, she explained to Vogue Arabia why she did it, "I have been filming the show non-stop for 14 years… I was feeling unfulfilled and it became a toxic environment for me to continue to have it occupy as much of my life as it was." The oldest Kardashian child added, "Privacy is something I have come to value and finding that balance of private moments with being on a reality show is hard."

Ever since she quit the show, she has been spending more time with her three kids: Mason, 10, Penelope, 8, and Reign, 5. Kardashian says that she enjoys one day of the week doing nothing with her kids. She just spends the day with them and savors every minute she gets to connect with them.

If that is how her life changed since she quit the reality show, then she did the right thing. Maybe her sisters will do the same? That would be for us.
---
Kylie Jenner is not a billionaire!
May 29th, 2020 under The Kardashians. [ Comments:

none

]

Remember when Forbes announced that Kylie Jenner was the youngest self-made billionaire? Well, now the magazine is claiming that the Jenners inflated her numbers, and she not worth as much. They reported that she is close to being one, but just over one-hundred million short.

The mag says her decline in worth is due to her mom showing them tax numbers that they were feel were an overestimate and her deal with makeup company Coty not being represented accurately.

The billionaire, I mean multimillionaire, responded with, "what am i even waking up to. i thought this was a reputable site.. all i see are a number of inaccurate statements and unproven assumptions lol. i've never asked for any title or tried to lie my way there EVER. period." Then she added, "'even creating tax returns that were likely forged' that's your proof? so you just THOUGHT they were forged? like actually what am i reading."

Is she upset about it? She wrote, "but okay i am blessed beyond my years, i have a beautiful daughter, and a successful business and i'm doing perfectly fine."

Another thing the magazine said is that there was a lack of charity in her portfolio. That is my biggest problem with the Kardashians and Jenners, it seems like they spend their money only one themselves. You would think they would donate to help others, but when have you heard them do that?
---
Khloe Kardashian, is that you?
May 23rd, 2020 under The Kardashians. [ Comments:

none

]

Khloe Kardashian posted three new photos of herself, and she looks different. Some are thinking that maybe she got some work done to her face. Which it could be. It also could be because she looks like some weight, and that changed the shape of her face. Then again, it could be her new hair color which is closer to one of her older hair colors.

Why do you think she looks different? Or do you think she looks the same?
---
Kylie Jenner's gown was so tight, she could not sit
February 10th, 2020 under The Kardashians. [ Comments:

1

]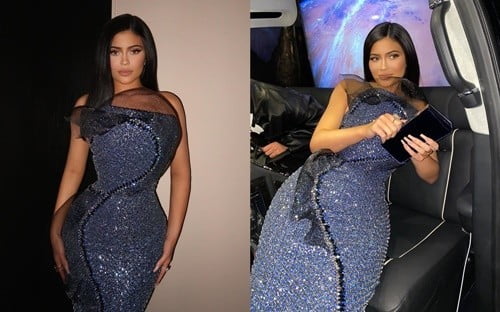 The Ralph and Russo gown that Kylie Jenner wore to the Vanity Fair party really showed off her hourglass figure. In order to do so, the navy dress's structured rounded corset was so tight that she could not even sit down in it. If she did, it would have caused her dress to split faster than someone's pants after they attempt to bend down after stuffing themselves on Thanksgiving. Plus, if she did, then there would be sequins, xilions and crystals flying everywhere. She might take out someone's eye or worse.
Did she mind? Nope, the price of beauty is worth it to her. Which is good for her, but my waist is hurting just looking it. Ouch.
---
Kim Kardashian's fridges are better than yours
January 9th, 2020 under The Kardashians. [ Comments:

none

]

Kim Kardashian posted a photo in front of her refrigerator that was filled with just milk and water, and people wanted to know where the food was for her children to eat. She saw those comments and gave us a tour of kitchen that includes multiple fridges and pantries.
They are not like the size you have, they are the walk-ins that are neatly organized. In fact, she wants us to know that she got rid of the plastic jars and only uses glass now. Not only that, her plant-based diet is full of organic fruits and vegetables. Basically, her kitchen would give Gordon Ramsay an orgasm.
Which makes me wonder if she sent her kitchen staff to the store to stock up on all of that so that we can think the illusion is real? What do you think?
Maybe she should match what she spent on all of that and donate the money to a charity that feeds the hungry in America. How many people could she feed with all of that? Many more than her family of six.
---