Kanye West dresses David Letterman up his clothes
May 28th, 2019 under David Letterman, Kanye West, Netflix, The Kardashians. [ Comments:

none

]

Ever since David Letterman started hosting a nighttime talk show in 1982, he has dressed the same way. Now that his Netflix show My Next Guest Needs No Introduction is in its second season, it is about time he got a new look. Kanye West is the man who is going to style him.
After seeing Letterman all Yeezyfied, I think he needs to stick with his old look. Especially since those threads with his big bushy beard makes him look like a bum. If he sat on a bench in NYC, people would give him some change because they would feel sorry for him.
Can that whole interaction with Kim Kardashian, Kris Jenner and the host be any more awkward? Especially when Mrs. West asks her husband, "Are you going to let him have it?" Like they need any more money? Cheap bitch.
---
Did Weird Al Yankovic prank KimYe?
February 14th, 2019 under Kanye West, Kenny G, The Kardashians, Weird Al Yankovic. [ Comments:

none

]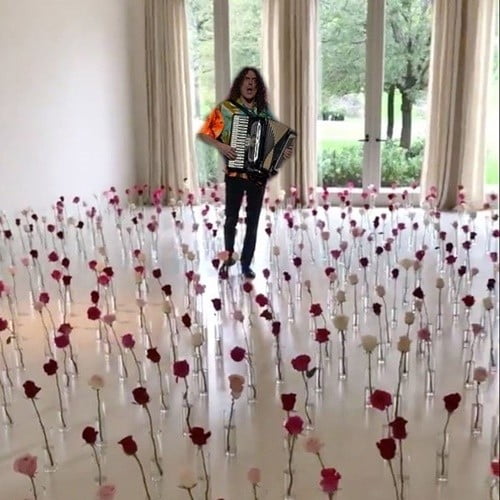 Kanye West got his wife, Kim Kardashian, Kenny G for Valentine's Day, but what does the rapper know about the saxophonist? For all he knows, he could have hired Kenny G's doppelganger Weird Al Yankovic and not even know it. Did he? The above photo posted by the Schlock rocker seems to tell that story. What do you think?
Not sure, then watch the video below for more information. Oh and ignore the Kenny G's tweet, "Thanks for having me be a part of your Valentine's Day 🎷🌹" Maybe that is his way of throwing them off the scent?
---
Just what the world needs, another Kardashian!
January 2nd, 2019 under Kanye West, The Kardashians. [ Comments:

none

]

As if there are not enough Kardashians in the World, another one is on the way. Who is having a baby? Is it Kourtney? Kim? Khloe? Rob? Kendall? Or Kylie? It is…Kim and Kanye West.

The couple is expecting their fourth child together and second via surrogate according to Us Weekly. Baby #4 joins Chicago, 11 months, Saint, 3, and North, 5.

KimYe's son is due to make his camera debut in May.
---
Drake apologizes to Kanye West
December 14th, 2018 under Drake, Kanye West. [ Comments:

none

]

Yesterday, Kanye West sent dozens of tweets attacking Drake and claiming that actor turned rapper threatened him and his family. This morning former child star Drake apologized to Ye. Not the Drake who was on Degrassi: The Next Generation, but Drake Bell who was on Drake & Josh. The latter Drake wrote, "@kanyewest I'm sorry 😔."
Hopefully, this gesture will be enough to stop Mr. Kim Kardashian's tweetstorm because I can't stop reading all of them. Tell me I am not the only who reads all of them and feels a brain cell die after reading each tweet.
---
Keenan Thompson says that Kanye West's weirdness was off the charts on SNL
December 7th, 2018 under Andy Cohen, Kanye West, Saturday Night Live. [ Comments:

none

]

Keenan Thompson was on Watch What Happens Live with Andy Cohen yesterday and a fan wanted to know if Kanye West was a worse musical guest on Saturday Night Live than Justin Bieber.
Thompson said that likes the Beebs, but you can tell Mr. Kim Kardashian is a whole other story. He said, "Kanye was super far, you know, off the ripper type of weirdness. The ripper of weirdness is like here, and he was like way over there." Yet for some reason, they keep booking West on the show. Which I am sure makes no sense to anyone else but Lorne Michaels.
Thompson also addressed whether or not we could ever get a Good Burger 2 movie. He says that he and Kel Mitchell have been having meetings about it, but it is up to the higher-ups to make that call. Considering that Brian Robbins, who created All That, Keenan & Kel and Good Burger, is now the head of the Nickelodeon, I think there is a good chance it will happen. I also hope they bring back All That with the original cast including those two, Lori Beth Denberg and Alisa Reyes.
---