Michael Bolton cancels dates per doctor's orders
August 20th, 2019 under Michael Bolton. [ Comments:

none

]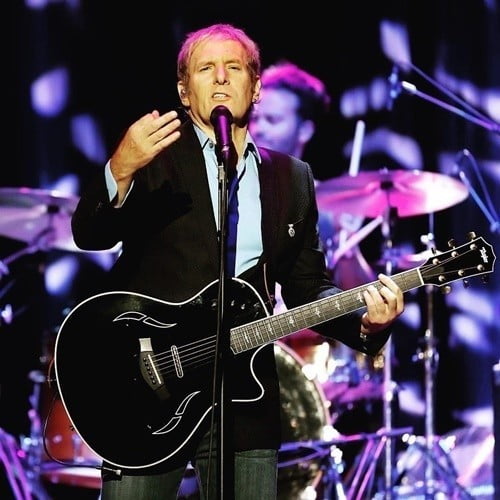 Michael Bolton canceled his European gigs on Friday and Sunday because of a mystery illness. Yesterday, he gave his fans an update on he is doing. He wrote, "Back in LA to see my doc and get on treatment plan! Feeling better every day. Thank u for all your prayers and good wishes … they're working!!!"
When a man loves his fans, his fans love him back when he most needs them. Therefore, keep the prayers the going for him. This way he will be better to play his continue his tour. Women around the World need to see him perform his sexing music, so they can go home and have sexing with their lovers.

---
I think Michael Bolton won the #10YearChallenge
January 18th, 2019 under Michael Bolton. [ Comments:

none

]

We think of Michael Bolton as an adult contemporary singer, but he also has a funny side to him. Case in point, he did his take on the #10YearChallenge. In the first photo is the character Michael Bolton from the incredible movie Office Space and the second one is John Bolton, who would love to run Space Force. Which is a good thing because we would love to send him and his mustache to space. And he can take the rest of the administration with him for a test drive.

Back the photo, how scary is it that both Boltons kind of look alike?

---
Michael Bolton gets his Gangsta on!
March 19th, 2018 under Michael Bolton, Paramount Network. [ Comments:

none

]

We have seen Michael Bolton as a rocker. We have heard him belt out Adult Contemporary. Now we will see him do rap. But don't worry, it is for one night only.
This Thursday, he will be mouthing Coolio's Gangsta Paradise on Paramount Network's Lip Sync Battle. Looking at that sneak peek, I think he should have done Weird Al Yankovic's take on instead. I think that looked more like an Amish Paradise as compared to a Gangsta one.
What did you think?

---
Michael Bolton & Friends make up TV themes for themeless shows!
August 23rd, 2017 under Michael Bolton, This Is Us. [ Comments:

none

]

If you are like me, then you miss TV theme songs. Well, Screen Junkies wants to win the Emmy they are nominated for, so they gave some of this year's biggest nominees their own tune to convince the voters. Michael Bolton recruited his "friends" to help him out. Natasha Bedingfield helped turn Stranger Things' unwritten theme into one that is written, This Is Us got one last cry treatment from Brian McKnight, I don't want to wait for Handmaid's Tale to use Paula Cole's tune and finally when a man loves a show like Michael Bolton loves Game of Thrones they have to go with what he sang for them.
Which show do you want to give an opening number to? For me it is Lucifer or Suits!

---
What if the real Michael Bolton was in Office Space?
February 21st, 2017 under Michael Bolton. [ Comments:

none

]

One of the funniest jokes in the highlarious movie Office Space was the character who was named Michael Bolton and he hated his name. What if the singer he was named after was in the film instead of him, how would change the cult classic? Funny or Die switched out the guy in the movie with the Grammy winner and it would actually make it better. Because, let's be honest with each other, he makes everything better.

---