Virus Alert: Weird Al Yankovic has COVID-19
May 18th, 2022 under Coronavirus, Weird Al Yankovic. [ Comments: none ]
Weird Al Yankovic is on tour, and like many touring musicians, he tested positive for coronavirus.
"So… I've got COVID. Don't worry, I'm fine – I'm vaxxed and double-boosted and the symptoms are very mild," the singer wrote. "But of course this means I unfortunately need to cancel the next couple dates on my tour (Saginaw & Detroit). I'm deeply sorry – we will reschedule those shows ASAP."
Hopefully, he will be better soon because my friends have tickets to his shows, and it is all about my friends.

---
The Weird: The Al Yankovic Story trailer is magnificient 
May 3rd, 2022 under Harry Potter, Roku, Weird Al Yankovic. [ Comments: none ]
Roku released the first trailer for Weird: The Al Yankovic Story with Daniel Radcliffe in the title role.
All I will say is that Harry Potter worked his magic, both literally and figuratively, because that is brilliant. It reminds me of Weird Al's music video, I Lost on Jeopardy.
Radcliffe was born to play this role, and he deserves all the accolades he is going to get for it.
When it comes to the biopic, I can't wait to see what new things we learn about the most famous accordion player in the World!
The Movie of the Week is coming to The Roku Channel later this year. It is not the only thing coming to channel this year. To see what else will be streaming there for free, then click here!

---
Do you want Weird Al Yankovic to sing Happy Birthday to You to you?
March 22nd, 2022 under Weird Al Yankovic. [ Comments: none ]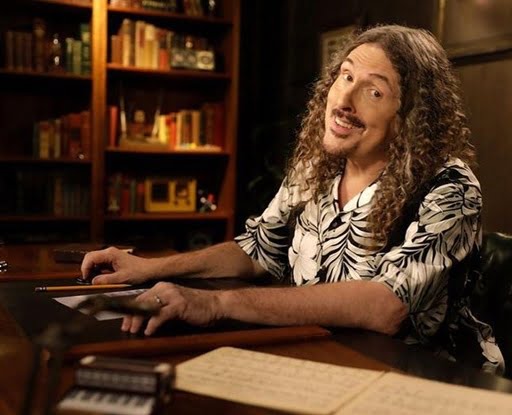 Weird Al Yankovic is having a busy 2022. He is going back on the road, he just finished working on a biopic that is going to air on Roku, and yet he still had time to do something for us.
The Shlock Rocker teamed up with American Greetings for a Smash Up birthday greeting card. All you have to do is find your name or your loved one's name and how old they are going to be. Once you have that, you can preview the special way Weird Al sings Happy Birthday.
"I've always been a huge fan of Mildred and Patty, the Hill sisters… and it was an honor to perform one of their all-time biggest hits – 'Happy Birthday to You' – especially now that it's public domain," joked Yankovic. "Plus I got to write and perform my OWN original birthday song for this project as well, which was a lot of fun. I remember when my friend Donny Osmond personally sent me his SmashUp a couple years ago – it completely blew my mind, and I knew right then that I wanted to do my OWN SmashUp, so that I could blow people's minds too!"
This is the type of gift you can give anyone, including today's birthday boy William Shatner. I mean, because what do you get a 91-year-old who has been to Space? You get him a Weird Al singing birthday telegram.
On that note, my birthday is April 1st, and guess what I want? A million dollars to pay for gas and a birthday card from Weird Al Yankovic.

---
Evan Rachel Wood is like a Madonna in the Weird Al Yankovic biopic
March 2nd, 2022 under Madonna, Roku, Weird Al Yankovic. [ Comments: none ]
In case you haven't heard, Roku is doing a biopic about Weird Al Yankovic with Funny or Die. Last week, we saw Daniel Radcliffe in character because he is playing the title role.
Today, we found out that Evan Rachel Wood will be playing Madonna, and Shlock Rocker shared a photo of her as the singer. Weird Al covered her song Like a Virgin and parodied it into Like a Surgeon to become one of his biggest hits.
Rolling Stone also revealed who is else is starring in the movie. Rainn Wilson is playing the legendary radio host, Dr. Demento, who gave Weird Al his big break. Toby Huss and Julianne Nicholson will play his late parents, Nick and Mary. Their death still haunts me to this day.

---
Daniel Radcliffe transforms into '80s Weird Al Yankovic
February 22nd, 2022 under Harry Potter, Roku, Weird Al Yankovic. [ Comments: none ]
Daniel Radcliffe was born in 1989. By that year, Weird Al Yankovic already had several hit singles, records, along with the cult classic movie UHF.
However, that didn't stop Roku from hiring Harry Potter to play the Schlock Rocker in the Funny or Die biopic about the musician's wild and crazy life. Looking at this photo, I can totally see why they went they did. It is as though everyone won on Jeopardy instead of the fact that they lost on Jeopardy, baby.
It is like we went into a time machine and were transported back to that version of Weird Al.

---