Is Richard Marx really almost 60 years old?
September 5th, 2023 under Are they really their age?, Richard Marx. [ Comments: none ]
Richard Marx is turning the big 6-0 on September 16th, but you would never know it by looking at him without a shirt.
Because now and forever, he will look as young as he did when he had that mullett in the '80s, and we were right here waiting for him. We are still waiting, but we will hold on to those nights that we can wake up and see him nearly naked, drinking orange juice. And now we know what he looks like doing so, and that is a hazard.

---
Your cool aunt's wet dream: Richard Marx, John Corbett and James Brolin!
May 12th, 2023 under John Corbett, Richard Marx, Wet dream. [ Comments: none ]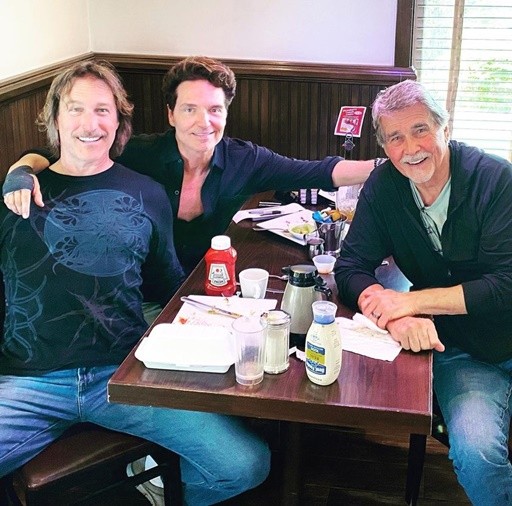 Let's admit it, we all have that cool aunt! And she has some interesting taste in celebrity men. She is the type of woman who would listen to Richard Marx and watch John Corbett and James Brolin.
So for National Aunt Day, you would love to get her lunch with the three sexy men. But that is not possible?
Actually, it is. She can have wet dreams about it because that is what they did yesterday, and the singer shared photographic evidence of them hanging out.
I wonder what they talked about. They probably shared secrets on how they remain so hot after all of these years.

---
Has John Stamos hit hard times?
May 1st, 2023 under Hard times, John Stamos, Richard Marx. [ Comments: none ]
John Stamos was seen delivering a pizza to Richard Marx's house, so has the actor hit hard times?
Not as of yet. But depending on how long the Writers' Strike goes on, he and many others in Hollywood will be. So let's hope the studios and the Writers Guild of America come to a resolution quickly.
That, and Marx remembers to tip his delivery people. Otherwise, it will be a hazard to him. Plus, he doesn't want to mess with Uncle Jessie because he might get the singer fired like he did the Olsen twins and their replacements on Full House.

---
Richard Marx still attracts the stage jumpers
March 7th, 2023 under Richard Marx. [ Comments: none ]
Richard Marx has been performing on stage for over 40 years. Even though he doesn't look like he has been singing to sold-out crowds for more than a decade.
Anyways, the other night while he was playing in Canberra, a woman jumped on the stage. Not to hug her favorite singer but dance along with him and the band!
She was just having a great time! Something we all need to do every now and again! So today, let loose, and dance like no one is watching. And if someone is looking, give them a private show!
And if someone tells you you should've known better, you tell them you will be right here waiting for them to join you and live life to the fullest!

---
Richard Marx and Kenny Loggins need to take their comedy act on the road
January 18th, 2023 under Kenny Loggins, Richard Marx. [ Comments: none ]
Yesterday, Kenny Loggins announced that he is about the embark on his final musical tour. And I think I know what his next career move should be.
He and Richard Marx can enjoy those endless summer nights and tell jokes. Don't believe me? Watch the video above and tell me you didn't laugh.
This is it. This is what they were meant to do. And I am right here waiting for them to make it happen. I just hope they don't go into the danger zone because that could be a hazard.
I am here all week!

---