We've been right here waiting for this Richard Marx tweet!
February 11th, 2019 under Richard Marx. [ Comments:

none

]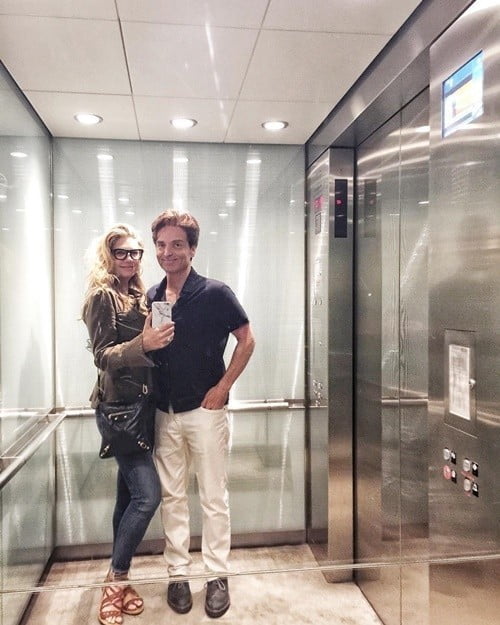 When we think of Richard Marx, we think of that singer who sings songs our grandmothers love to hear. Turns out the Adult Contemporary singer also has a funny side. He won Twitter this month with just one tweet. How great is this tweet? He wrote, "Went to the dentist today. My teeth are fine. I just wanted to hear some of my songs."
Wish I would have known that before I had to find an elevator that plays Hold Onto the Night. Looks like he already found one. Hopefully, he and his wife, Daisy Fuentas, did not cause a hazard in that lift! I think I will leave the comedy to him.
---
An '80s girls wet dream, Richard Marx and Peter Cetera!
July 16th, 2018 under 80s, Peter Cetera, Richard Marx, Wet dream. [ Comments:

none

]

Back in the '80s, girls wanted to stay the night with Richard Marx and Chicago's Peter Cetera and hold on to the nights with both of their arousing voices that were our inspiration. But the two men never made that glory of love a reality.

That was then, this is now. Over the weekend, the two of them met up in Sacremento and gave us a glimpse of what a hazard that could have been. One that would have filled our endless summer nights with great memories.

When it comes to the two singers, don't they look fantastic? Can you believe that Marx is 54 and Cetera is 73 because they still make my restless heart skip a beat! What about yours?
---
An '80s mom's wet dream!
July 5th, 2016 under Kenny G, Michael Bolton, Richard Marx, Wet dream. [ Comments:

none

]

Back in the '80s when teens were listening to Duran Duran, Bon Jovi and Madonna, their moms were listening to Richard Marx, Kenny G and Michael Bolton. Mother's Day might've been two months ago, but you can make her day by showing her this photo of three Adult Contemporary heartthrobs. Then you might want to leave her alone, so that she can put on their albums and enjoy. An enjoyment no kid wants to know their mom still partakes in.
When it comes to me, if I were to put on their music the only enjoyment I would get is some much needed sleep. Kenny G knocks me out every time. Works better than a sleeping pill.
---
Remember Peter Cetera?
March 18th, 2016 under Peter Cetera, Remember?, Richard Marx. [ Comments:

none

]

Back in the '70s and the '80s Peter Cetera's voice was a Glory of Love, but then with his departure from Chicago and him going solo, he started to fall out of the limelight. Which is something I always hated because Chicago 17 is one of the greatest albums of that era.
Besides having the voice that made me want to Stay the Night with him, he had angelic looks that were a Hard Habit to Break. Whenever I hear one of his songs now, I wonder what happened to him and how he presently looks.
The other day Richard Marx ran into him in Bangkok and shared a photo of them together. Let's be honest the 71 year old singer is just as hot now as then. There have been rumors that Chicago is talking about reuniting with him, and I say Baby, What a Big Surprise that would be. A very welcome surprise.
---
Richard Marx and Daisy Fuentes got married
December 26th, 2015 under Richard Marx. [ Comments:

none

]

Not only have Richard Marx and Daisy Fuentas been dating for a year, the two of them secretly got married this week. The singer announced the happy news on Twitter by saying, "On December 23rd, 2015 the magnificent @daisyfuentes gave me the honor of becoming my wife. #Aspen"
What a beautiful White Wedding the two of them had. On that note, if this was 1995, MTV would've been all over it.
---