Would you vote for a Bob Saget and John Stamos ticket?
July 6th, 2020 under Comedy Central Roast of Bob Saget, Full House, John Stamos. [ Comments: none ]

As soon as Kanye West announced that he was running for president of the United States, Bob Saget started to question if he should do it too. After some consideration, he decided to go for it.

He even has the perfect running mate, John Stamos. When he told his BFF about it, Stamos had the perfect reaction, "And if anything should happen to Saget." I guess Danny Tanner will clean up the election, and then he will be out of a job. Who wouldn't prefer Stamos as the Commander-in-Chief?

Now, we just have to wonder what role Dave Coulier will play in their administration. We all know the first thing they will do when they get into office. That will be to pardon Lori Loughlin.

---
The Full House cast reworks their show's opening
April 8th, 2020 under Coronavirus, Full House, John Stamos. [ Comments: none ]

Celebrities are trying to get the word out that we need to stay home during the Coronavirus pandemic and the Full House cast is the latest one to do so.
John Stamos, Bob Saget, Dave Coulier, Candace Cameron, Jodie Sweetin, Andrea Barber, and creator Jeff Franklin reshot the show's opening for today's tough times.
The Tanners want us to "stay safe and stay home" because "unlike Full House, this will all go away."
Even after a nuclear war, Full house will still be airing in syndication with I Love Lucy, Leave It to Beaver, Bewitched and I Dream of Jeannie.

---
Caption John Stamos and Darren Criss!
February 4th, 2020 under Caption the Celeb, John Stamos. [ Comments: none ]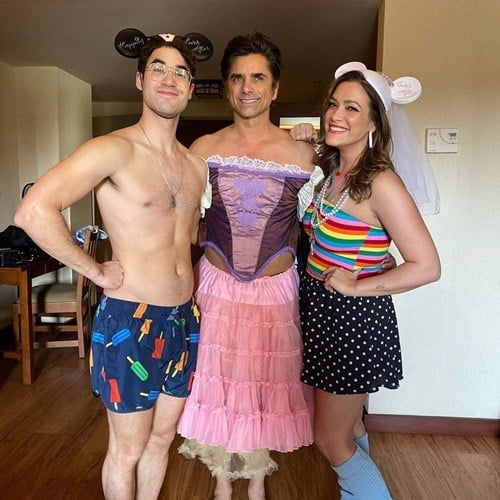 This photo of John Stamos with Darren Criss and his wife Mia Von Glitz has caption me written all over it, so go ahead and do it.

---
Are John Stamos and Marilyn Manson the Jonas Brothers biggest fans?
June 5th, 2019 under John Stamos, Jonas Brothers, Marilyn Manson. [ Comments: none ]

When I think of who might be the Jonas Brothers' biggest fans, I think it is girls in their 20's. Turns out it is men in their 50's. Actually, it is just John Stamos and Marilyn Manson. They are the founding members of Jonatics. Now we know what sweet dreams are made of for these two men and they are Kevin, Joe and Nick Jonas.

---
Try not to look at John Stamos' crotch
March 26th, 2019 under In Your Pocket?, John Stamos. [ Comments: none ]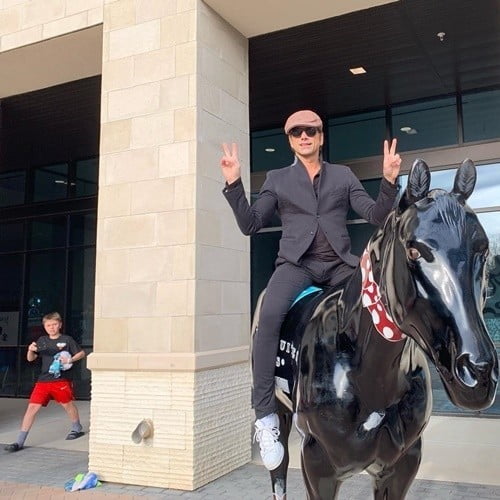 John Stamos sat on metal horse and I could not help but to look at his saddle. How can you not stare a it? It is like a drum set his pants and who wants to bang on those drums?

---