Ray Romano reveals how Everybody Loves Raymond got its name
April 19th, 2023 under Ray Romano. [ Comments: none ]
I don't know about you, but I thought that Ray Romano named his sitcom Everybody Loves Raymond because he was so vain and thought everyone loves him. Well, I was wrong.
This morning when he was on Good Morning America, he told him that his brother, Richard, came up with that name, "My brother was a New York City police officer and he used to compare our lives. He would say, 'I go to work. I get shot at. Raymond goes to work, and everybody loves Raymond.'"
Romano then told the anchors his brother meant it to be sarcastic, and the actor wasn't a fan of it. However, the other producers liked it and used it as a working title. They promised Ray they wouldn't use it if it got picked up to series.
Well, CBS loved it, and the rest is history.
So has Romano gotten to love the name after 27 years? "It works. I am not complaining. We did OK," he said.
I hope Richard is being compensated for coming up with the title that has been heard around the world.

---
Will there ever be an Everybody Loves Raymond revival?
October 21st, 2020 under Brad Garrett, Patricia Heaton, Ray Romano. [ Comments: none ]

It has been 15 years since Everybody Loves Raymond ended, and people still love it. Therefore, you have to wonder if we will ever get a revival of the sitcom.
Ray Romano told Harry Smith on Today, "We've kind of agreed…it won't happen with us. We are missing Peter [Boyle]. We are missing Doris [Roberts]. We're missing the crux of the show."
While we will never see them do a new script together, Romano, Patricia Heaton, and Brad Garrett are getting together tomorrow to read scenes from old scripts to raise money for International Myeloma Foundation. The cancer that took Peter Boyle away from us.
I wish they would consider doing a reboot because it is doable.

---
An Everybody Loves Raymond reunion!
September 3rd, 2019 under Patricia Heaton, Ray Romano. [ Comments: 1 ]

It has been 14 years since Everybody Loves Raymond ended its Emmy-winning run, and yet the cast and writers are still just as close now as they were then. Every Labor Day they get together at Phil Rosenthal's house and yesterday was no different.
Ray Romano, Patrica Heaton, Brad Garrett and his TV wife Monica Rosenthal reunited at her house with her real-life husband Phil Rosenthal for some yummy food. Hopefully, between bites, they talked about doing a revival. I have said it before and I will say it again, it can easily be done.
As long as you don't factor in that Brad Garrett is still starring in last season's best new comedy and Patricia Heaton is starring in this years. They can film on breaks from Single Parents and Carol's Second Act, respectively. Would you watch?

---
A mini-Everybody love Raymond reunion
April 8th, 2019 under Brad Garrett, Ray Romano. [ Comments: 1 ]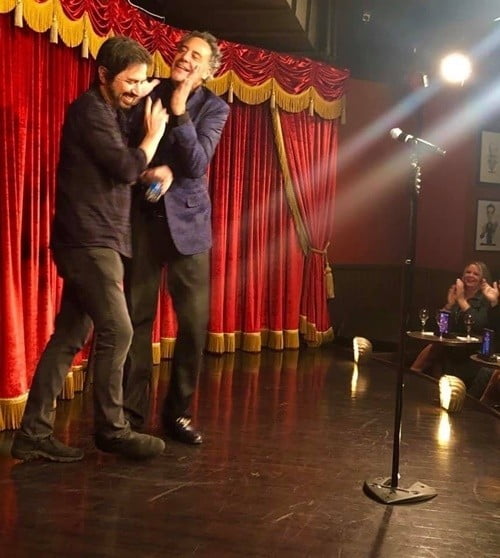 Next month, it will be 14 years since Everybody Love Raymond ended and yet Brad Garrett and Ray Romano still act like the brothers they played on that beloved sitcom. Over the weekend, the two men reunited at Garrett's Las Vegas comedy club and I am sure the patrons enjoyed the double surprise of funny.
Which makes you wonder why they don't do a revival of their sitcom that ended way too early. They can film it over the summer while Garrett is on a break from Single Parents (which ABC better pick up for a second season). The story is easy to do, Ally, her husband and their child move into her late grandparents' house and now Debra and Ray are acting just like Frank and Marie did to them. Not only that, a recently divorced Robert moves back into his old room and drives everyone crazy.

---
Why did Ray Romano call Jon Hamm a son of a bitch?
August 3rd, 2018 under Jimmy Fallon, Jon Hamm, Ray Romano. [ Comments: none ]

The last time that Jon Hamm was on The Tonight Show, he did an impression of Ray Romano. Yesterday, the guy that everybody loves was on the NBC late night talk show and Jimmy Fallon showed him the video of Jon hamming it up.
What did Romano think of his "friend's" impression? He said, "If you think about it, it is a double insult." Why? He explained, "Because he is making fun of my voice and he is making fun of golf game." Romano then defended himself by saying that he does not take that many bad shots during golf.
Then he called Hamm a son of a bitch because "he's handsome and he's funny." I am surprised he did not take a swing at his golf club because that is another reason for men to hate him and for women to love him.
After all of that bashing, it was time for Romano to hamm it up and do his impression of his friend making a bad shot. Do you think he scored a hole in one with that take or do you think it was a total duff?

---