An Everybody Loves Raymond reunion!
September 3rd, 2019 under Patricia Heaton, Ray Romano. [ Comments:

1

]

It has been 14 years since Everybody Loves Raymond ended its Emmy-winning run, and yet the cast and writers are still just as close now as they were then. Every Labor Day they get together at Phil Rosenthal's house and yesterday was no different.
Ray Romano, Patrica Heaton, Brad Garrett and his TV wife Monica Rosenthal reunited at her house with her real-life husband Phil Rosenthal for some yummy food. Hopefully, between bites, they talked about doing a revival. I have said it before and I will say it again, it can easily be done.
As long as you don't factor in that Brad Garrett is still starring in last season's best new comedy and Patricia Heaton is starring in this years. They can film on breaks from Single Parents and Carol's Second Act, respectively. Would you watch?

---
A mini-Everybody love Raymond reunion
April 8th, 2019 under Brad Garrett, Ray Romano. [ Comments:

1

]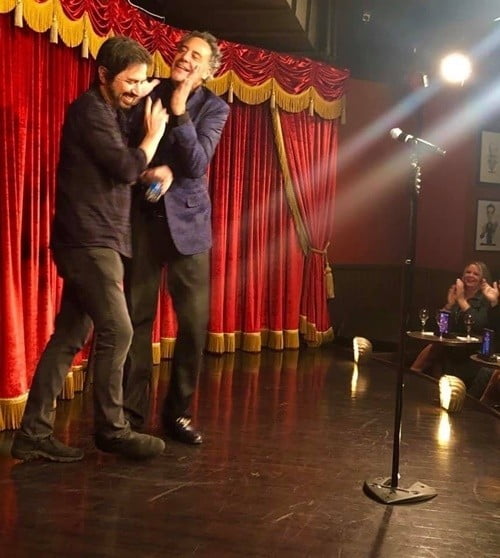 Next month, it will be 14 years since Everybody Love Raymond ended and yet Brad Garrett and Ray Romano still act like the brothers they played on that beloved sitcom. Over the weekend, the two men reunited at Garrett's Las Vegas comedy club and I am sure the patrons enjoyed the double surprise of funny.
Which makes you wonder why they don't do a revival of their sitcom that ended way too early. They can film it over the summer while Garrett is on a break from Single Parents (which ABC better pick up for a second season). The story is easy to do, Ally, her husband and their child move into her late grandparents' house and now Debra and Ray are acting just like Frank and Marie did to them. Not only that, a recently divorced Robert moves back into his old room and drives everyone crazy.

---
Why did Ray Romano call Jon Hamm a son of a bitch?
August 3rd, 2018 under Jimmy Fallon, Jon Hamm, Ray Romano. [ Comments:

none

]

The last time that Jon Hamm was on The Tonight Show, he did an impression of Ray Romano. Yesterday, the guy that everybody loves was on the NBC late night talk show and Jimmy Fallon showed him the video of Jon hamming it up.
What did Romano think of his "friend's" impression? He said, "If you think about it, it is a double insult." Why? He explained, "Because he is making fun of my voice and he is making fun of golf game." Romano then defended himself by saying that he does not take that many bad shots during golf.
Then he called Hamm a son of a bitch because "he's handsome and he's funny." I am surprised he did not take a swing at his golf club because that is another reason for men to hate him and for women to love him.
After all of that bashing, it was time for Romano to hamm it up and do his impression of his friend making a bad shot. Do you think he scored a hole in one with that take or do you think it was a total duff?

---
Vinyl is scratched!
June 22nd, 2016 under HBO Max, Olivia Wilde, Ray Romano. [ Comments:

none

]

Even though HBO picked up Vinyl for a second season, today they announced that they are cancelling it. The network said, ""After careful consideration, we have decided not to proceed with a second season of 'Vinyl.' Obviously, this was not an easy decision. We have enormous respect for the creative team and cast for their hard work and passion on this project."
The cable show starring Ray Romano and Olivia Wilde got a lot of buzz, but not a lot of viewers. I am sure the latter part played a big part in their decision.
I wanted to check it out, but everyone kept telling me it was boring. Which also accounts for why people were treating it like Vinyl records and not buying it.
The most important question about the cancellation, is does Wilde get to keep her Merkin?

---
Justin Bieber's lyrics make for a good Soap Opera!
April 6th, 2016 under James Corden, Justin Bieber, Ray Romano, Salma Hayek. [ Comments:

none

]

James Corden took the lyrics of Justin Bieber and turned them into the dialogue for a Soap Opera on The Late Late Show yesterday. He asked Salma Hayek, Ray Romano and Gary Oldman to co-star with him in As the Beebs Turns and it is crazy how perfectly it worked.
Maybe Bieber needs to give up this whole singing thing and write for Soaps instead. Could you imagine?

---