Has Jennifer Garner hit hard times?
February 27th, 2019 under Hard times, Jennifer Garner. [ Comments:

none

]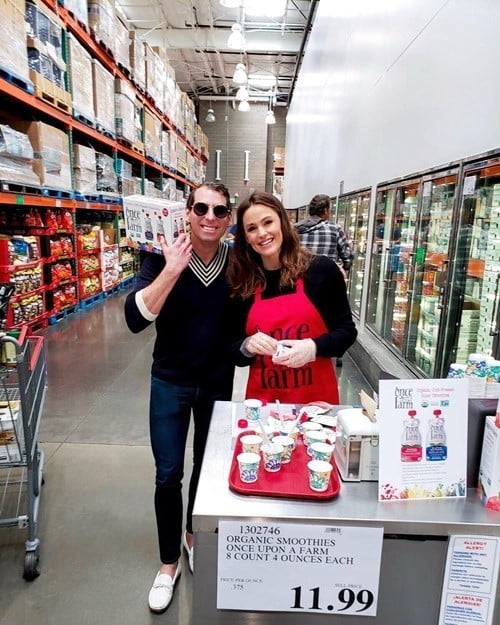 Jennifer Garner was seen handing out free samples at Costco in Woodland Hills, so has the actress hit hard times? Quite the opposite. She was actually giving customers some samples of Once Upon A Farm Cold Pressed Organic Smoothies from the company she co-founded with Filipp Chebotarev. I am sure they sold out of the drinks in that store after seeing her, and now it is up to us help to purchase it at our local stores. I know I want to try it. Especially if they are as sweet as her.
---
Has Chrissy Teigen hit hard times?
December 4th, 2018 under Chrissy Teigen, Hard times. [ Comments:

1

]

Chrissy Teigen was seen wearing red and khaku at Target, so has she hit hard times? I mean, doesn't EGOT member John Legend earn enough millions to support her and their two kids?

Yes, he does. And yes she is working at Target as a team member to promote that for this week only you can get 10% of her Cravings line at the store.

You know what, Target colors look good on. Don't you agree?
---
Has Nicollette Sheridan hit hard times?
November 5th, 2018 under Hard times, Nicollette Sheridan. [ Comments:

none

]

Even though Nicollette Sheridan is starring as Alexis Carrington on Dynasty, she was seen coming out of a silver trailer in a little nightgown. Is the desperate housewife desperate for money? Nope, but her character is since we found out the butler did it with her and their affair produced a son who was raised by her ex-husband as his own. Thus, why she is living in a trailer and not a mansion.

Translation, The CW nighttime soap is so much better this than the last one. Therefore, you should be watching it!
---
Has Alex Rodriguez hit hard times?
September 10th, 2018 under Hard times, Marky Mark, Sports figures. [ Comments:

none

]

Alex Rodriguez was seen working at Wahlburgers near Fenway Park in Boston yesterday, so has the NY Yankee hit hard times? Yes, but not in the way you think. He lost a bet to Mark Wahlberg when A-Rod's team was swept by the Red Sox. Therefore, he spent a day doing everything at the hamburger joint for the day including mop the bathroom floor.
How did the slugger feel about it? He wrote, "I had to do a little bit of everything – greet customers, flip burgers, clear tables, and yes, mop the bathroom floor. But what I thought was going to be a tough day turned out to be a day I really enjoyed.
"The people in New England were incredibly hospitable. I'm sure they were in a great mood with both the Red Sox at home today and the @Patriots opening their season here, too. I was grateful for the way I was treated, and hey, I even got a free lunch in the deal.
"It's no surprise there more than 25 Wahlburgers locations already across the country. If there's one near you, definitely find your way there. Delicious!
"Now, I need to double down and hopefully get Mark in the Bronx sometime. #GoYankees"
Mr. J-Lo got lucky that Beantown was nice to him because there was a time that never would have happened. Especially after 1986.
When it comes to A-Rod, he has my respect now because he wimped out on the bet. But he didn't. That is how we do it in The Bronx!
---
Has Jon Stewart hit hard times?
July 20th, 2018 under Hard times, Jimmy Kimmel, Jon Stewart. [ Comments:

none

]

Ever since Jon Stewart left The Daily Show, we have barely seen him in public. Turns out that he has been there all along, we just did not know it. In fact he left the Big Apple for Hollywood after his show ended. Hollywood Boulevard that is. Why there? Because he is one of the people in costume on the boulevard of broken dreams. He is The Incredible Hulk.
Donald Trump has got him so angry, he has permantly turned into the green monster. Which is why he warned Mr. McGee not to make him angry because he would not like him when he is angry. Same goes for the guy in the White House.
So is Hulk a smash? Does not seem that way according to how he acted on Jimmy Kimmel Live when he was unmasked.
---