Has Nick Cannon hit hard times?
August 20th, 2019 under Hard times. [ Comments:

none

]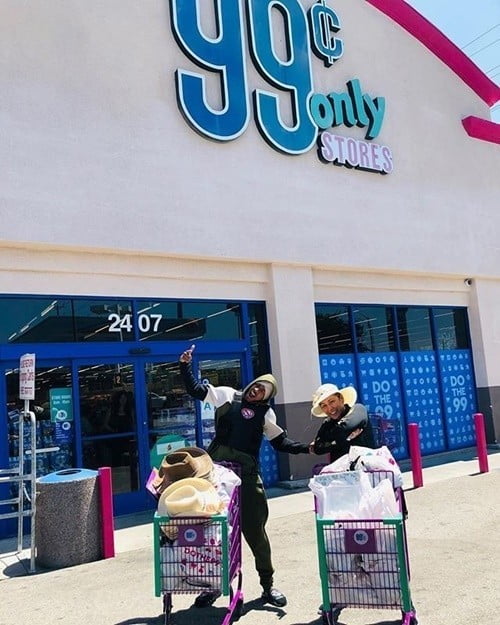 Nick Cannon was seen with a cart full of stuff from the 99 Cents Only Store, so has the actor, host and comedian hit hard times? Actually, Cannon, DJ Carisma, Teddy Mora and Melissa Rios raided the market to help others. The four hosts from Power 106's Nick in the Morning competed in a grabbing everything they can in 99 seconds and donating whatever they picked up to the L.A. Mission. Well, after they paid for it of course.
Personally, if I were them, I would have gone in the back or down the first aisle where all the food is. Then I would have gone done the aisle with the medicine and stuff. However, I would not have picked up the condoms and pregnancy tests because that is the only thing I don't trust from them. Oh and they should have gone down the toy aisle because they have some cool toys. Don't tell my nieces that is where I get their presents.
BTW, I know that Burbank store very well. Hopefully, they cleaned up their mess after they left because the workers are good at keeping that place tidy!
Seriously, it is nice when a morning show does good and this is doing a very good thing.
To see them "shopping," then click here!
---
Has Hugh Jackman hit hard times?
June 18th, 2019 under Hard times, Hugh Jackman. [ Comments:

none

]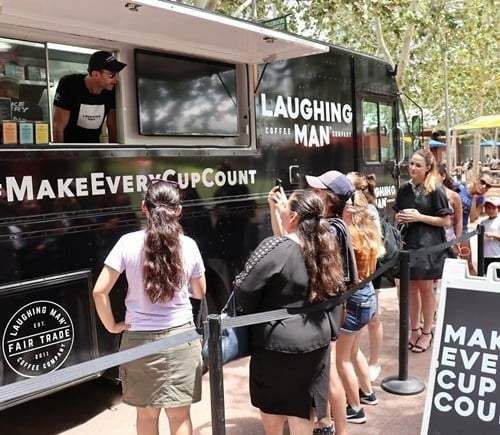 Hugh Jackman was seen serving coffee from a food truck. Does that mean the actor, who is touring with his cabaret show, hit hard time, and needs a way to for the tour?
Nope, he is just promoting his coffee brand Laughing Man Coffee Company. Not only are they a good cup of Joe, but they also do good work as in charitable. Which is why their slogan is "Make Every Cup Count."
---
Has Sean Patrick Flanery hit hard ties?
May 20th, 2019 under Hard times, Sean Patrick Flanery. [ Comments:

none

]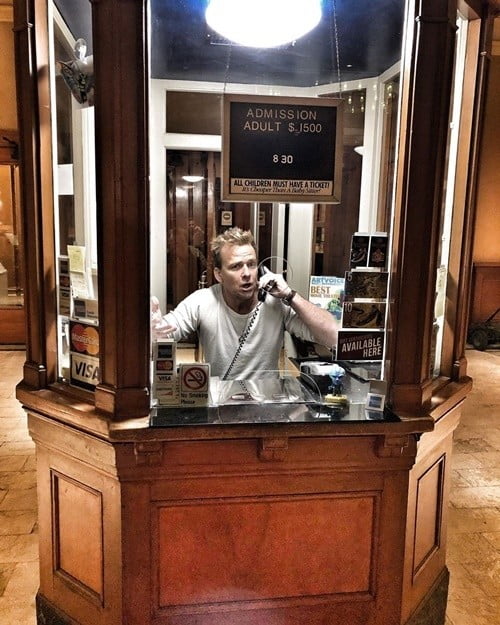 We are used to seeing Sean Patrick Flanery inside theaters on the big screen in movies like Power, Simply Irresistible (one of my all-time favorites) and Saw 3D. However, this weekend he was seen actually selling the tickets in front of the movie theater. Has the actor hit hard times?
Far from it. He was in Buffalo, NY for Nickle City Con and they held a screening with Q&A at a local theater there forThe Boondock Saints. Thus, he was in the booth greeting fans as they came to see him.
BTW I miss beautiful ticket booths like that one at movie theaters. SPF always looks good, but sitting in there makes him look, well, simply irresistible. It has me touching my pants' belt. Men is that true?
---
Has Steven Tyler hit hard times?
May 6th, 2019 under Aerosmith, Hard times. [ Comments:

none

]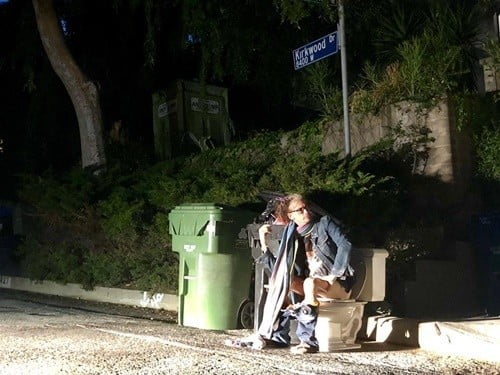 Steven Tyler was seen pooping on a toilet in the street, so has he hit hard times? He wrote this with the photo, "I'M SHITTIN' PRETTY @Ryanseacrest … BUT I REALLY NEED TO WIN YOUR RADIO (( TO PAY MY BILLS FOR A YEAR )) CONTEST BRO." Sounds like he has if his Aerosmith money doesn't cover his bills for the rest of his life, his children (that he knows about) lives and his grandchildren's lives.
Did he win? The radio DJ actually made a funny with his response, "Hopefully you're ok with being the runner-up because unfortunately it appears you're finishing number 2." Because toilet humor is always funny!
Seriously, I love that the singer is always willing to go there and he does.
---
Has Glee's Josh Sussman hit hard times?
April 16th, 2019 under Glee, Hard times. [ Comments:

none

]

Josh Sussman or Glee's JewFro, as he is better known as, was seen working at 7-Eleven, so has the actor hit hard times? Far from it. He is working for the store, but he is doing commercials for them like the one above. What is Lea Michele doing? Besides her new husband?
---