Brad Garrett makes a funny about Justin Bieber's suit
April 4th, 2022 under Brad Garrett, Justin Bieber. [ Comments: 1 ]
Is Justin Bieber auditioning for the Incredible Shrinking Man? Because why else would the Baby singer wear a suit to the Grammys that was made for a man twice his size?
I am not the only one questioning his decision, so is Brad Garrett. The actor, who is 6'8″, wrote, "I wondered where the f— my suit went. @justinbieber PLEASE RETURN. No questions asked. 🙏❤️"
I think we can all agree that Garrett dropped the mic with this joke. However, since he is so tall, the mic still hasn't hit the ground.

---
Will there ever be an Everybody Loves Raymond revival?
October 21st, 2020 under Brad Garrett, Patricia Heaton, Ray Romano. [ Comments: none ]

It has been 15 years since Everybody Loves Raymond ended, and people still love it. Therefore, you have to wonder if we will ever get a revival of the sitcom.
Ray Romano told Harry Smith on Today, "We've kind of agreed…it won't happen with us. We are missing Peter [Boyle]. We are missing Doris [Roberts]. We're missing the crux of the show."
While we will never see them do a new script together, Romano, Patricia Heaton, and Brad Garrett are getting together tomorrow to read scenes from old scripts to raise money for International Myeloma Foundation. The cancer that took Peter Boyle away from us.
I wish they would consider doing a reboot because it is doable.

---
Brad Garrett shows the stages of quarantine
May 18th, 2020 under Brad Garrett. [ Comments: none ]

Remember, when we first we were locked down, we were all happy to be with our loved ones. Then as the weeks went on, we missed seeing our other loved ones. Finally, we are the point where we just want to get out and get away from the people we have been quarantining with, even though we love them?

Well, Brad Garrett and his fiancee, IsaBeall Quella, demonstrated those stages of stay-at-home in these quatraits by Innis Casey.

Good thing they don't have kids. If they did, then Garrett might be living his show Single Parents, sooner rather than later. Which ABC better bring back for another season because I love it.

---
BTWF: Brad Garrett on Roseanne
October 2nd, 2019 under Before They Were Famous, Brad Garrett. [ Comments: none ]

Before Brad Garrett was a cop on Everybody Loves Raymond, he worked at a bank on Roseanne. He hasn't aged a day since he was 31 in that 1991 episode.

---
A mini-Everybody love Raymond reunion
April 8th, 2019 under Brad Garrett, Ray Romano. [ Comments: 1 ]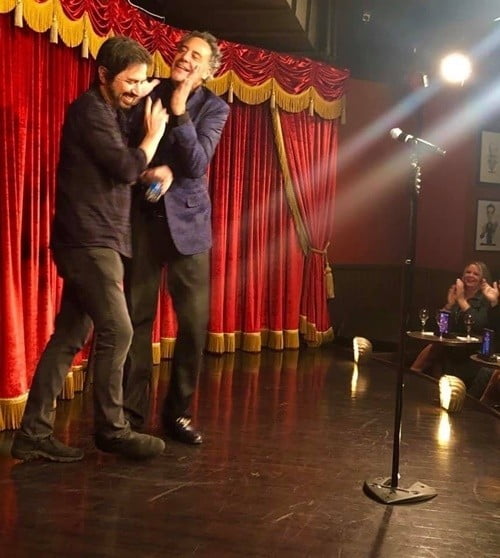 Next month, it will be 14 years since Everybody Love Raymond ended and yet Brad Garrett and Ray Romano still act like the brothers they played on that beloved sitcom. Over the weekend, the two men reunited at Garrett's Las Vegas comedy club and I am sure the patrons enjoyed the double surprise of funny.
Which makes you wonder why they don't do a revival of their sitcom that ended way too early. They can film it over the summer while Garrett is on a break from Single Parents (which ABC better pick up for a second season). The story is easy to do, Ally, her husband and their child move into her late grandparents' house and now Debra and Ray are acting just like Frank and Marie did to them. Not only that, a recently divorced Robert moves back into his old room and drives everyone crazy.

---