The Full House cast reworks their show's opening
April 8th, 2020 under Full House, John Stamos. [ Comments:

none

]

Celebrities are trying to get the word out that we need to stay home during the Coronavirus pandemic and the Full House cast is the latest one to do so.
John Stamos, Bob Saget, Dave Coulier, Candace Cameron, Jodie Sweetin, Andrea Barber, and creator Jeff Franklin reshot the show's opening for today's tough times.
The Tanners want us to "stay safe and stay home" because "unlike Full House, this will all go away."
Even after a nuclear war, Full house will still be airing in syndication with I Love Lucy, Leave It to Beaver, Bewitched and I Dream of Jeannie.
---
Bob Saget has turned into Danny Tanner
March 23rd, 2020 under Full House. [ Comments:

none

]
@bobsaget

Whatever happened to predictability?

Most television characters morph into the person that is playing them. However, for Bob Saget it is the reversed. The dirty comic said, "Oh. My. God. I spend my day cleaning and vacuuming and sanitizing everything in the house. I have become Danny Tanner."
I wonder if the dad from Full House ever realized that he would turn into a character that is the complete opposite of him. That is just what Coronavirus has done to him. Something I am sure his wife is loving.
---
Fuller House wraps production
November 18th, 2019 under Full House. [ Comments:

none

]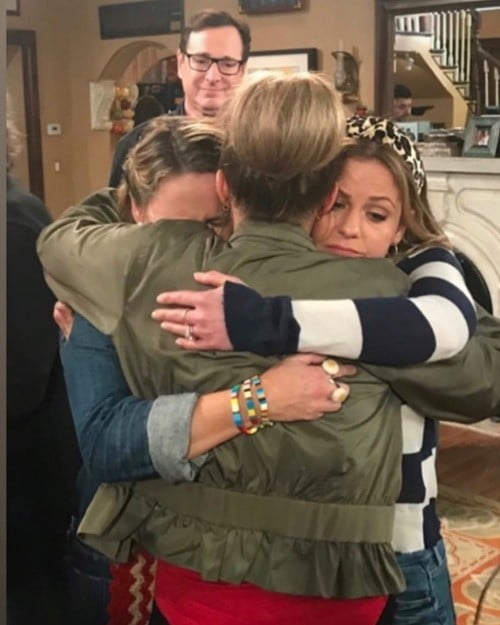 Full House lasted for 8 seasons. It's reboot Fuller House went for 5 more. All together that is 13 seasons of the cast working togeter and 32 of being a family.
Therefore, when they taped their final episode on Friday: Candace Cameron, Jodie Sweeten and Andrea Barber got a little emotional. While their TV dad, Bob Saget, looks like a real dad sending his girls off to college.
Even though, Fuller House is done, I do not think that is the last we will see of the Tanners. Maybe for their next take, the Olsen twins will come out of retirement to do whatever the next project is. Maybe a Christmas movie in 2021?
---
Lori Loughlin and Mossimo Giannulli plead not guilty
April 15th, 2019 under Full House. [ Comments:

none

]
Embed from Getty Images
Lori Loughlin and her husband Mossimo Giannulli plead not guilty today to federal charages accusing the couple of paying $500,000 to get their two daughters into University of Southern California according to the Los Angeles Times.
Personally, from all we know about the college admissions scandal, I do not think it is a smart choice. I know, they say innocent until proven guilty, but since half the parents, who also had charges brought against them, already plead guilty, I think it will be even harder for them to prove otherwise.
I think at the end of the trial, if they don't take a plea deal, they will be out a lot of money and spend a lot of time in a jail cell.
The actress might think she can brush off these charges like she is brushing her hair off her shoulder, but I don't think she will be able to do that. It has already cost her a TV show, a television movie series, more telemovies and final appearances on Fuller House. Without Hallmark Channel and Full House, what else does she have going on career-wise? Plus, who knows how her husband's fashion line will do now that are part of this scandal.
---
Want to own the Full House house?
March 28th, 2019 under Full House. [ Comments:

none

]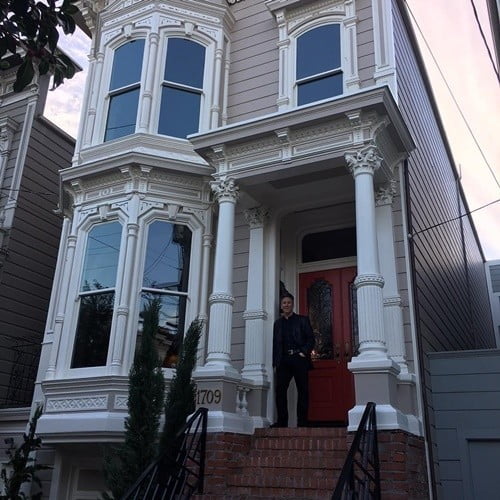 Back in 2016, Executive Producer Jeff Franklin bought the San Fransisco home that is used for the exterior of his shows Full House and Fuller House. Now, he tells the San Fransisco Chronicle that he is putting it on the market next month.
He explained his decision to paper, "It is a symbol of the shows I love, and the second family I have formed with the casts of 'Full' and 'Fuller House.' Now that 'Fuller House' is ending, I will be putting the home back on the market. I hope to find a buyer who wants to make it a full house once again."
He never lived in the house that he paid $4 million for, but he did do some renovation inside of it. The paper says that it was what he wanted to make it look on the inside like it does on the show, but his neighbors, who are not happy with all the fans stopping by, put the kibosh on that.
It is unknown what he will be selling it for, but I would assume it would be more than what he paid for it. Thus, if you have an extra $5 million laying around, it can be yours.
---