Bob Saget's TMI!
February 22nd, 2019 under Full House, TMI. [ Comments:

none

]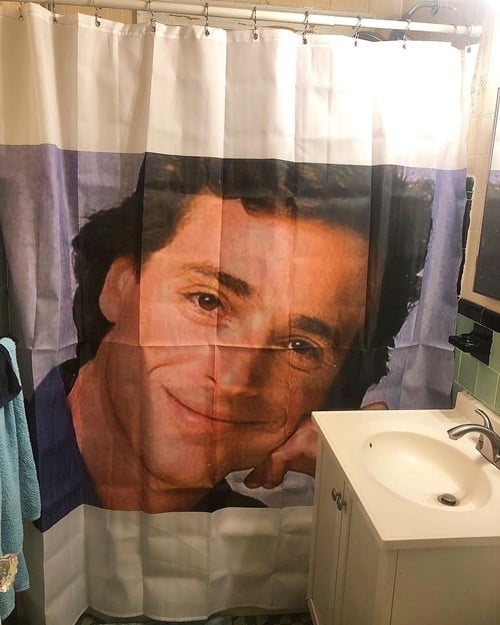 When you think of Bob Saget, you think of the corny dad on Full House. In real life, he is the complete opposite. He tells jokes so dirty, even Danny Tanner could not clean it up.
Case in point, here is the latest joke he tweeted, "I'm so embarrassed – I don't know how, but I got my penis stuck in the shower drain of the hotel I'm in. Never underestimate the power of shower gel. #freedom" Doesn't it have to be long enough to get stuck in there? What? You thought the same thing.
One more joke, it might have gotten stuck in there because he was thinking of that shower curtain and got really turned on.
---
The good news is Fuller House gets another season, the bad news is…
January 31st, 2019 under Full House. [ Comments:

none

]

Netflix announced today that Fuller House was renewed for season five. That is the good news, the bad news is that it will be the sitcom's last one.
That means we are going to have to say farewell to the Tanners and Kimmy Gibbler all over again. At least we had these five seasons with them, which is five more than we thought we would get when Full House ended in 1995.
Even though we are preparing to say goodbye, I do not think it will be the last we see of them. What do you think?
---
Jodie Sweetin went to bed like this
January 8th, 2019 under Full House, In Bed. [ Comments:

none

]

Celebrities love to share photos of them looking perfect when they wake up in the morning. Jodie Sweetin shared one of herself back in bed after attempting to go to Spin Class. Let's be honest, her choice is so much better than sweating on a stationary bike.

Plus, it is officially a week after New Year's Day. If you have not broken all of your resolutions by now, then you are the one in the million.
---
Kirk Cameron explains how he injured his sister Candace
December 8th, 2018 under Full House, Kirk Cameron. [ Comments:

none

]

The other day the Camerons had a family reunion and the siblings took part in a Go-Kart race. Kirk Cameron thought he could overtake his younger sister, but it caused her to spin out of her control. What happened next sent the Full House star to the hospital with a possible broken hand. Luckily Candace is OK per her brother who caused the injury and did not really make a public apology. What is up with that?
As a punishment, I think he should watch his movie Saving Christmas, I love faith-based films about the holiday, but this one is really unwatchable.
---
Bob Saget has a full house again
October 30th, 2018 under Full House. [ Comments:

none

]

Bob Saget did something he hasn't done in over 35 years and that is get married. The 62-year-old married Kelly Rizzo on Sunday in Santa Monica. The two got engaged almost a year ago.

Very few details are known like if Uncle Joey and Uncle Jesse were the best men. What we do is another J attended the nuptials and it is John Mayer.
---