Finally a Donald Trump mugshot!
August 24th, 2023 under Donald Trump, Mug Shot. [ Comments: none ]
Finally, after years of waiting to see Donald Trump in a mugshot, the day has finally come. He was booked, fingerprinted, and smiled for the camera in the Fulton County Sheriff's Office today. And it is a beautiful thing.
OK. He didn't smile for the camera. He looks like the Devil. That is, if Satan was arrested for trying to fix an election because he couldn't handle the fact that he lost. However, Lucifer is more likable than Trump, so I am sure he would win in a head-to-head election. I know I would vote for the Devil I Know over the one I don't and don't want to know.
And as soon as I saw his face, I imagined why he was so pissed. He was angry they didn't kiss his ass and treat him like he is special as his worshippers do. I can't believe how many fake Christians and Orthodox Jews believe in this antichrist over their Gds. Haven't they read the 10 Commandments? You know the one that says, "Thou shalt have no other Gds before me."
Today, I saw one of his followers say he is a modern-day Jesus Christ. Jesus died for her blasphemy, but he didn't die for Trump's sins. There is a special place for Trump in Hell. And he earned that place for being an awful person. And I am saying that as a New Yorker who knew what a disgusting person he was since I was a kid. Way before the rest of the world found out.
So I hope he goes to jail and never sees the White House again. I just wish my cousin was still alive to see it happen. But I am sure she is watching it all go down from Heaven.

---
Jimmy Fallon won late night's battle on the Donald Trump indictment jokes
March 31st, 2023 under Donald Trump, Jimmy Fallon. [ Comments: none ]
In case you somehow missed it, Donald Trump was indicted, or as he spells it, "indicated," yesterday.
Well, as expected, late night had a field day with jokes about it. However, there was only one winner. Mostly because I only watched Jimmy Fallon's segment on The Tonight Show.
Anyways, he mashed up Trump's words to the music of The Pointer Sisters' I'm So Excited and changed it to I'm So Indicted. It is so simple. And because of that, it is so brilliant.
Who thought he would win March Madness? It is kind of like how well my college is doing in the other March Madness. But I don't want to talk about it because I don't want to jinx them.

---
Barbra Streisand is going to have a conniption over this news
September 28th, 2021 under Barbra Streisand, Donald Trump. [ Comments: none ]
Stephanie Grisham, who worked as Melania and Donald Trump's Press Secretary, wrote a book about her time in the White House. There are plenty of bombshells in it, but one of them might make Barbra Streisand go nuclear, as in explode.
Daily Beast's Roger Sollenberger says, "Trump WH press secretary Stephanie Grisham claims that when he got angry, his aides had an official known as the Music Man play show tunes, including 'Memory' from Cats.'"
The most famous version of that tune is sung by Babs. Therefore, I assume they played her take on it. So imagine how the singer is going to react when she hears this news? We all know she is not a fan of the Donald. Thus, she is not going to like to hear that he listened to her even if it might've saved mankind and Cats from a nuclear war.
Oh, to be a fly on the wall when she finds out. I wonder what song she will put on to calm her down. We know it will be one of hers, and it won't be Memory.

---
Keegan-Michael Key is going to play Donald Trump's penis
September 23rd, 2021 under Donald Trump. [ Comments: none ]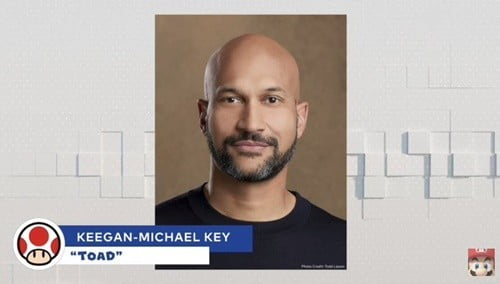 Nintendo announced today who will be the voice cast in the Super Mario Bros. animated movie that comes out on December 21, 2022. One of the names attached to the movie is Keegan-Michael Key, and he will be voicing Toad.
So why did I say he is playing Donald Trump's penis? Remember when Stormy Daniels described Trump's penis as Toad from Mario Brothers? Well, I can never forget. Anytime I see the Mushroom Retainer, that is all I can think about. Therefore, when I see the movie, that is who I think Key will be playing. Tell me I am not alone.
For those of you who care about the film and want to know who else is in it, then click here!

---
Watch Trump implode!
February 17th, 2021 under Donald Trump. [ Comments: none ]

Today was a great day in America. That is because a Trump went down in just a few seconds. Sadly, not a living one on criminal charges, but the inanimate one in Atlantic City.
Trump Plaza in the New Jersey gambling town was imploded to make way for something newer and better like the Biden Tower. Just joking. Anything is better than a Trump building.
Although there was an advantage to it still standing, it reminded Trump about all of his bankruptcies it caused him.
To see another angle of the implosion, then click here!

---