Donald Trump knows how to resign
February 4th, 2021 under Donald Trump. [ Comments: none ]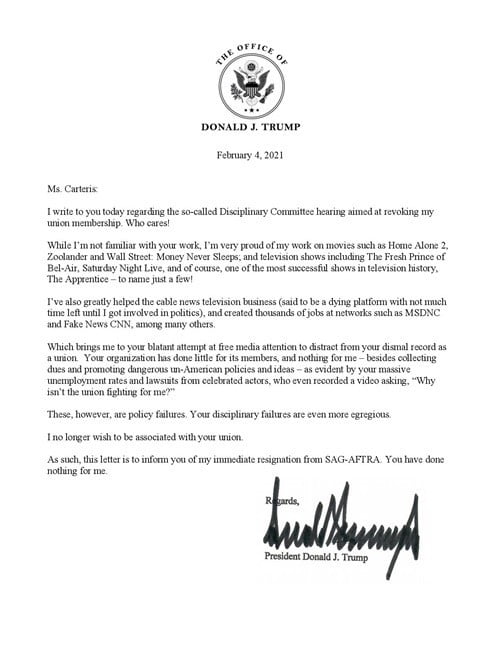 SAG-AFTRA recently announced that they planned on holding an meeting to expel Donald Trump from their union. However, now they don't have to because he already resigned. America's worst president sent them a letter full of what he normally does, lies.
He addressed the letter to the union's president Gabrielle Carteris. "I write to you today regarding the so-called Disciplinary Committee hearing aimed at revoking my union membership. Who cares," he wrote. "While I'm not familiar with your work, I'm very proud of my work on movies such as Home Alone 2, Zoolander and Wall Street: Money Never Sleeps; and television shows including The Fresh Prince of Bel-Air, Saturday Night Live, and of course, one of the most successful shows in television history, The Apprentice – to name just a few!"
First off, he doesn't know her work because he is too old to know Beverly Hills, 90210. Second, The Apprentice is nowhere close to being one of the "most successful shows in television history." Reality television is cheap like him, which is why it lasted so long.
Then he goes on to say, "Which brings me to your blatant attempt at free media attention to distract from your dismal record as a union. Your organization has done little for its members, and nothing for me – besides collecting dues and promoting dangerous un-American policies and ideas – as evident by your massive unemployment rates and lawsuits from celebrated actors, who even recorded a video asking, 'Why isn't the union fighting for me?'"
The video is about older actors complaining about getting screwed on the healthcare plan. He has a point there. However, so many actors are out of work because of how Trump screwed up the coronavirus plan.
Maybe he should stop listening to Chachi, the girl who played Buffy in the movie, and Antonio Sabato, Jr. to know the real deal about the union.
Anyways, SAG-AFTRA's President Gabrielle Carteris and National Executive Director David White responded to him with two words. Not those two words, but "Thank you." That is a perfect example of a mic drop.
BTW Did you know that a former president of SAG went on to become President of the United States? His name is Ronald Reagan.

---
Billy Bush gives Donald Trump one last bus ride
January 21st, 2021 under Donald Trump, Jimmy Kimmel. [ Comments: none ]

We all know what happened the first time that Donald Trump and Billy Bush went for a bus ride for Access Hollywood. Well, to give Trump the proper sendoff, the now host of Extra decided to do it again. What happens next? I don't really care because the loser is finally out of the White House and allowed to grab his own pussy. I am assuming that is what his crotch looks like one because I am sure his penis has retreated back into his body.
On a serious note, I love that Bush was willing to go there for Jimmy Kimmel Live.

---
James Corden gives Donald Trump a Les Misérables sendoff
January 20th, 2021 under Broadway, Donald Trump, James Corden. [ Comments: none ]

James Corden has done a few musical numbers on his Late Late Show throughout the years, but yesterday's might be his most perfect one yet. That is because he reworked Les Misérables' One Day More in honor of Donald Trump's one more day in the White House.
Since he cannot do such a big group number by himself, he was joined by Broadway stars: Joshua Grosso, Jillian Butler, Emily Bautista, Kyle Scatliffe, Shuler Hensley, Patti LuPone, and Matt Lucas. Three of which star/red in the musical.
Broadway is one of the hardest-hit industries because of the pandemic. Therefore, the CBS talk show donated money to Broadway Cares as a thank you to the actors who took part in this song.

---
Donald Trump is 'the most masculine person to ever hold the White House'?
January 12th, 2021 under Donald Trump. [ Comments: none ]

Yesterday on Fox News, Bill Hemmer asked Hogan Gidley if Donald Trump feels emasculated because Twitter and other social media sites cut off his balls. The former White House Office of the Press Secretary replied by saying, he is "the most masculine person, I think, to ever hold the White House is the president of the United States."
If he thinks that Trump is the manliest man to hold the job, I want to know what he thinks of past presidents like George Washington, Abraham Lincoln, the Roosevelts, John F. Kennedy, Ronald Reagan, and Barack Obama. They stood up for the country, fought for it and the people who call it home. What has soon to be impeached ever done that was tough?
Yelling and being a bully does not make you strong, it makes you weak. I grew up in NYC, I know what a manly man is, and Trump is not one of them. I have taken down men like that. It is so easy because they think if they scream, you will bow down to them. However, if you call them on their bluff, they fold. It is quite fun, TBH. That is why Trump is so afraid of strong women; we know his weakness and go for the jugular.

---
Pamela Anderson tries to bribe Donald Trump into pardoning Julian Assange
December 8th, 2020 under Donald Trump, Pamela Anderson. [ Comments: 1 ]

It has been alleged that people tried to bribe the White House with large sums of money for a pardon. Pamela Anderson decided to use her special skills to get Donald Trump's attention.

The actress put on a bikini and asked him to pardon her friend Julian Assange. Did it work? We find out in the next 43 days. That's right, in 43 days, he will finally be out of the White House for good. It cannot come soon enough.

---