Is Barbara Eden really 90 years old?
August 23rd, 2021 under Barbara Eden. [ Comments: none ]
Today is Barbara Eden's 90th birthday. However, you would never know it by looking at her enjoying her celebratory cupcakes today.
She never ages. I want to know what her secret is. But I think it has something to do with sleeping in Jeanie's bottle. Does anyone know where I can get one?
Although, if the bottle turns back the hands of time as it does for her, then I will be a baby all over again. And I ain't going through school and puberty all over again.
Now back to our favorite Jeannie. If you didn't know her real age, how old would you think she is?

---
A classic sitcoms' fan's wet dream
August 23rd, 2019 under 60s, 70s, 80s, Barbara Eden, Loni Anderson. [ Comments: none ]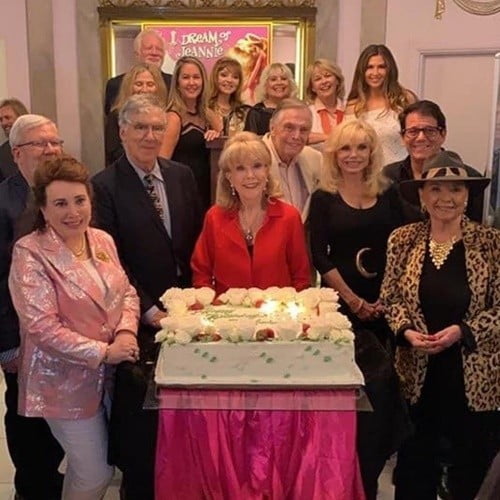 Today is Barbara Eden's 88th birthday. However, she celebrated it earlier this week with some friends at The Hollywood Museum. You might recognize some of them because, like her, they have been on our TVs all of our lives.
Do you recognize Leonard Maltin (movie critic), Elliott Gould (E/R), Roslyn Kind (Singer), Donny Most (Happy Days), Erin Murphy (Bewitched), Judy Tenuta (comedian), Peter Marshall (Hollywood Squares), Loni Anderson (WKRP in Cincinnati), Ilene Graff (Mr. Belveder), Anson Williams (Happy Days) and Dawn Wells (Gilligan's Island)?
We normally might have to change the channels to see them all, but for once we get to see them all in one dream photo? I feel like I rubbed Jeannie's bottle and a wish I never knew I wanted came true. While we got our wish, I hope that Eden got the one she made when she blew out her candles.
Happy Birthday Barbara Eden, may you get everything you want and more!

---
A '60s boy's wet dream, Barbara Eden and Connie Stevens!
August 21st, 2019 under 60s, Barbara Eden, Connie Stevens and Joely Fisher, Wet dream. [ Comments: none ]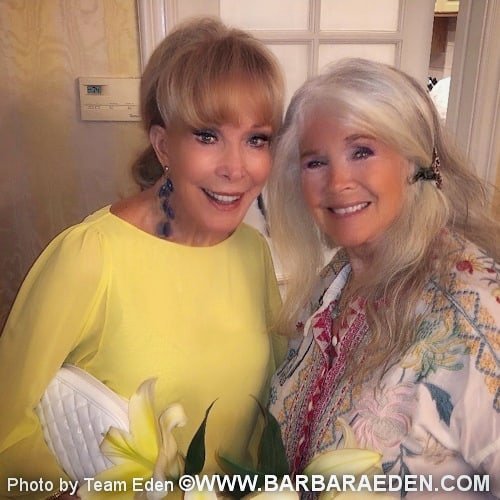 Back in the '60s, boys were at home watching Barbara Eden on the small screen in I Dream of Jeannie and going out to see Connie Stevens on the big screen. However, the two blondes never would share the screen together. Even though they only worked together with Bob Hope to entertain the troops, they have a friendship that has survived many decades.
One that brought them together yesterday looking as beautiful as they did 60 years ago at the start of their careers. Can you believe Eden is 87 and Steven is 81? 80 is the new 40. I am no longer afraid to get old if that is what it is going to look like.

---
BTWF: Barbara Eden on I Love Lucy
March 7th, 2019 under Barbara Eden, Before They Were Famous, Lucille Ball. [ Comments: none ]

Before Barbara Eden had a job that only a Jeannie could make happen, she had another one that every girl in Hollywood wished they could have. How stunning was the 25-year-old in that 1957 episode of I Love Lucy?
Yesterday, when Eden was on Live with Kelly and Ryan, she told them how Lucille Ball was really nice to the green actress. In fact, she reveals that the legend wanted to give her contract, but Fox offered her one before the redhead had a chance. I wonder who would have played Jeannie had Eden turned down Fox?

---
Three Melrose Place stars and a Jeannie!
October 26th, 2018 under Barbara Eden, Beverly Hills 90210 / Melrose Place, Denise Richards. [ Comments: none ]

Hallmark Channel is gearing up for wonderful Christmas season full of magical movies. One of them stars Denise Richards, Patrick Muldoon, Jamie Luner and the never aging Barbara Eden. I don't care what this still untitled movie is about, I declare now that it is a going to be a holiday classic for years to come. Who is not going to want to watch the four of them in one film?

---