Connie Stevens wants to be the Queen of TikTok
June 14th, 2021 under Connie Stevens and Joely Fisher. [ Comments: 2 ]
Connie Stevens recorded a song called Tick Tock in the '60s. Now, 60 years later, we are all about TikTok. Therefore, she thinks both of their worlds should merge, and I agree with the 82-year-old legend.
She wrote this with her debut video, "In 1961 I recorded this song 'Tick Tock' So I guess that makes me the OG. ❤️ #Fyp #NightDoneRight #superstar #TikTok #sundayfunday🍻 #yasssqueen"
Let's get this trending. If Paul Anka's Put Your Head On My Shoulders could make a comeback via the social media site, why can't a song that shares the same name as it do the same?

---
Is Connie Stevens really 82?
April 9th, 2021 under Are they really their age?, Connie Stevens and Joely Fisher. [ Comments: none ]
Now that Connie Stevens is fully vaccinated, she is ready to experience the world, aka a restaurant again. Therefore, she went and had a drink with her daughter.
However, all I could focus on in this photo is how good that drink looks. Well, that and how Stevens looks f*cking amazing for 82? Would you believe that is how old she is if I didn't tell you that? I doubt it.
What is her secret? Her skincare line Forever Spring. I don't know about you, but I am going to order some now.

---
A '60s boy's wet dream, Barbara Eden and Connie Stevens!
August 21st, 2019 under 60s, Barbara Eden, Connie Stevens and Joely Fisher, Wet dream. [ Comments: none ]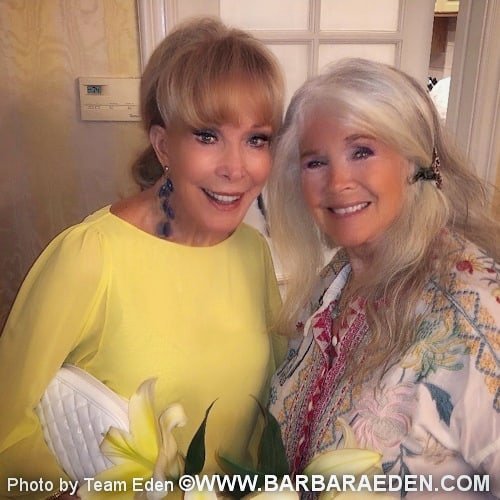 Back in the '60s, boys were at home watching Barbara Eden on the small screen in I Dream of Jeannie and going out to see Connie Stevens on the big screen. However, the two blondes never would share the screen together. Even though they only worked together with Bob Hope to entertain the troops, they have a friendship that has survived many decades.
One that brought them together yesterday looking as beautiful as they did 60 years ago at the start of their careers. Can you believe Eden is 87 and Steven is 81? 80 is the new 40. I am no longer afraid to get old if that is what it is going to look like.

---
Is Joely Fisher really 48?
May 20th, 2016 under Are they really their age?, Connie Stevens and Joely Fisher, Uncategorized. [ Comments: none ]

Joely Fisher shared a photo of herself getting ready for a performance and I can't believe she is 48. Doesn't she look amazing for her age or any age in just her underwear and a robe?
Granted genetics plays a big role in her ageing process because her mom Connie Stevens still looks amazing at 77 years young. Two beauties in one photo.

---
Remember Connie Stevens?
December 14th, 2012 under Connie Stevens and Joely Fisher, Remember?. [ Comments: none ]

WENN.com
Connie Stevens came out for the Saving B. Jones premiere and the 74 year old actress looks f*cking amazing! Can you believe she is that old because she looks more like Joely Fisher's sister than her mother. Not that Joely looks old, just that her mother looks so young!

---