BTWF: Arnold Schwarzenegger in Happy Anniversary and Goodbye
January 17th, 2022 under Arnold Schwarzenegger, Before They Were Famous, Lucille Ball. [ Comments: none ]
Before Arnold Schwarzenegger was starring in comedies like Twins and Kindergarten Cop, Lucille Ball gave him his start in Happy Anniversary and Goodbye. The 27-year-old held his weight against two comedic legends, Ball and Art Carney.
The Governator told Graham Besinger how he got the part and how Ball saved him when he froze in front of a live audience. To hear what he said, then click here!

---
Is it just me or does Nicole Kidman in Being the Ricardos look like Eric Stoltz in Mask?
December 22nd, 2021 under Keith & Nicole Urban, Lucille Ball. [ Comments: none ]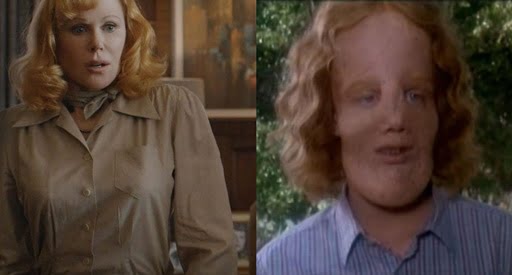 So yesterday, I decided to watch Being the Ricardos on Prime Video, and I couldn't get past something. Nicole Kidman's prosthetics in the movie made her look more like Eric Stoltz playing Rocky Dennis in Mask than Lucille Ball. So much so, I spent most of my time listening to the movie as compared to watching it. Do you see it too?

---
Nicole Kidman is like that ugly bronze Lucille Ball statue in Being the Ricardos
November 10th, 2021 under Keith & Nicole Urban, Lucille Ball, Prime Video. [ Comments: none ]
Look, I want to start off and say that I am a fan of Nicole Kidman's. However, I think she and Javier Bardem were horribly cast in Being the Ricardos.
I get that this is a slice of Lucy and Desi Arnaz's life together. However, they still look like the characters they played on I Love Lucy when the cameras are not rolling. Unfortunately, the actors portraying them do not. It is like they are expecting us to have not been bombarded with their images since the day we were born.
Kidman kind of sounds like Ball. But, her higher Australian accent and drawl ruin the impression.
When it comes to her face, it looks even more Botoxed than usual. She looks like she is wearing a plastic Halloween mask of Ball from the '70s as compared to prosthetics.
Hopefully, Aaron Sorkin's script will save the movie that comes out on December 21st. He is a genius but there is only some much he can do.
What do you think of the trailer?

---
BTWF: Lucille Ball in Moulin Rouge
October 26th, 2021 under Before They Were Famous, Lucille Ball. [ Comments: none ]
Before Lucille Ball had shows named after her, she was uncredited in Moulin Rouge. How gorgeous was the 21-year-old in that 1933 movie?

---
Being the Ricardos proves Oscar winners can't play every role
October 19th, 2021 under Lucille Ball, Prime Video. [ Comments: none ]
Oscar winners Nicole Kidman and Javier Bardem are playing Lucille Ball and Desi Arnaz in Being the Ricardos. Many of us were thinking they were going to be bad. However, we would not really know until we saw the trailer.
Today, Amazon Studios released the first look, and they are not bad. They are awful. Kidman is trying to speak like an American, so her speech is slowed down. Therefore, she sounds like herself and not the legendary actress. Since we didn't really see her in action, we don't know if she looked like her or not. Bardem, on the other hand, looks more like Fred Flintstone than Ricky Ricardo.
I love Aaron Sorkin's work, and I know that Lucie Arnaz praised the movie, but I think this is a colossal fail. However, a TV executive said to me today that he is going to wait to see the whole movie before he judges the performances. He is a better man than I am a woman because I think as awful a person as Ball was rumored to be, she deserves better than this.
Are you going to see it on December 20th, or would you rather watch an I Love Lucy marathon that will most likely be airing that weekend instead?

---