Nicole Kidman is no Lucille Ball
January 11th, 2021 under Keith & Nicole Urban, Lucille Ball. [ Comments:

none

]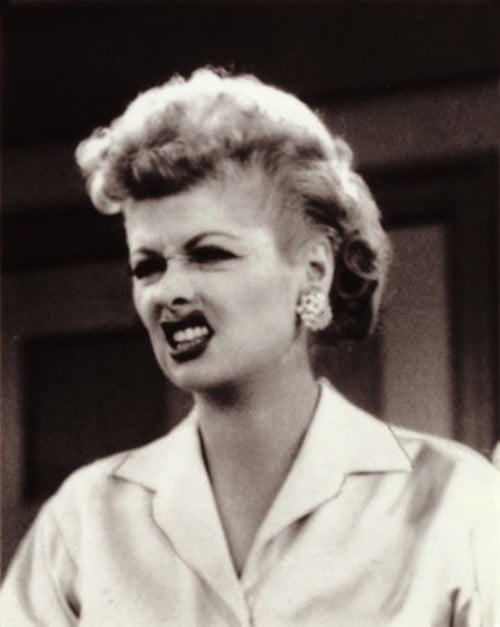 The good news is that Aaron Sorkin is doing a movie about Lucille Ball and Desi Arnaz called Being the Ricardos. The bad news is that he is thinking of casting Nicole Kidman and Javier Bardem in the title roles.
The only thing that Kidman has in common with the legendary actress is that they are both redheads. Although only one is a natural ginger. Not only that, Kidman can't do comedy. Even though they are not focusing on the couple's humor.
According to Variety, "The movie will take place during a production week on the set of I Love Lucy, starting with a Monday table read through an audience shoot on Friday. Ball and Arnaz will face challenges that could end their careers and their marriage."
Even though it is drama, she is still wrong for the role. So is Bardem, who is a Spaniard and not Cuban. There is a huge difference, and they should try to find someone who is Cuban for the role.
Just because they won Oscars does not mean they can play every role. Maurice Bernard played a good Desi, and he is an Emmy winner.
I just think if you are going to have actors play infamous people, make sure they are right for the role—especially celebrities as lauded as these comedic pioneers.
To be honest, I would rather see Debra Messing in the role. Who do you want to see play the couple?

---
BTWF: Wayne Newton on The Lucy Show
September 4th, 2020 under Before They Were Famous, Lucille Ball. [ Comments:

none

]

Before Wayne Newton was singing to packed audiences in Las Vegas, he was singing to a pack of animals on The Lucy Show. How much to love listening to the 23-year-old singing in that 1965 episode?
xoxo George!

---
Will & Grace pays tribute to I Love Lucy tonight
April 9th, 2020 under Debra Messing, Lucille Ball, Megan Mullally and Nick Offerman, Sean Hayes. [ Comments:

none

]

Tonight at 9p on NBC, Will & Grace goes back to the '50s as they pay tribute to another sitcom.
Grace (Debra Messing), Jack (Sean Hayes) and Karen (Megan Mullally) all ask Will who he thinks is the most like Lucielle Ball. When he doesn't give an answer, they imagine themselves doing one of her iconic scenes from the legendary series.
Grace goes first and she recreates the Vitameatavegamin commercial. You can tell that Messing was meant to be a Lucy. She looks just like her. So much so, you would think she was Lucy.
Jack imagines working in the chocolate factory with Ethel (Messing), and their boss is Lucie Arnaz. In case you don't know, she is Ball and Desi Arnaz's daughter. Back to Jack, you can tell he was inspired by the comedienne.
Finally, Karen smashes some grapes with a surprise guest. I try to be positive, but I was very disappointed by Mullally's performance on tonight's episode. Maybe I was not in on the joke, but I expected better from her.
Then there is Will, who plays Ricky Ricardo in all of the segments. As much as I would have wanted to see him as Lucy, he is the perfect Ricky to their Lucys.
Who is the biggest Lucy of them all? You just have to watch to see.
If Desi and Lucy were alive today, they would be applauding the whole episode. You don't have to be a fan of either show to enjoy tonight's episode. You just have to be a fan of laughing.

---
Will & Grace will honor I Love Lucy with Lucie Arnaz
November 25th, 2019 under Debra Messing, Lucille Ball, Megan Mullally and Nick Offerman, Sean Hayes. [ Comments:

6

]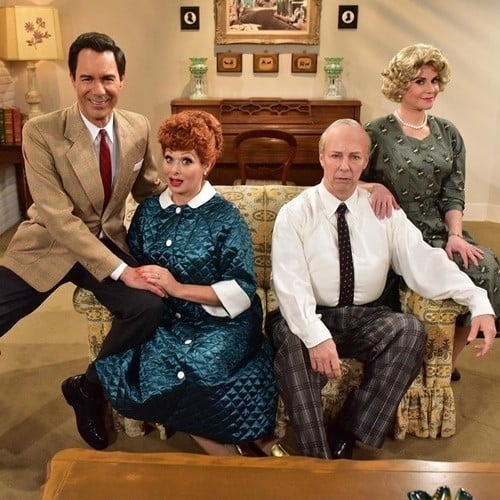 Anyone who watches Will & Grace can tell that Debra Messing has been heavily influenced by Lucille Ball. Well this week, she and the cast of the NBC sitcom will be filming an episode that will be paying tribute to I Love Lucy.
According to Entertainment Weekly: Messing, Sean Hayes and Megan Mullally will each play Lucy in a different dream sequence while Eric McCormack will recreate Ricky Ricardo. The mag says that, "Messing gets to play Lucy in a 'Vitameatavegamin' scene, Hayes will assume the title role in the chocolate factory, and Mullally will recreate the memorable grape stomping moment."
The sitcom got the go-ahead to do it from Lucie and Desi Arnaz, Jr. with the former appearing on the special episode. We do not know what she will be doing, but she teased us with, "A very special guest star, playing a very fun role … Any guesses??" I have none.
While I cannot tell you what she will be doing on the show, I can tell you it will air sometime in the Spring before the sitcom signs off for a second time.
UPDATE: Lucie Arnaz shared a photo from the set in makeup. To see if you got the answer right, then click here!

---
P!nk's bronze statue is Lucille Ball bad
May 15th, 2019 under Lucille Ball, Pink. [ Comments:

none

]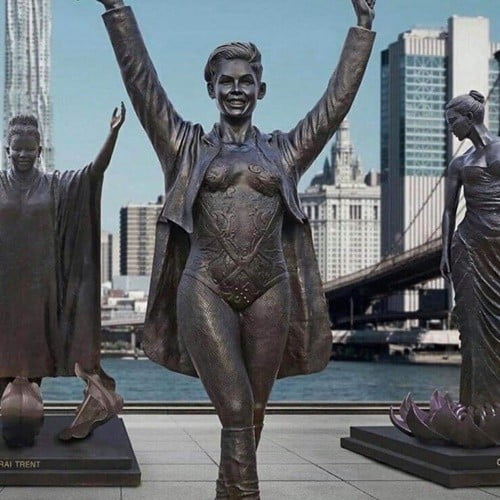 P!nk is such an extraordinary woman that she is one of the 10 women who is being featured in Statues for Equality in NYC. Which is a huge honor, until you see it.
Her drummer Mark Schulman shared a photo of it being displayed and it reminds me of when we all saw Lucille Ball's bronze statue in her hometown. As in it looks nothing like the singer. It looks more like Mayor Pete Buttigieg than the Rock star.
What do you think of it? Who do you think it looks like?
The other 9 women who are being honored by Gillie and Marc are Oprah Winfrey, Nicole Kidman, Jane Goodall, Cate Blanchett, Tererai Trent, Janet Mock, Tracy Dyson, Cheryl Strayed and Gabby Douglas. It will be interesting how they turned out.

---