Shannen Doherty will help say goodbye to Luke Perry on Riverdale
July 21st, 2019 under Archie Comics, Shannen Doherty. [ Comments: none ]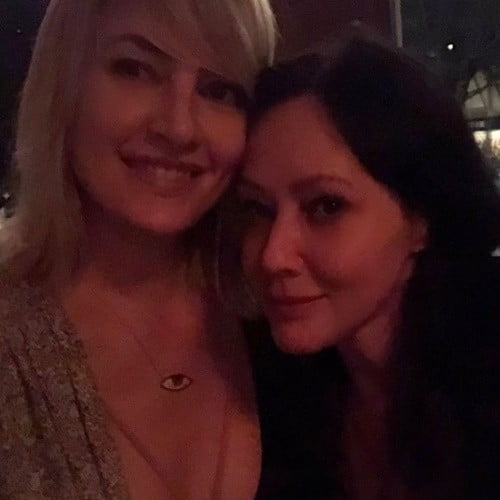 Riverdale already said that they will pay tribute to Luke Perry on their season premiere. Today at San Diego Comic-Con they announced that Shannen Doherty will be joining them on the standalone episode that airs on October 9th.
Riverdale's executive producer Roberto Aguirre-Sacasa told Entertainment Tonight that Perry had been trying for years to get his good friend on The CW show. When he started putting together this episode, he knew she needed to be involved.
The EP said, "There was a very emotional, important role and we sent the script to Shannen and she read it and loved it and said, 'I want to do it,' so it's about honoring their friendship a little bit." He did not say exactly what she will be doing, however, he did reveal that she will be helping his TV son (KJ Apa) deal with his father's death.
The actress wrote, "I am deeply honored to pay tribute to Luke on Riverdale. The care in which this show takes in honoring his memory is beautiful. He is missed. Today. Tomorrow. Forever."
I wonder how her BH90210 stars feel about this? Personally, out of all his former cast members, I think she is the best one for the job.
This was not the only Riverdale news to break during their panel. Dawson Creek's Kerr Smith is taking over as Principal. He will be joining the show in episode 2 that is appropriately called Chapter Fifty-Nine: Fast Times at Riverdale High. I say that because they say Mr. Honey will take a harder line with the students kind of like how Mr. Hand was to Spicoli.

---
The Riverdale cast remembers Luke Perry at his tribute episode's table read
July 9th, 2019 under Archie Comics. [ Comments: 2 ]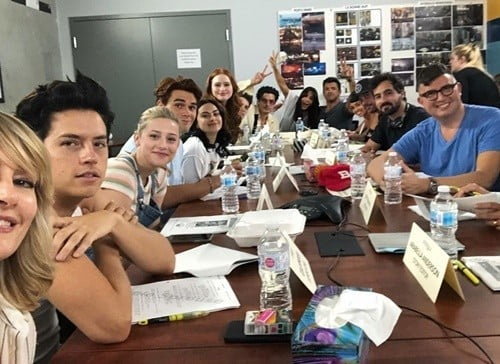 Towards the end of season 3, Luke Perry suddenly passed away from a stoke. The show's executive producer Roberto Aguirre Sacasa said that they wait to would address his passing in the season 4 premiere. Yesteday, the cast got together to read that episode for their friend and mentor.
Mädchen Amick described that table read as, "There was nothing but love, memories and mourning for our beloved Luke as we honor him in our first episode back ❤️ #wemissyouluke #inmemoriam #riverdale #S4 #tableread."
While they remember him with joy in this photo, I am sure we are going to need the tissues when the episode airs in October. My heart goes out them as they film that tribute for their buddy.

---
Riverdale will honor Luke Perry in its season premiere
June 20th, 2019 under Archie Comics. [ Comments: none ]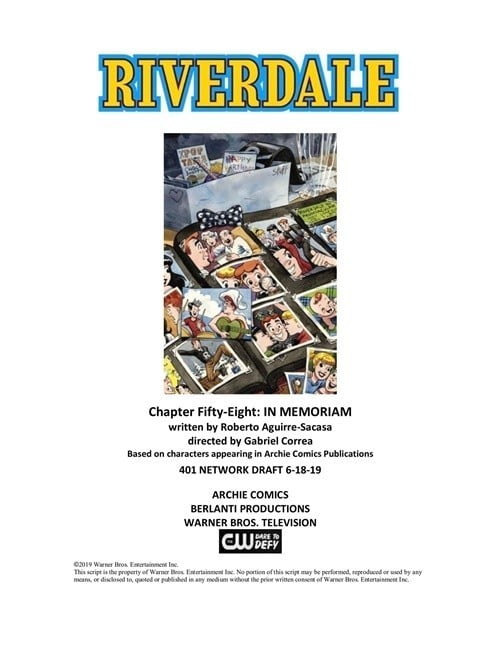 On March 4th, the World was in shock when it was announced that Luke Perry passed away from a massive stroke that he suffered a few days beforehand. Some of the most saddened people were his co-stars on Riverdale. Even though there were a few episodes left to shoot for the season, the producers decided to wait until the 4th season to handle his untimely passing.
Roberto Aguirre Sacasa announced that they will be handling Fred Andrews' death in the season premiere. He wrote, "Probably the most important episode of #Riverdale we'll do this year, if not ever. A tribute to our fallen friend. Thankful for this opportunity to honor Luke & Fred. ❤️🏆💎👨🏻‍💻"
Get the tissues ready by October 9th because I am sure the tribute will be a real tearjerker. A proper sendoff for a man who loved by everyone.

---
Season 2 of Chilling Adventures of Sabrina looks like it's going to be on fire!
March 18th, 2019 under Archie Comics, Netflix. [ Comments: none ]

To me, Chilling Adventures of Sabrina was the surprise hit of 2018. I was expecting it to be absolutely dreadful and crap on the original series' legacy; but in turn, it was a million times better than the sitcom.
That was season one and looks like season two is really going to light things up. It will be as witchy as Melissa Joan Hart is in real life. Too cold?
Back to the magical show, get your brooms ready because it is back on April 5th. I cannot wait to see the half mortal/half witch, to show them how it is really done!
Finally, still, my only problem with this Sabrina is that Salem doesn't talk! That is my only complaint.

---
Riverdale remembered Luke Perry tonight
March 6th, 2019 under Archie Comics, The CW. [ Comments: none ]

Tonight was the first episode of Riverdale to air on The CW since Luke Perry's shocking death due to a massive stroke on Monday. They made sure to let everyone know that he might be gone but he will never be forgotten.
Roberto Aguirre-Sacasa, the drama's creator, declared earlier today, "Tonight's episode of #Riverdale finds Fred doing what he does best–helping Archie. It is dedicated to Luke, as all episodes will be for the rest of our run. 💔❤️🏆" Which is a sweet way to remember their dad on the show.
No word yet how they will handle his death on the show, but I am sure Fred Andrews will get a proper send off. Right, now we just need to let them all mourn because they lost a dear friend.

---