BTWF: Shannen Doherty in Father Murphy
June 15th, 2021 under Shannen Doherty. [ Comments: none ]
Before Shannen Doherty lived the ritzy life in Beverly Hills, 90210, she lived the completely opposite way on Father Murphy. How cute was the 10-year-old back in 1981?
Here is what the actress said about her debut role. "Father Murphy. My first job with the amazing Michael Landon producing. I also worked with Jack Elam who was a wonderful character actor. We worked in Tucson, Arizona in 100 degree plus weather wearing buckskins and I loved every minute. It remains one of my fondest memories," she wrote. "Michael soon after cast me in Little House New Beginnings where I had the privilege of him directing me many times. #buckteeth"

---
Shannen Doherty reveals she has stage 4 breast cancer
February 4th, 2020 under Shannen Doherty. [ Comments: none ]

About four years ago, Shannen Doherty revealed that she had breast cancer by shaving her head. In 2017, she shared the news that she was in remission. Today, she told Amy Robach on Good Morning America that it came back, and it is stage four. The actress says she found out it was back about a year ago and is still processing the diagnosis because "it's a bitter pill to swallow in a lot of ways."
She knew her fate when her good friend, Luke Perry, died of a stroke in March. She said this about his untimely death, "It's so weird for me to be diagnosed and then somebody who was, you know, seemingly healthy to go first. It was really, like, shocking. And the least I could do to honor him was to do that show. I still haven't done, in my opinion. So it's a hard one."
The show she is talking about is the spinoff BH 90210, and she did it because she wanted to honor Perry. The only person she told on the set was Brian Austin Green, and he was there for her when they were working long days. She wants other people to know that you can still work with stage 4 cancer.
Why did she come out now? She is in a legal battle with State Farm insurance over the settlement they gave to her for her house that was heavily damaged during the Malibu fires in 2018. They will be going court in the next few days, and she did not want the world to find out about her cancer returning from the documents.
She is fighting for the little guys who have been taking advantage of by insurance companies. Why go through all of that when she is going through all of this? Doherty explains, "I think the thing I want to do the most right now is I want to make an impact." Then she added, "I want to be remembered for something bigger than just me."
That she will be remembered for. She has always been larger than life since she starred in the movies Girls Just Want to Have Fun, and Heathers in the '80s, and later on when she did Beverly Hills, 90210, Charmed and whatever else she was in. Her acting and her openness about cancer are just two of the many things we will remember about her. We will add making an impact on the ever-growing list.
I will be praying for her and everyone else that is fighting that horrible disease on World Cancer Day. Why can't they just come up with a cure already?

---
The boys had to stop a fight between Shannen Doherty and Jennie Garth
August 6th, 2019 under Aaron/Candy/Tori Spelling, Andy Cohen, Beverly Hills 90210 / Melrose Place, Shannen Doherty. [ Comments: none ]

Back when Shannen Doherty and Jennie Garth were filming Beverly Hills, 90210, they hated each other so much they were thicslose to getting into a physical fight.
Yesterday, when Garth and Tori Spelling were on Watch What Happens Live with Andy Cohen, a viewer wanted to know what was the worst fight that Garth and Doherty ever got into when they were working on the show. Kelly Taylor said that Brenda Walsh lifted up her skirt and in response, they took their fight outside. The boys followed them out and held them back so that it did not go too far. Which is a shame because the story would be even better if they did.
Why does Garth say they fought so much? Both of them are fiery Arieses who don't back down.
Where was Spelling at the time? She said that she was shaking in her dressing room because she was so upset over their fight. When things were not as serious as this altercation, she was the peacekeeper because she loved them both.
Do you love them both? Or are you Team Shannen like me? Who is actually Team Jennie?
Another reason why I am not Team Garth, when asked if she still talks to her What I Like About You co-star Amanda Bynes, she says no. Then she said she felt more like her mother than her sister when they were making that show. She looked it!
When they were asked who were the best kissers on the show, they each had a different answer. Spelling said Brian Austin Green, of course. While Garth said that Priestley is because he is a sloppy kisser. She is into that sort of thing.

---
BH90210 trading cards!
July 25th, 2019 under Aaron/Candy/Tori Spelling, Beverly Hills 90210 / Melrose Place, Shannen Doherty. [ Comments: 2 ]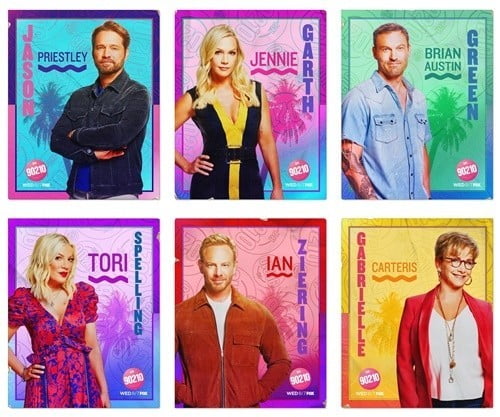 Back in the '90s, the cast of Beverly Hills, 90210 had their own trading cards. In honor of them all working together again, Fox released a new set of them before the show's premiere on August 7th. Now you can trade Jason Priestley, Jennie Garth, Brian Austin Green, Tori Spelling, Ian Ziering and Gabrielle Carteris for Shannen Doherty. Let's be honest that is the only card we want.
Wait you don't see her, then click here!

---
Shannen Doherty will help say goodbye to Luke Perry on Riverdale
July 21st, 2019 under Archie Comics, Shannen Doherty. [ Comments: none ]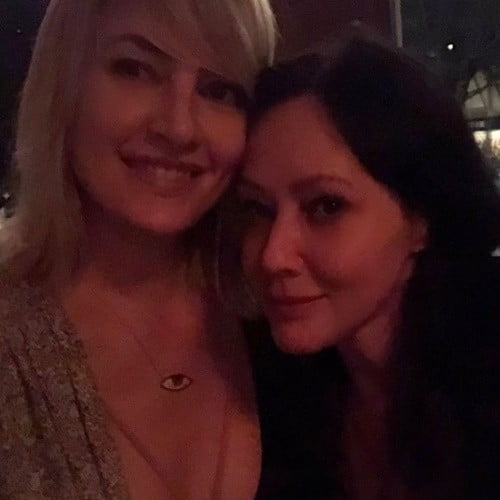 Riverdale already said that they will pay tribute to Luke Perry on their season premiere. Today at San Diego Comic-Con they announced that Shannen Doherty will be joining them on the standalone episode that airs on October 9th.
Riverdale's executive producer Roberto Aguirre-Sacasa told Entertainment Tonight that Perry had been trying for years to get his good friend on The CW show. When he started putting together this episode, he knew she needed to be involved.
The EP said, "There was a very emotional, important role and we sent the script to Shannen and she read it and loved it and said, 'I want to do it,' so it's about honoring their friendship a little bit." He did not say exactly what she will be doing, however, he did reveal that she will be helping his TV son (KJ Apa) deal with his father's death.
The actress wrote, "I am deeply honored to pay tribute to Luke on Riverdale. The care in which this show takes in honoring his memory is beautiful. He is missed. Today. Tomorrow. Forever."
I wonder how her BH90210 stars feel about this? Personally, out of all his former cast members, I think she is the best one for the job.
This was not the only Riverdale news to break during their panel. Dawson Creek's Kerr Smith is taking over as Principal. He will be joining the show in episode 2 that is appropriately called Chapter Fifty-Nine: Fast Times at Riverdale High. I say that because they say Mr. Honey will take a harder line with the students kind of like how Mr. Hand was to Spicoli.

---