Taye Diggs was killed off of All American
February 14th, 2023 under The CW. [ Comments: none ]
All American is the only CW scripted show that will be back next season (as of now), so you would think they would do everything to keep its biggest star. However, yesterday we said goodbye to Taye Diggs' character Billy Barker.
Barker and his team were in a bus accident on the way back from a trip, and the coach saved everyone on the bus as it hung over a cliff. Or so he thought. When he went back in to save Jabari, the bus went over the cliff. And that is the last we will ever see of him.
Diggs spoke with TV Line and shared with them why he decided to leave the show midway through the fifth season. "I was having a great time. It was just a feeling that I got [that I was ready to leave], and I just honored that feeling," the actor said. "It was maybe mid-fourth season. I don't even remember, to be honest, because the showrunner [Carroll] and myself are close. We'd been keeping in contact, so she had known, and we'd been talking. And we decided how to go about it, and storylines and whatnot, so it was all above board, and everyone was in the know."
How do you feel about the heart of the show leaving? Will you still watch?

---
The CW/Nexstar actually saved a show for next season
January 11th, 2023 under The CW. [ Comments: none ]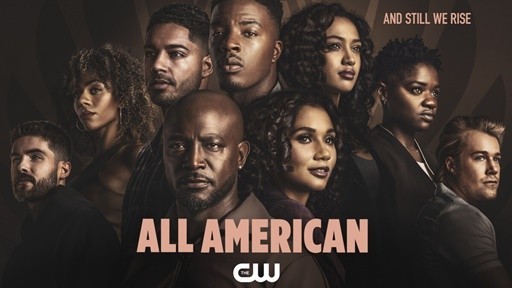 While The CW's new owner Nexstar has cancelled a lot of their shows, including Whose Line Is It Anyway, Nancy Drew, Riverdale, and Stargirl, they actually picked up one today for another season today.
That show is All American, and it will be back for a sixth season. At this point, we don't know if it will be the only show returning, but I am hoping not.
Hopefully, Nexstar will realize that The Winchesters is their next star before it is too late!

---
Whose Line Is It Anyway cancelled again
November 5th, 2022 under The CW. [ Comments: none ]
Whose Line Is It Anyway started its US run on ABC in 1998 with Ryan Stiles, Colin Mochrie, and Wayne Brady as performers, but they cancelled it in 2007.
The CW brought it back in 2013, but today Mochrie Tweeted some sad news. "Hey everyone. Hope you are enjoying the current season of Whose Line. In January, we shoot our final season," he wrote. "Thank you all for the support over the years."
Hopefully, HBO Max will save this funny show. It is cheap and has a loyal following. I am surprised it was not good enough for Nexstar, who acquired The CW and keeps swinging the ax.
Whose Line joins the recently cancelled Nancy Drew, DC's Star Girl, and possibly The Winchesters and Walker: Independence, which did not get any additional episodes ordered.

---
Nexstar didn't order additional episodes from The Winchesters and Walker: Independence
November 1st, 2022 under Supernatural, The CW. [ Comments: none ]
It has almost been a month since Nexstar acquired The CW, and I already hate them. , First, they cancelled Nancy Drew. Then, they did the same to DC's Stargirl. Today, they opted not to order any additional episodes from their two new dramas, The Winchesters and Walker: Independence. Meaning that both series are only getting a 13-episode first season.
While that sounds grimmer than the demons The Winchesters go after, Deadline says that both shows could get a second season.
If Nexstar cancels all of The CW shows at the end of the season, they will get cancelled themselves. When The WB and UPN merged to give us The CW, they kept a few shows like Supernatural. If Nexstar doesn't do the same, then they will lose all the viewers they had.
And if they cancel the Supernatural spinoff, I hope Netflix or HBO Max saves it. It is too good to only last 13 episodes.

---
Nexstar cancels another The CW show
October 31st, 2022 under The CW. [ Comments: none ]
Earlier this month, Nexstar acquired The CW, and they are already canceling shows. Last week, they announced that this season of Nancy Drew will be its last. Today, we found out that DC's Stargirl will be ending in December, according to Deadline.
So what shows from the network we love are left to learn their fate? They are All American, All American: Homecoming, Walker, Walker: Independence, Superman & Lois, Kung Fu, and The Winchesters. I have a feeling that Walker and The Winchesters will survive because they are going to want to stay in business with the Supernatural brothers, aka Jared Padalecki and Jensen Ackles.

---