Tom Swift swiftly becomes your newest addiction
May 31st, 2022 under The CW. [ Comments: none ]
Tom Swift is The CW's newest show, and it premieres tonight at 10p. However, he is not new to the network because we have seen him on Nancy Drew.
Swift (Tian Richards) is a billionaire inventor, and all he wants is his father's love and respect. But he doesn't get that. His father doesn't have faith in his son, even though he invented a spaceship for him. Before his dad goes into Space, he tells his son that he is giving the company to someone else if anything happens to him.
Swift thinks that his dad doesn't fully support him because he is gay. He might be right.
Now, Swift is doing everything he can to prove the company should be his, and it should be. Will he be able to win over the board and his father? We will have to tune in every week to find out.
And you are going to want to watch it because Tom Swift is a captivating show that keeps you wanting more.

---
The CW announces its 2022-2023 schedule and that Riverdale is ending
May 19th, 2022 under The CW. [ Comments: none ]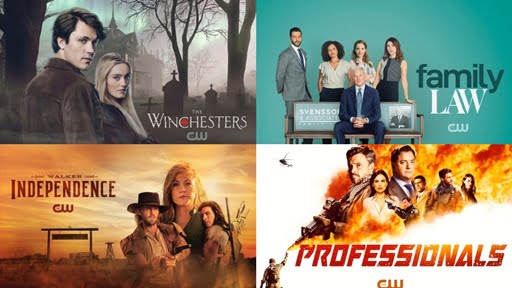 Today was a good day for the cast of Riverdale because their show is ending next season, and they are over doing it.
When it comes to the rest of the season, I think The CW did a good job pairing shows. It is a smart move to pair motherships with their spinoffs because you pretty much guarantee the viewer will stay for the night. I don't, but others do.
MONDAY
8:00-9:00PM ALL AMERICAN
9:00-10:00PM ALL AMERICAN: HOMECOMING
TUESDAY
8:00-9:00PM THE WINCHESTERS (New Series)
9:00-10:00PM PROFESSIONALS (New Series)
WEDNESDAY
8:00-9:00PM DC'S STARGIRL (New Night)
9:00-10:00PM KUNG FU
THURSDAY
8:00-9:00PM WALKER
9:00-10:00PM WALKER INDEPENDENCE (New Series)
FRIDAY
8:00-9:00PM PENN & TELLER: FOOL US
9:00-9:30PM WHOSE LINE IS IT ANYWAY?
9:30-10:00PM WHOSE LINE IS IT ANYWAY?
SATURDAY
8:00-9:00PM MAGIC WITH THE STARS (New Series)
9:00-9:30PM WORLD'S FUNNIEST ANIMALS
9:30-10:00PM WORLD'S FUNNIEST ANIMALS
SUNDAY
8:00-9:00PM FAMILY LAW (New Series)
9:00-10:00PM CORONER (New Night)
To read about the new shows, then click here!

---
There was a blood bath at The CW
May 12th, 2022 under Dynasty, Supernatural, The CW. [ Comments: 1 ]
The Grim Reaper came to visit The CW today, and he couldn't stop swinging his scythe. When he was done, Dynasty, 4400, Naomi, Charmed, and Roswell: New Mexico were all victims of his killing spree. Even the Vampires, aka Legacies, got a stake through the heart, ending The Vampire Diaries' franchise run with 13 seasons,
However, All American: Homecoming was able to survive the slaughter. The drama is not alone; it will be joined by newbies Gotham Knights, Walker: Independence, and The Winchesters.
These are the most drastic changes the network has made in years. How do you feel about all of these changes?

---
The CW cancels two of the DC Arrowverse shows
April 29th, 2022 under The CW. [ Comments: none ]
The CW usually picks up all of its series, but not this season. Today, they pulled the plug on DC's Legends of Tomorrow after 7 and Batwoman after 3.
Keto Shimizu, the showrunner of Legends, broke the news on social media. "Well, folks. It's been an incredible run. However, the CW has let us know that there will be no season 8 of #LegendsOfTomorrow. We are heartbroken, but also immensely grateful for the amazing work our cast, crew, and writers have contributed to the little show that could," she wrote. "Thank you to our fans; your love and passion for our strange band of misfits has made every break, every script, every daily, every cut, and every mix worth all the hard work. We see you, we love you, and you'll always have a place on the Waverider. ❤️"
While Batwoman's showrunner, Caroline Dries, wrote, "Just got the sad news that #Batwoman will not be seeing an S4. I am bummed, but full of gratitude. What an honor to make 51 episodes. So many inspiring, brilliant people contributed to this series. Thank you producers, cast and crew. Thank you, fans! We love you. ❤️"
And somewhere, the cast of Riverdale is jealous of these casts.

---
The CW's lucky 7 for next season
March 22nd, 2022 under The CW. [ Comments: none ]
The CW normally picks up all of its shows for the following season. However, not this year. They only picked up seven of their series for the 2022-2023 year. Those shows are All American, The Flash, Kung Fu, Nancy Drew, Riverdale, Superman & Lois and Walker.
"As we prepare for the 2022-23 season, these scripted series, along with the alternative series we renewed earlier, will serve as the start of a solid foundation utilizing some of our most-watched series for us to build on for next year and beyond," said Pedowitz. "These dramas are also important to our overall digital strategy, as they are some of our most-streamed and socially-engaged programming, and we look forward to adding more new and returning series to help strengthen and expand our multiplatform footprint."
So what is missing? My favorite Dynasty, along with 4400, All American: Homecoming, Batwoman, Charmed, DC's Legends of Tomorrow, DC's Stargirl, Legacies, Naomi, Roswell, New Mexico. It will be interesting to see what they pick up and what they cancel.

---