The CW announced when their shows will be back
October 30th, 2020 under The CW. [ Comments:

none

]

Due to the coronavirus pandemic, production was delayed for the fall season. Therefore, The CW decided to wait until winter to debut their shows. Today, they revealed when they will be back. Therefore, mark your calendars because you are not going to want to miss their lineup.

FRIDAY, JANUARY 8
8:00-8:30PM WHOSE LINE IS IT ANYWAY? (Cycle 9 Premiere)
8:30-9:00PM WHOSE LINE IS IT ANYWAY? (Encore Episode)
9:00-10:00PM PENN & TELLER: FOOL US (Season Premiere)

TUESDAY, JANUARY 12
8:00-8:30PM TWO SENTENCE HORROR STORIES (Season Premiere)
8:30-9:00PM TWO SENTENCE HORROR STORIES (Original Episode)
9:00-10:00PM TRICKSTER (U.S. Series Premiere)

SUNDAY, JANUARY 17
8:00-9:00PM BATWOMAN (Season Premiere)

MONDAY, JANUARY 18
8:00-9:00PM ALL AMERICAN (Season Premiere)

WEDNESDAY, JANUARY 20
8:00-9:00PM RIVERDALE (Season Premiere)
9:00-10:00PM NANCY DREW (Season Premiere)

THURSDAY, JANUARY 21
8:00-9:00PM WALKER (Series Premiere)
9:00-10:00PM LEGACIES (Season Premiere)

SUNDAY, JANUARY 24
8:00-9:00PM BATWOMAN (Original Episode)
9:00-10:00PM CHARMED (Season Premiere)

MONDAY, FEBRUARY 8
8:00-9:00PM ALL AMERICAN (Original Episode)
9:00-10:00PM BLACK LIGHTNING (Season Premiere)

TUESDAY, FEBRUARY 23
8:00-9:00PM THE FLASH (Season Premiere)
9:00-10:00PM SUPERMAN & LOIS (Series Premiere)

---
The CW picks up Burden of Truth for its fourth case
October 28th, 2020 under The CW. [ Comments:

none

]

The CW picked up Burden of Truth for its fourth season. The renewal for this drama and Coroner comes after CBC, who owns the shows, picked them up for another season, according to The Hollywood Reporter.
Burden of Truth is the best legal drama on television. Each season, Joanna (Kristen Kreuk) Billy (Peter Mooney) take on a new class-action case. Just when you think you know what is going to happen next, you do not. That is why I enjoy it so much. Not only is each case interesting, but the twists and turns also leave you on the edge of your seat. Each season, they get better and better at it, so I cannot wait to see what they do next.
If you missed the first seasons, you really should check them out. What else is on television?

---
When will Supernatural be back and what's next for Jensen Ackles?
August 17th, 2020 under Supernatural, The CW. [ Comments:

none

]

Due to the coronavirus pandemic, The CW's fall lineup is going to look a lot different than it normally would. Gone are our favortie shows, and we will say hello to acquired shows from other sources like CBS All Access' Tell Me a Story and DC Universe's Swamp Thing.
However, there is one show we know, and it is coming to an end. Starting on October 8th, they will begin airing the final seven episodes of Supernatural. Does it really have to end?
I guess it does because today Jensen Ackles announced what he will be doing next. He is reuniting with original Supernatural EP Eric Kripke, and he is joining the cast of The Boys on Amazon Prime as Soldier Boy. His character is described as, "the original Superhero. After Soldier Boy fought in World War II, he became the first super celebrity, and a mainstay of American culture for decades." Season two of the anti-Superhero show debuts on September 4th. You can watch the first season now.
To see The CW's fall lineup, then click here!

---
How Batwoman will handle Ruby Rose's departure
June 3rd, 2020 under DC Comics, The CW. [ Comments:

none

]

The DC Universe was recently shocked when it was announced that Ruby Rose would not be returning as Batwoman. What is The CW going to do for season two?
According to Decider, they are recasting Batwoman, but not Katy Kane. Instead, they are looking for a woman in her mid-20's to play Ryan Wilder. The character is described as, "She's likable, messy, a little goofy and untamed. She's also nothing like Kate Kane, the woman who wore the batsuit before her."
How they get rid of Kane, that we will find out in 2021. What do you think of their solution?

---
The CW is taking the fall off
May 14th, 2020 under The CW. [ Comments:

2

]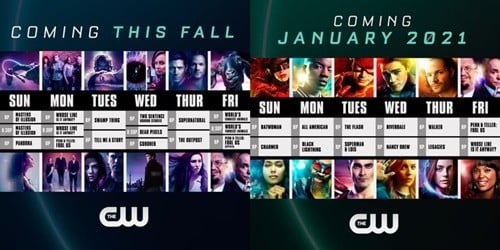 With the start of production nowhere in sight, the broadcast networks have to be creative with their fall lineups. On Monday, Fox revealed that they will be heavy on reality, animation, and held over shows in the fall.
Today, The CW announced that their original shows will skip the fall. Their only show that will air new episodes in that time period will be Supernatural, which did not finish its run because of COVID-19. According to Deadline, the network has five completed episodes on hold, and hope to shoot the final two before those episodes air. Then when Jared Padalecki is done with that show, he will move over to Walker that is expected to debut in early 2021.
When it comes to 2021, they will be adding Superman & Lois and Walker, a reboot of Walker Texas Ranger, to their lineup. Then in the midseason, Dynasty, DC's Legends of Tomorrow, In the Dark, Roswell, New Mexico, and Supergirl will be joined by Kung Fu and The Republic of Sarah.
MONDAY
8:00-9:00PM ALL AMERICAN
9:00-10:00PM BLACK LIGHTNING
TUESDAY
8:00-9:00PM THE FLASH
9:00-10:00PM SUPERMAN & LOIS (New Series)
WEDNESDAY
8:00-9:00PM RIVERDALE
9:00-10:00PM NANCY DREW
THURSDAY
8:00-9:00PM WALKER (New Series)
9:00-10:00PM LEGACIES
FRIDAY
8:00-9:00PM PENN & TELLER: FOOL US (New Night)
9:00-9:30PM WHOSE LINE IS IT ANYWAY? (New Night)
9:30-10:00PM WHOSE LINE IS IT ANYWAY? (New Night)
SUNDAY
8:00-9:00PM BATWOMAN
9:00-10:00PM CHARMED (New Night)
To read descriptions of the new shows and their fall lineup, then click here!

---