[ # ] The Riverdale cast remembers Luke Perry at his tribute episode's table read
July 9th, 2019 under Archie Comics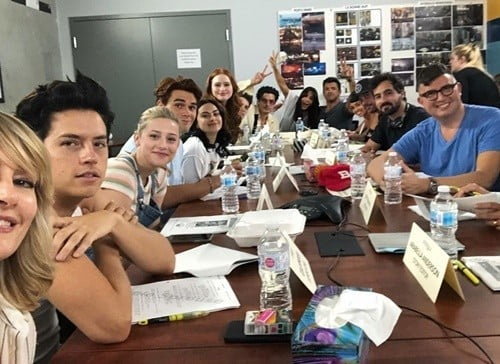 Towards the end of season 3, Luke Perry suddenly passed away from a stoke. The show's executive producer Roberto Aguirre Sacasa said that they wait to would address his passing in the season 4 premiere. Yesteday, the cast got together to read that episode for their friend and mentor.
Mädchen Amick described that table read as, "There was nothing but love, memories and mourning for our beloved Luke as we honor him in our first episode back ❤️ #wemissyouluke #inmemoriam #riverdale #S4 #tableread."
While they remember him with joy in this photo, I am sure we are going to need the tissues when the episode airs in October. My heart goes out them as they film that tribute for their buddy.

---