KJ Apa is so awwwwdorable when he gets scared!
February 18th, 2020 under Archie Comics, Ellen DeGeneres, KJ Apa. [ Comments: none ]

KJ Apa finally had his cherry popped when he got to appear on The Ellen DeGeneres Show for the first time today. Why now? He got cheeky with her when he showed her his peach during a birthday message he recorded for the talk show host. He knew that Ellen was going to see his a$$ in the reflection of the window on his balcony. It did not bother him because he was sure he had the best video of the bunch. He did.
Good thing, he is going to get Ellen underwear for being on the show. He is definitely going to need a pair. Not because he likes to send naked videos. It is because she scared the crap out of the New Zealand actor who was making fun of her wife's country/continent Australia.
The Riverdale star got so frightened he jumped out of his chair and ran around it. Then when his heart returned to a normal rhythm, he laughed about it in a way that is so endearing. It left a huge smile on my face as big as his buttcrack.
I bet he is so happy he finally got to be on the show after that.

---
Katy Keene has designs on your future
February 6th, 2020 under Archie Comics, Lucy Hale. [ Comments: none ]

Tonight at 8p, Riverdale gets its second spinoff, the first on The CW. Katy Keene (Lucy Hale) is a woman in her 20's who is so close to living her dream.
Ever since she was a little girl, she wanted to be a dress designer who worked at Lacy's in Manhattan. Well, she got half of her wish. She works for the head of personal shopping, Gloria Grandbilt (Katherine LaNasa), as one of her girls. There is a promotion coming up, and Katy wants it more than anything. Gloria tells her if she gets the job, she cannot be a designer while she has the job. It is all about putting Lacy's clothes and accessories on the clients.
Nothing is going to stop he, not even her perfect boyfriend, KO (Zane Holtz). His dream is to be a fighter, and the couple does not fight over anything. They have been together for the good times and the bad ones. As in when her mother died. After she lost her mother, his family accepted her as one of their own. Now, they are just waiting for her officially become one of the family.
While KO is part of her family, she has also formed a family with her roommate Jorge (Jonny Beauchamp), who also goes as Ginger. By day, he is auditioning to be on Broadway, at night he is performing as Ginger. He wants to be on the Great White Way, but they don't want him because they think he is too gay. He is at the point where he is starting to lose hope.
Who is not losing hope is Josie from the Pussycats in Riverdale and Katy and Ginger's new roomie. She left her hometown to be a singer in the big city. While she is singing in a park, she is discovered by Alexander Calbot (Lucien Laviscount). He wants to revive his father's record label, and he thinks Josie will be perfect for it. The only problem is that his sister Alexandra (Camille Hyde), does not.
Katy Keene is about the transition period we go through when we are fresh out of school. You have stars in your eyes that everything is possible. However, achieving what you want is not as easy as you thought it was going to be. This show is about achieving enjoyment, so watch it every Thursday at 8p.

---
BTWF: K.J. Apa on Shortland Street
October 9th, 2019 under Archie Comics, Before They Were Famous, Ed Sheeran, KJ Apa. [ Comments: none ]

Before K.J. Apa was jamming with Josie and the Pussycats on Riverdale, he was getting a guitar lesson from Ed Sheeran on Shortland Street. How cute was the 16-year-old playing with the musical genius back in 2007?

---
Riverdale says goodbye to Luke Perry, The CW says hello to Nancy Drew
October 9th, 2019 under Archie Comics, The CW. [ Comments: none ]

Tonight at 8p, Riverdale says goodbye to Luke Perry who passed away in March from a stroke. They wanted to give him a proper sendoff and they do.
Archie (KJ Apa) gets a phone call that his father was killed in another town. He runs home to his mom and the funeral director tells them that they cannot pick him up until July 5th because of the holiday on the next day and the parade in Riverdale.
Archie cannot wait that long, so he drives up there with Veronica (Camila Mendes), Betty (Lili Reinhart) and Jughead (Cole Sprouse) to pick his dad up. When they get there, they go to the place where his dad died and he meets the woman who was with him at the time of his death. Then he confronts the person who was also there and learns something about himself.
Now, it is time for him to go home and that is when you need to get the tissues. I cried as much then as when I heard Perry passed away. Riverdale did the proper tribute for a friend to them and us.

Then at 9p, Nancy Drew is back on our TVs and she has another mystery to solve.
Nancy Drew (Kennedy McMann) had a normal life until her mom died and then she gave up on school. Because of that, she did not apply to college and works as a waitress in her hometown where she lives with her dad (Scott Wolf). There she works with an old classmate George (Leah Lewis), who doesn't like her. Bess (Maddison Jaizani) who is taking a gap gear in their sleepy town. She is also dating Nick (Tunji Kasim) who has a criminal past.
One night while they are working, a socialite is killed in their small town outside the diner and they are all suspects. Since Nancy has solved a crime before, she thinks she can solve this case too. However, the police don't want her help.
Will she be able to solve the murder? We will have to tune in every week to find out?

---
Molly Ringwald and KJ Apa's gut wrenching hug on Riverdale's season premiere
September 4th, 2019 under Archie Comics, KJ Apa. [ Comments: none ]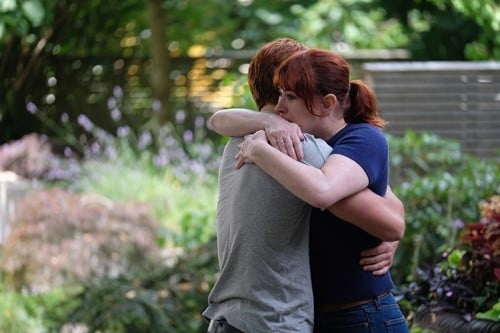 As we know, the season premiere of Riverdale is going to deal with the death of Fred Andrews. Luke Perry, who played the beloved character, passed away in March after suffering a stroke.
That tribute episode is going to air October 9th and now we are getting out first look from In Memoriam. The CW released three photos and the above one with Molly Ringwald and KJ Apa just breaks your heart. You feel as though it is a real mother consoling her son on the toughest day of his life. The moment he finds out his father is dead. With just one frame, you know this episode is going to be very emotional and make us cry. Just like we did when he heard that Perry passed away.
To see the other two photos, then click here!

---