Riverdale will honor Luke Perry in its season premiere
June 20th, 2019 under Archie Comics. [ Comments:

none

]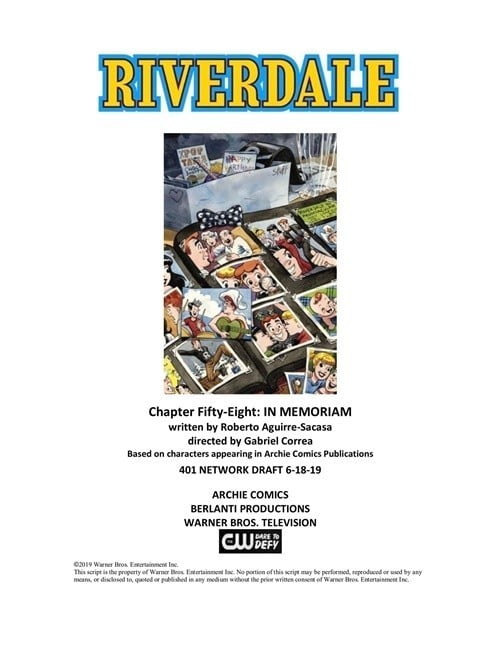 On March 4th, the World was in shock when it was announced that Luke Perry passed away from a massive stroke that he suffered a few days beforehand. Some of the most saddened people were his co-stars on Riverdale. Even though there were a few episodes left to shoot for the season, the producers decided to wait until the 4th season to handle his untimely passing.
Roberto Aguirre Sacasa announced that they will be handling Fred Andrews' death in the season premiere. He wrote, "Probably the most important episode of #Riverdale we'll do this year, if not ever. A tribute to our fallen friend. Thankful for this opportunity to honor Luke & Fred. ❤️🏆💎👨🏻‍💻"
Get the tissues ready by October 9th because I am sure the tribute will be a real tearjerker. A proper sendoff for a man who loved by everyone.
---
Season 2 of Chilling Adventures of Sabrina looks like it's going to be on fire!
March 18th, 2019 under Archie Comics, Netflix. [ Comments:

none

]

To me, Chilling Adventures of Sabrina was the surprise hit of 2018. I was expecting it to be absolutely dreadful and crap on the original series' legacy; but in turn, it was a million times better than the sitcom.
That was season one and looks like season two is really going to light things up. It will be as witchy as Melissa Joan Hart is in real life. Too cold?
Back to the magical show, get your brooms ready because it is back on April 5th. I cannot wait to see the half mortal/half witch, to show them how it is really done!
Finally, still, my only problem with this Sabrina is that Salem doesn't talk! That is my only complaint.
---
Riverdale remembered Luke Perry tonight
March 6th, 2019 under Archie Comics, The CW. [ Comments:

none

]

Tonight was the first episode of Riverdale to air on The CW since Luke Perry's shocking death due to a massive stroke on Monday. They made sure to let everyone know that he might be gone but he will never be forgotten.
Roberto Aguirre-Sacasa, the drama's creator, declared earlier today, "Tonight's episode of #Riverdale finds Fred doing what he does best–helping Archie. It is dedicated to Luke, as all episodes will be for the rest of our run. 💔❤️🏆" Which is a sweet way to remember their dad on the show.
No word yet how they will handle his death on the show, but I am sure Fred Andrews will get a proper send off. Right, now we just need to let them all mourn because they lost a dear friend.
---
Chilling Adventures of Sabrina cast a magical spell on Netflix!
December 18th, 2018 under Archie Comics, Netflix. [ Comments:

none

]

When Netflix announced that they were remaking Sabrina the Teenage Witch, I thought they were spitting on our childhood. Turns out that Chilling Adventures of Sabrina is so much better than the original. Mostly because Kiernan Shipka is just so gosh darn likable as Sabrina Spellman.
This show is honestly one of my top 10 favorite shows of the year because it was such an interesting and well-done twist on the story we already know. I am not the only person who loves it, so many others do. Lots and lots of other people. How many? We don't know.
What we do know is that Netflix picked up the show for season 3 and 4 before the second season even begins airing on April 5th. Talk about believing in a show. That or the witches put a spell on Netflix and they had no choice. Hmmmm, I like my latter theory better.
---
BTWF: Ryan Reynolds in Sabrina the Teenage Witch movie
November 27th, 2018 under Archie Comics, Before They Were Famous, Ryan Reynolds. [ Comments:

none

]

Before Ryan Reynolds was the coolest guy on campus in Van Wilder, he was the same way in high school in Sabrina the Teenage Witch movie. I forgot how cute and dorky he looked when he was just 19 in that 1996 telemovie.
---