BTWF: K.J. Apa on Shortland Street
October 9th, 2019 under Archie Comics, Before They Were Famous, Ed Sheeran. [ Comments:

none

]

Before K.J. Apa was jamming with Josie and the Pussycats on Riverdale, he was getting a guitar lesson from Ed Sheeran on Shortland Street. How cute was the 16-year-old playing with the musical genius back in 2007?
---
Riverdale says goodbye to Luke Perry, The CW says hello to Nancy Drew
October 9th, 2019 under Archie Comics, The CW. [ Comments:

none

]

Tonight at 8p, Riverdale says goodbye to Luke Perry who passed away in March from a stroke. They wanted to give him a proper sendoff and they do.
Archie (KJ Apa) gets a phone call that his father was killed in another town. He runs home to his mom and the funeral director tells them that they cannot pick him up until July 5th because of the holiday on the next day and the parade in Riverdale.
Archie cannot wait that long, so he drives up there with Veronica (Camila Mendes), Betty (Lili Reinhart) and Jughead (Cole Sprouse) to pick his dad up. When they get there, they go to the place where his dad died and he meets the woman who was with him at the time of his death. Then he confronts the person who was also there and learns something about himself.
Now, it is time for him to go home and that is when you need to get the tissues. I cried as much then as when I heard Perry passed away. Riverdale did the proper tribute for a friend to them and us.

Then at 9p, Nancy Drew is back on our TVs and she has another mystery to solve.
Nancy Drew (Kennedy McMann) had a normal life until her mom died and then she gave up on school. Because of that, she did not apply to college and works as a waitress in her hometown where she lives with her dad (Scott Wolf). There she works with an old classmate George (Leah Lewis), who doesn't like her. Bess (Maddison Jaizani) who is taking a gap gear in their sleepy town. She is also dating Nick (Tunji Kasim) who has a criminal past.
One night while they are working, a socialite is killed in their small town outside the diner and they are all suspects. Since Nancy has solved a crime before, she thinks she can solve this case too. However, the police don't want her help.
Will she be able to solve the murder? We will have to tune in every week to find out?
---
Molly Ringwald and KJ Apa's gut wrenching hug on Riverdale's season premiere
September 4th, 2019 under Archie Comics. [ Comments:

none

]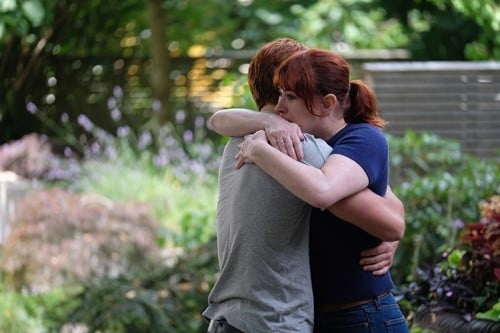 As we know, the season premiere of Riverdale is going to deal with the death of Fred Andrews. Luke Perry, who played the beloved character, passed away in March after suffering a stroke.
That tribute episode is going to air October 9th and now we are getting out first look from In Memoriam. The CW released three photos and the above one with Molly Ringwald and KJ Apa just breaks your heart. You feel as though it is a real mother consoling her son on the toughest day of his life. The moment he finds out his father is dead. With just one frame, you know this episode is going to be very emotional and make us cry. Just like we did when he heard that Perry passed away.
To see the other two photos, then click here!
---
Shannen Doherty will help say goodbye to Luke Perry on Riverdale
July 21st, 2019 under Archie Comics, Shannen Doherty. [ Comments:

none

]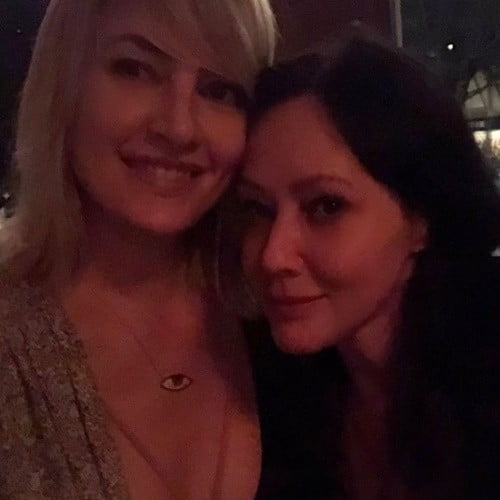 Riverdale already said that they will pay tribute to Luke Perry on their season premiere. Today at San Diego Comic-Con they announced that Shannen Doherty will be joining them on the standalone episode that airs on October 9th.
Riverdale's executive producer Roberto Aguirre-Sacasa told Entertainment Tonight that Perry had been trying for years to get his good friend on The CW show. When he started putting together this episode, he knew she needed to be involved.
The EP said, "There was a very emotional, important role and we sent the script to Shannen and she read it and loved it and said, 'I want to do it,' so it's about honoring their friendship a little bit." He did not say exactly what she will be doing, however, he did reveal that she will be helping his TV son (KJ Apa) deal with his father's death.
The actress wrote, "I am deeply honored to pay tribute to Luke on Riverdale. The care in which this show takes in honoring his memory is beautiful. He is missed. Today. Tomorrow. Forever."
I wonder how her BH90210 stars feel about this? Personally, out of all his former cast members, I think she is the best one for the job.
This was not the only Riverdale news to break during their panel. Dawson Creek's Kerr Smith is taking over as Principal. He will be joining the show in episode 2 that is appropriately called Chapter Fifty-Nine: Fast Times at Riverdale High. I say that because they say Mr. Honey will take a harder line with the students kind of like how Mr. Hand was to Spicoli.
---
The Riverdale cast remembers Luke Perry at his tribute episode's table read
July 9th, 2019 under Archie Comics. [ Comments:

2

]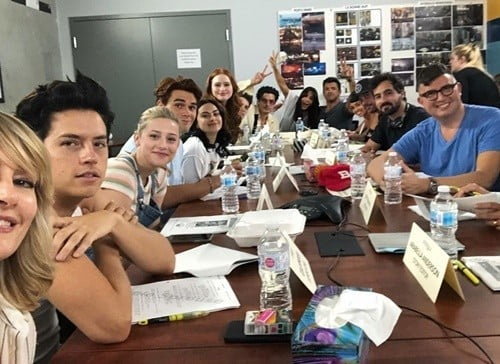 Towards the end of season 3, Luke Perry suddenly passed away from a stoke. The show's executive producer Roberto Aguirre Sacasa said that they wait to would address his passing in the season 4 premiere. Yesteday, the cast got together to read that episode for their friend and mentor.
Mädchen Amick described that table read as, "There was nothing but love, memories and mourning for our beloved Luke as we honor him in our first episode back ❤️ #wemissyouluke #inmemoriam #riverdale #S4 #tableread."
While they remember him with joy in this photo, I am sure we are going to need the tissues when the episode airs in October. My heart goes out them as they film that tribute for their buddy.
---