Caption Valentin Chmerkovskiy!
December 3rd, 2019 under Caption the Celeb, Dancing with the Stars. [ Comments:

none

]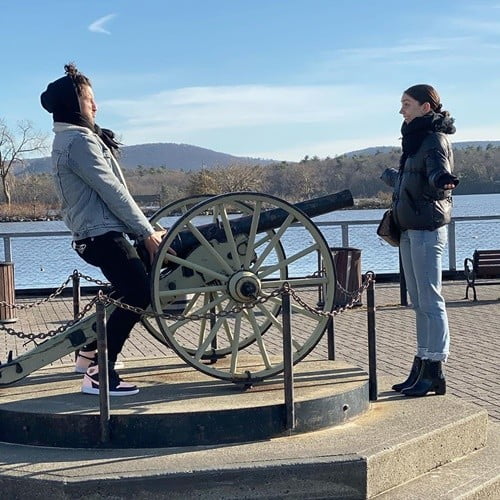 This photo of Valentin Chmerkovskiy proving he does not suffer from shrinkage has caption me written all over it, so go ahead and do it.
---
James Van Der Beek shows off how DWTS changed his body!
November 27th, 2019 under Dancing with the Stars, James Van Der Beek. [ Comments:

none

]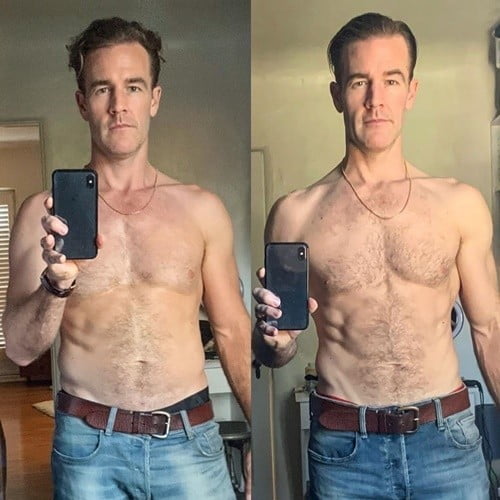 We know that being on Dancing with the Stars changes the shape of the Stars' bodies when they compete on the show. However, we rarely see how different they look from before they put on their dancing shoes to when they take them off.
Well, James Van Der Beek showed how much more toned he is now. His muscles are more defined, his chest hairs are more pronounced and he looks years younger. If DWTS did that for him, then why aren't more Stars doing it? They get paid to get the perfect body. It is a win/win situation. Unless they are voted off week one or suffering an elminating injury.
---
I can't take my eyes off of Bruno Tonioli singing
November 25th, 2019 under Bruno Tonioli, Dancing with the Stars. [ Comments:

none

]

On Saturday, Bruno Tonioli did something he has never done on Strictly Cone Dancing and Dancing with the Stars before. The dancer turned judge decided to try singing on the BBC dancing competition.
How did he do singing Franki Valli's Can't Take My Eyes Off Of You? He made a sweet romantic song sexy. So much so, I hope we get to hear him perform on this side of the pond.
Tonioli told his fans how much his performance meant to him, "Thank you all so much for your kind comments on my singing!! I was so nervous, I've been practising so much as well as having singing lessons… something different and certainly took me outside my comfort zone xx" The singing lessons really paid off, don't you agree?
If I were a judge, I would give him a 10!
---
James Van Der Beek reveals his wife miscarried before being eliminated from DWTS
November 19th, 2019 under Dancing with the Stars, James Van Der Beek. [ Comments:

none

]

A few weeks ago, James Van Der Beek revealed on Dancing with the Stars that he and his wife, Kimberly, were expecting their sixth child. Yesterday, on the dancing competition, he shared the sad news that she lost the baby on Saturday. Even though, he was ready to quit and be with her, Kimberly told him to go on because she was not done watching him dance.
While she was not done, Carrie Ann Inaba, Len Goodman and Bruno Tonioli were. When the Dawson's Creek star found himself in the bottom two, all three of them chose to save Ally Brooke instead of him. The Fifth Harmony singer did not agree with their decision and offered to leave the show instead of him. Host Tom Bergeron said to her that is not how things work. It was a sweet gesture on her part.
Also, it is a messed up one on the judges' part. I hate that they have so much say this season. I never thought they know what the viewers want which is why people like me danced their last dance with them a while ago.
Alas, it is not about them, it is about Van Der Beek. After the show ended, he wrote a heartfelt message about his loss: "Wrecked. Devastated. In shock. That's how we're feeling right now after the soul we thought were going to welcome into our family in April… has taken a short cut to whatever lies beyond this life. We've been through this before, but never this late in the pregnancy, and never accompanied by such a scary, horrific threat to @vanderkimberly and her well-being. Grateful that she's now recovering, but we've only just begun unpacking the layers of this one. Thank you to all of our friends and co-workers (and dance partners) who have shown up for us so beautifully during this time. As many of you have said, 'There are no words…' and it's true. Which is why in a time like this it's enough to know that you're there. Grieving AND counting our blessings today."
My heart goes out to the couple as they deal with their tragic loss.
---
Derek Hough is sexy in a hospital gown
November 18th, 2019 under Dancing with the Stars. [ Comments:

none

]

Derek Hough spent the weekend in the hospital instead of on the dance floor. The dancer woke up with a sharp pain in his abdomen. He knew something was wrong, so he went to the hospital. Turns out he had appendicitis and needed surgery to remove his appendix.
Now that he is on the mend, he is ready for the runway. He doesn't want to model the suavest suits, instead, he wants to show off the latest gowns as in the one you wear in the hospitals. Hough knows how to work it.
---