Carrie Ann Inaba fell on her a$$ on Dancing with the Stars
October 15th, 2019 under Dancing with the Stars. [ Comments:

none

]

The Dancing with the Stars is back in full force this season. It has already claimed two victims. First, it broke Christie Brinkley's arm and then an injury took out Ray Lewis. Yesterday, it went after a third victim but it did not succeed to get Carrie Ann Inaba.
The judge was giving her critique of Kate Flannery's dance to Mary Poppins' A Spoon Full of Sugar when Tom Bergeron noticed she left behind a vibrating black broom in front of the judges' table. Inaba wanted to see what he was talking about, so she stood up to look at it. When she went to sit back down, she caught the tail end of her rolling chair and it rolled away from her. Causing her to land on her butt. Luckily she was unhurt. Well, maybe her pride was hurt a little, but not her assets.
In honor of fall, no one went home yesterday! Although, the show said it was because of Disney night. What and ever.
This not the first time she fell on the ABC show, she also fell in 2012.
---
Who knew Len Goodman had such sexy legs?
October 3rd, 2019 under Dancing with the Stars. [ Comments:

none

]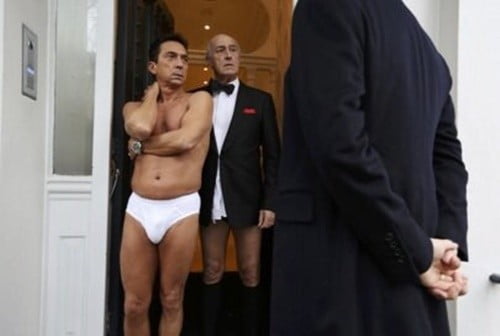 We aleady know that Bruno Tonioli has a bitchin' bod. Now we know his partner in the ballroom has sexy legs. Look at those stems below his tux! All those years of dancing paid off for both of them.
If Dancing with the Stars wants to beat The Voice, then they need to get rid of the judge's desk. Once that is gone, so goes their clothes. If the dancers can barely wear any fabric on the show, then why shouldn't Len and Bruno do the same.
I give this idea a 10, 10 and a 10 which is a perfect 30! Would you watch the ABC dancing competition if they dressed like that?
---
Did the Dancing with the Stars' curse claim another victim?
September 30th, 2019 under Dancing with the Stars. [ Comments:

none

]

Two weeks ago just before the Dancing with the Stars' season premiere, Christie Brinkley was forced to drop out of the dancing competition because she broke her arm in rehearsal. Luckily for the ABC show, her daughter, Sailor was able to fill in for her.
This week, it looks like another star is out. According to Entertainment Tonight, Ray Lewis is expected to withdraw due to an undisclosed injury and leaving with him will be his partner Cheryl Burke. In typical DWTS fashion, they are not responding to ET with either a confirmation or denial. Most likely because they want us to tune in tonight at 8p to find out.
If he departs, it will be interesting to see what they do. They can make it a clean break, and no one goes home this week. Go on as planned and someone else goes home tonight. Or my choice would be to bring back The Supreme's Mary Wilson, who was in the bottom two with Lewis last week and was eliminated by Len Goodman and Bruno Tonioli. Although, the latter does not work because she would need to have danced tonight.
Part of me wonders who is doing a Tonya Harding? Is it Sean Spicer because the only way he can win is to take out the competition. Or could it be the people behind DWTS who are taking out Stars to get ratings? Or is it just the curse that took a few seasons off and is back in full force? Things that make you go hmmmmm.
BTW this is not the first time Burke and her partner dropped out of the competition due to an injury. Back in season 9, Tom Delay suffered stress fractures in both feet and did not make it to week 4.
UPDATE: Ray Lewis revealed that he suffered three torn tendons that will require surgery. Due to his unforeseen departure, DWTS did not eliminate anyone.
---
The judges now say who gets eliminated on Dancing with the Stars
September 23rd, 2019 under Dancing with the Stars. [ Comments:

none

]

This season Dancing with the Stars is changing up a lot of things to get the viewers back. One of the biggest changes was revealed tonight and I think it is going to cost them viewers.
Each week, the audience and the judges have an equal say about who gets voted off. At least they used to. Now, at the end of each episode when the final 2 are revealed, the judges then vote to save one of the couples. The couple with the least amount of votes from the judges is eliminated. Basically, they copied So You Think You Can Dance's elimination process. How is that working out for the Fox dancing competition? Horribly.
I wish DWTS copied American Idol's elimination process. As in the judges have no say in who gets eliminated. Especially since Bruno Tonioli, Len Grossman and Carrie Ann Inaba are so biased. It is why I stopped watching. What is the point of having a live show if we have no voice?
I am sure I am not alone. I betcha people are going to be turned off by this change. Especially, since they played a part in the Bobby Bones fiasco. Team Milo Manheim.
What do you think of the change? Does it get a 10 or a 0?
---
Is Christie Brinkley up for another season of Dancing with the Stars?
September 18th, 2019 under Christie Brinkley, Dancing with the Stars. [ Comments:

none

]

Christie Brinkley was all set to do Dancing with the Stars this season. Then last week, she feel and shattered her arm. The injury was so bad that it required surgery and she had to drop out of the competition before dancing her first dance on live television.
Brinkley's daughter was flying out to support her mom when the injured dancer got the news and the supermodel asked her daughter to step into her dancing shoes. At first Sailor was like no, but she decided to give it a try. Even though she had just a few days to learn the steps, she still wowed the judges and the audience on Monday night.
After the episode was over, Extra spoke to mother and daughter, and Sharna Burgess asked Christie would she do a different season of the show. She kind of hesitated before both women said yes.
Looks like we know at least one competitor on the next edition of DWTS.
---