Even Tom Bergeron is not happy about Sean Spicer joining DWTS
August 21st, 2019 under Dancing with the Stars, Tom Bergeron. [ Comments:

none

]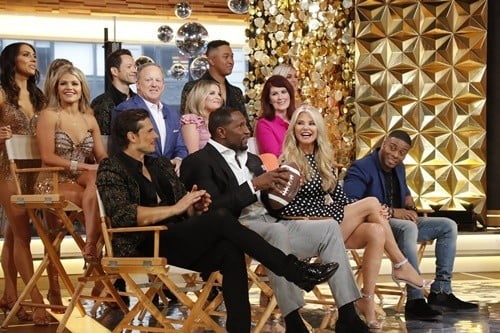 This morning on Good Morning America, they announced who will be dancing this season on Dancing with the Stars. There was one name that stood out and not in a good way.
People immediately took to Twitter to declare their disgust that they asked Sean Spicer to put on his Boogie Shoes. They were not alone, host Tom Bergeron was also not happy with the decision. However, his reason is a little different than theirs.
A few months ago, during a lunch with DWTS' new Executive Producer, I offered suggestions for Season 28. Chief among them was my hope that DWTS, in its return following an unprecedented year-long hiatus, would be a joyful respite from our of inevitably divisive bookings from ANY party affiliations. I left that lunch convinced we were in agreement.

Subsequently (and rather obviously), a decision was made to, as we often say in Hollywood, "go in a different direction."

It is the prerogative of the producers, in partnership with the network, to make whatever decisions they feel are in the best long term interests of the franchise. We can agree to disagree, it's their call. I'll leave it to them to answer any further questions about those decisions.

For me, as host, I always gaze into the camera's lens and imagine you on the other side, looking for a two hour escape from whatever life hassles you've been wrestling with. That's a connection, and a which I take very seriously, even if I occasionally season it with dad jokes.

Hopefully, when Erin Andrews and Rook into those lenses again September 16, you'll be on the other side looking back, able to enjoy the charismatic pro dancers, the unpredictable judges and the kitschy charm exhausting political climate and free as we do now, but ultimately responsibility, on that has defined DWTS since 2005.
I side with Bergeron on this. We get way too much politics during the day, I want to escape it with primetime TV. Hopefully, this show will still be an escape.
Although, I wonder if the man, who hid in the bushes at the White House, will be brave enough to deal with all of the controversy he is bringing to the dancing competition. As in, will he quit before the show premieres on Septemeber 16th? Or go for the easy way out and claim he was injured and have to bow out like Jewel and Nancy O'Dell?
How do you feel about Sean Spicer being on DWTS?
---
Dancing with the Stars actually got some stars this go around!
August 21st, 2019 under Christie Brinkley, Dancing with the Stars, James Van Der Beek. [ Comments:

none

]

Dancing with the Stars took a season off and it worked for their benefit. Today, the ABC show announced who is hitting the dance floor next month and I actually heard of half of them. Of course, there is one person we wish we never heard of. Just when we thought Sean Spicer was just a footnote in the history books, he is putting dancing shoes on his feet.
While he is someone we wish we could forget, none of us ever want to forget James Van Der Beek. I guess having 5 kids is more expensive than we thought. We all know why Lamar Odom needs the money. You know because of what he spent it on.
Here is the full list of stars:
• Lauren Alaina – country music star
• Christie Brinkley – supermodel
• Ally Brooke – pop star
• Hannah Brown – "The Bachelorette"
• Karamo Brown – TV host
• Kate Flannery – TV star
• Ray Lewis – NFL Hall of Famer
• Kel Mitchell – comedian/actor
• Lamar Odom – two-time NBA champion
• Sean Spicer – former White House press secretary
• James Van Der Beek – TV icon
• Mary Wilson – The Supremes
If Christie Brinkley does not dance to Billy Joel's Uptown Girl for her first number, then she deserves to be eliminated right there on the spot.
When it comes to which professional they are dancing with, we will have to wait to find that out on the season premiere. On September 16th, all will be revealed. Like if the two extra professionals are not dancing or if we are getting two more celebrities. Things that make you go hmmmmm.
Here are the pros:
• Brandon Armstrong
• Lindsay Arnold
• Alan Bersten
• Cheryl Burke
• Witney Carson
• Val Chmerkovskiy
• Sasha Farber
• Jenna Johnson
• Daniella Karagach
• Keo Motsepe
• Peta Murgatroyd
• Pasha Pashkov
• Gleb Savchenko
• Emma Slater
---
Is Bruno Tonioli really 63?
August 20th, 2019 under Dancing with the Stars. [ Comments:

none

]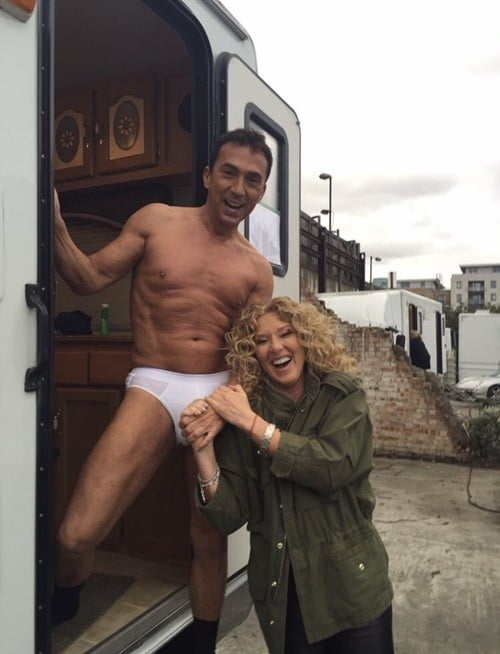 Bruno Tonioli shared a photo of himself in his tighty whities and you have to wonder if he is really 63 years old? That is because the Dancing with the Stars judge looks just as good now in his underwear as he did when he starred in Elton John's I'm Still Standing back in 1983.
What his secret for not aging a day in 36 years? He says, "Laughter is always the best medicine 😂 #fun #lifeisshort #nevertakeyourselftooseriously" Therefore, keep laughing, it is obviously great for the stomach muscles! Look at his, they remind me I have to do my laundry.
BTW tomorrow we find out who will be Dancing with the Stars this season. In the words of Men At Work, "Who can it be now?"
---
Derek and Julianne Hough will haunt your nightmares
June 26th, 2019 under Dancing with the Stars, Julianne Hough. [ Comments:

none

]

Brother and sister, Derek and Julianne Hough, decided to a face swap to see how different they look. What they found out is that they look the same.
If the Dancing with the Stars champ decided to shave off his facial hair, he could totally pass for his sister. Or maybe, as she fears, take over her America's Got Talent job as her. Do you think Simon Cowell would notice the difference? Would you?
I don't know about you, but I am still getting over how freaky they look in this video. It is the scariest thing I saw all week, and I have watched several horror movies on Tubi TV over the last few days. Including Rubber that is about a tire that telekinetically kills people by causing their heads to explode.
Random thought, why haven't any of the networks given them a variety show like they did Donny and Marie Osmond. The Houghs are a double threat.
---
Did Paula Abdul give Julianne Hough whiplash?
May 2nd, 2019 under Dancing with the Stars, Julianne Hough, Paula Abdul. [ Comments:

1

]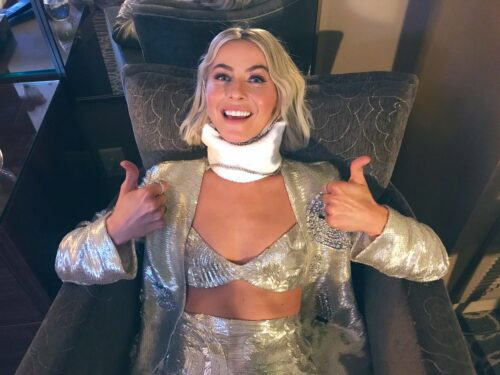 Last night at the Billboard Music Awards, Paula Abdul performed a medley of hits. Since it was the So You Think You Can Dance judge, she did a huge dance number that included a hat. As she was dancing in the audience, she threw her top hat and it hit Julianne Hough on the neck. I guess it caused her some damage because the Dancing with the Stars winner was seen with a neck brace after the show.
Hough wrote, "The result of the honor of being hit in the neck by @PaulaAbdul's flying hat! Love you, babe!!! 💛💙💜 #BBMAs." How did the assailant respond, she wrote back "OMG IM PEEING MY PANTS!!!!! You know it was with love 🤣🤣🤣 xoP"
Let's see how much they love each other when the two judges see each other in court? Or in the ratings, if America's Got Talent and SYTYCD go neck to neck with each other.
To see the moment when Abdul almost decapitated Hough, then click here!
---