Did Paula Abdul give Julianne Hough whiplash?
May 2nd, 2019 under Dancing with the Stars, Paula Abdul. [ Comments:

1

]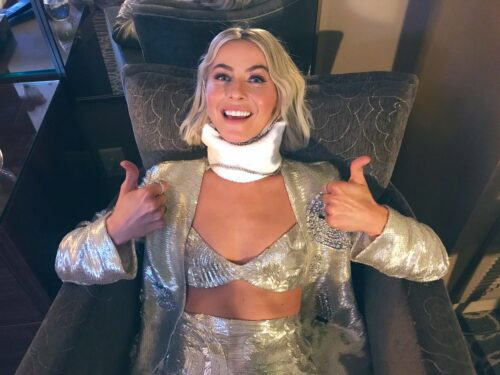 Last night at the Billboard Music Awards, Paula Abdul performed a medley of hits. Since it was the So You Think You Can Dance judge, she did a huge dance number that included a hat. As she was dancing in the audience, she threw her top hat and it hit Julianne Hough on the neck. I guess it caused her some damage because the Dancing with the Stars winner was seen with a neck brace after the show.
Hough wrote, "The result of the honor of being hit in the neck by @PaulaAbdul's flying hat! Love you, babe!!! 💛💙💜 #BBMAs." How did the assailant respond, she wrote back "OMG IM PEEING MY PANTS!!!!! You know it was with love 🤣🤣🤣 xoP"
Let's see how much they love each other when the two judges see each other in court? Or in the ratings, if America's Got Talent and SYTYCD go neck to neck with each other.
To see the moment when Abdul almost decapitated Hough, then click here!
---
Did American Idol kill Dancing with the Stars spring edition?
December 12th, 2018 under Dancing with the Stars. [ Comments:

3

]

ABC announced their spring lineup today and there was one show missing from the schedule. That show is Dancing with the Stars. Deadline is reporting that it will be taking a season off. Instead of coming back in March like it has been doing since forever, it will most likely be replaced by a second night of American Idol. Because so many people asked for that. No one did.
Anyways, is the news a surprise? No. People were unhappy with the winner of the fall season. Although the problem did not start there for the ageing show, it started with their lowest ratings in the show's run. Losing almost a whole point in the key demo.
Hopefully, ABC will take time during this much-needed break and rework the show. Like replacing at least one if not more of the judges.
---
Let's talk about Carrie Ann Inaba joining The Talk
December 6th, 2018 under Dancing with the Stars. [ Comments:

none

]

When Julie Chen announced she was leaving The Talk in September, she pretty much told Carrie Ann Inaba to take her seat. Today, there are rumors she got the job. Variety says she closed the deal and will be starting on the daytime talk show next month.

What that means for Dancing with the Stars, we do not know. I am hoping that means she can no longer do the show. I think they have needed to change up the judges for a really long time and this could give them the chance to do just that. Although the shows go live at such different times, she will probably be able to do both.
---
Did Julianne Hough just admit to dancing with herself like Billy Idol?
December 3rd, 2018 under Dancing with the Stars. [ Comments:

none

]

Julianne Hough comes off as all nice, but she might have a naughty side to her too.

The dancer posted the above photo and wrote, "Sometimes we don't always know what self care entails or how to do it…sometimes it's taking a bath or getting a facial, maybe it's just some alone time. One of my favorite and simple things to do when I don't have a ton of time is to simply touch my skin in a soft and nurturing way appreciating my sensual and primal nature while taking long deep breaths.

"This always reminds me to acknowledge how much I tax my body and helps me connect back to me again."

I don't know about you, but I think it totally sounds like she is pleasuring herself. What do you think she is saying?
---
Is Bruno Tonioli really 63?
November 25th, 2018 under Are they really their age?, Dancing with the Stars. [ Comments:

none

]

Today is Bruno Tonioli's 63rd birthday. You would never know it by just looking at this photo of the Dancing with the Stars judge doing his best Tom Cruise in Risky Business. He looks younger than Cruise did when he made that movie 35 years ago. Seriously, how can be 2 years from becoming a senior citizen looking like that?
---