ABC steals another show for their lineup
May 2nd, 2023 under Dancing with the Stars. [ Comments: none ]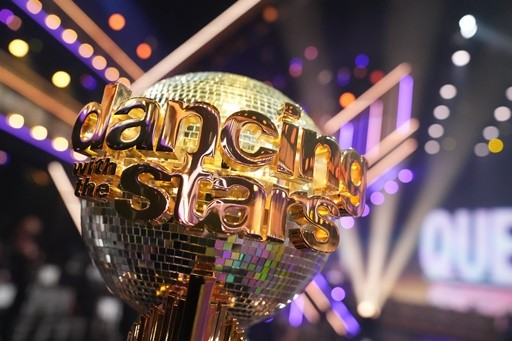 Yesterday, Fox cancelled 9-1-1, and ABC picked it up for season 7.
Today, Vulture is reporting that Dancing with the Stars is returning to ABC after a year at Disney+. However, it will still stream live on Disney+.
There are still a lot of details that need to be worked out because DTWS aired without commercials on the streaming service. But they can't do that on ABC. So it will be interesting to see what they do to fill that commercial time.
Why the move? I think the Writers' Strike played a huge part. But, Vulture suggests that the return of Bob Iger as the head of Disney played a part in the decision. Most of the people who thought it was a good idea to move the dancing competition series are no longer with the company.
Plus, without the hated Tyra Banks hosting the show and Julianne Hough joining Alfonso Ribeiro as a host, I am sure ABC is wishing and hoping fans will tune back in.
But, the return will be bittersweet because we are all going to miss Len Goodman, who passed away last week. Even though he retired in November, he was such a big part of the show's heart.
Are you going to tune in again now that it is back on ABC and Tyra is gone?

---
RIP Len Goodman
April 24th, 2023 under Dancing with the Stars. [ Comments: none ]
Len Goodman passed away in a Kent hospice on Saturday from bone cancer. This was his third bout with a cancer. He previously survived prostate cancer and melanoma.
His manager, Jackie Gill, told BBC News, "It is with great sadness to announce that Len Goodman has passed away peacefully, aged 78.
"A much loved husband, father and grandfather who will be sorely missed by family, friends and all who knew him."
We in the States knew him as the Head Judge on Dancing with the Stars, but over in England, he had that title first on Strictly Come Dancing, which he a staple on until 2016.
The beloved judge was known for being brutally honest, but you could tell his comments were coming from a good place. He was like the grumpy grandfather that you couldn't help but to love. Especially with his warm and endearing smile.
You can feel that love with the statement that Bruno Tonioli wrote about his friend and co-judge on both shows: "Heartbroken my dear friend and partner for 19 years the one and only ballroom legend #lengoodman passed away I will treasure the memory of our incredible adventures and hundreds of shows we did together @bbcstrictly @dancingwiththestars they will never be anyone like you we will miss you."
Goodman appeared on all but two seasons of Dancing with the Stars and announced his retirement in November so that he could spend more time with his family.
And now, less than six months later, we are saying goodbye to a man that was loved on both sides of the pond.
So today, put on some music and dance in his honor. And then make a paddleboard with a 10 on it. This way, we can send up to heaven with a perfect score.
Goodman is survived by his wife, Sue Barrett, his son James from a previous relationship, and at least one grandchild.

---
Tom Bergeron reacts to Julianne Hough and Alfonso Ribeiro hosting DWTS
April 4th, 2023 under Alfonso Ribeiro, Dancing with the Stars, Julianne Hough, Tom Bergeron. [ Comments: none ]
Three years ago, Dancing with the Stars screwed up huge time when they fired Tom Bergeron and replaced him with Tyra Banks. Even he was not a fan of their decision
Well, Banks and the dancing show finally parted ways, and now Alfonso Ribeiro, who co-hosted last season, and Julianne Hough will be hosting this upcoming season.
So how does Tom Bergeron feel about the new hosting duo? He said, "Glad the show's in good hands. Their feet ain't bad, either 🪩😉👍🏼" Since both of them won the Mirrorball trophy at least once, he's not lying.
When Hough saw his post, she responded with, "These feet could never fill your shoes, but I'll bring my own and hope I do you proud! I absolutely learned from the best! I completely and utterly adore you @tombergeron ❤️❤️❤️"
I feel the love. Something that has been missing on DWTS since Tyra Banks entered the ballroom. I am so happy it is back. Not enough to watch again, but still, it is nice!

---
Julianne Hough is the new Tyra Banks
March 20th, 2023 under Dancing with the Stars, Julianne Hough. [ Comments: none ]
Last week, Tyra Banks announced that she would not be returning to the ballroom. And today, we found out that Julianne Hough will replace her on Dancing with the Stars.
"It is such an honor to be rejoining 'Dancing with the Stars' as co-host. The show holds such a special place in my heart from the many years and different roles I have had the privilege of being a part of," Hough said in a statement to Variety. "The incredible team that brings the ballroom to life every night has been my family for the past 17 years. I am so excited to reunite with Alfonso, Carrie Ann, Bruno, Derek, the unbelievably talented pros, and the amazing cast on the dance floor. The energy is magnetic every time you step foot in to the ballroom and I can't wait to feel it again — and of course to share it all with the absolute best and most loyal fans — for another exciting season."
She will be co-hosting the dancing competition on Disney+ with Alfonso Ribeiro, who joined the series last year.
Julianne will not be the only Hough on the show; her brother Derek is a judge with Carrie Ann Inaba and Bruno Tonioli. Len Goodman announced he was leaving DWTS last year.
Hough was a pro dancer during seasons 4-8 and then was a judge during seasons 23 and 24. After this job, there is nothing left for her to do on Dancing.
And I am OK with that. Am I the only one who finds her annoying and fake?

---
Tyra Banks says 'It's time' for her to leave Dancing with the Stars
March 17th, 2023 under Alfonso Ribeiro, Dancing with the Stars, Tyra Banks. [ Comments: none ]
They say bad things come in threes. And we can say that about the number of years that Tyra Banks hosted Dancing with the Stars. It is strike three for the former model because she told TMZ she is leaving hosting to focus on her business.
"I feel it's really time for me to focus on my business and my entrepreneurship, and also producing more TV — but behind the scenes," Banks said. "I think it's time to graduate from the dance floor to the stock market floor."
Instead, she will focus on her ice cream company and producing shows behind the scenes, which includes an upcoming business show.
Talking business. I believe that Disney opted not to renew her contract because I have never seen a host be as hated as she was for doing this job. She was such a ratings killer the once-popular show went from ABC to Disney+. So I am sure Disney+ will keep her co-host Alfonso Ribeiro on as a host and maybe add Cheryl Burke to the show to help him out.
Are you going to miss seeing Tyra's face and awful fashion choices on our TVs? On that note, imagine how much DWTS is saving by not having to dress her every week.

---