Len Goodman trades in his dancing shoes for gardening boots.
June 23rd, 2020 under Dancing with the Stars, This Morning. [ Comments:

none

]

Many people took on new hobbies while staying home during the coronavirus pandemic. Len Goodman is one of those people, and the Dancing with the Stars judge spent his time growing a vegetable garden with his wife, Sue.
Today, he lettuce, I mean, let us and This Morning's anchors, Phillip Schofield and Holly Willoughby, see what he has been planting. Not only were they impressed, so I was.
Something that started as out as what he thought would be a necessity, in case we ran out of veggies, turned into something that he and his wife, since 2012, enjoy doing during this tough time.
For those of us, who say you can be too old to try something new, he is 76 and look at what he is doing. Just like his vegetable garden, he is blooming.
I wonder what he is going to do when Dancing with the Stars starts up again. Will he leave his babies in Kent? Maybe he can transfer some of them to the States with him? He can have Bruno Tonioli talk to them. I am sure that the plants will flourish with his enthusiastic voice. Something that they are not used to with their dad's calming one. Not that either are a bad thing.
---
Will there be a Dancing with the Stars in fall?
May 14th, 2020 under Dancing with the Stars, Tom Bergeron. [ Comments:

1

]

Due to the coronavirus, the fall schedule of broadcast television is pretty much up in the air for most shows including Dancing the with the Stars.
Today when Tom Bergeron was on Extra, they asked him if the ballroom will be open in the fall. He says, "I think that is the hope." However, he added, "It's hard to imagine, right now, a scenario where 700 people in an audience and 24 sweaty dancers can all be in the same room. We'll see if some variation of that is concocted."
There is a way they can do it remotely. So many dance studios are closed because it is not an essential business. Therefore, each couple can get their own studio. The judges and the hosts can go live from their homes. Sadly, there will be no studio audience. I think they would be worth the sacrifice to bring the dancing competition back in a few months.
---
Caption Valentin Chmerkovskiy!
December 3rd, 2019 under Caption the Celeb, Dancing with the Stars. [ Comments:

none

]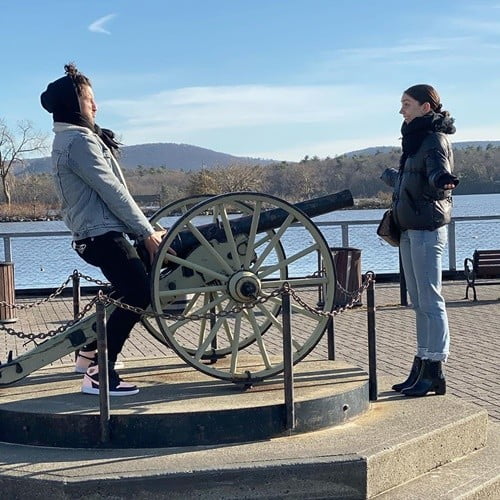 This photo of Valentin Chmerkovskiy proving he does not suffer from shrinkage has caption me written all over it, so go ahead and do it.
---
James Van Der Beek shows off how DWTS changed his body!
November 27th, 2019 under Dancing with the Stars, James Van Der Beek. [ Comments:

none

]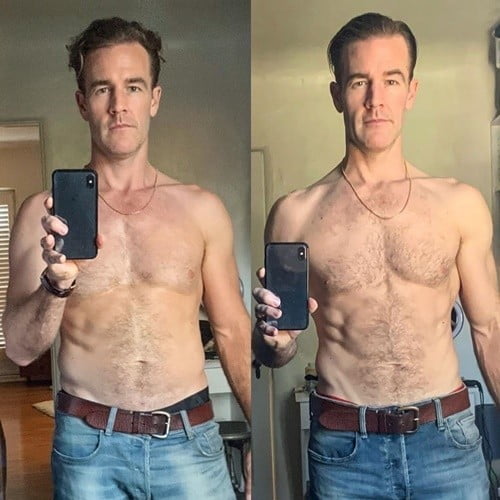 We know that being on Dancing with the Stars changes the shape of the Stars' bodies when they compete on the show. However, we rarely see how different they look from before they put on their dancing shoes to when they take them off.
Well, James Van Der Beek showed how much more toned he is now. His muscles are more defined, his chest hairs are more pronounced and he looks years younger. If DWTS did that for him, then why aren't more Stars doing it? They get paid to get the perfect body. It is a win/win situation. Unless they are voted off week one or suffering an elminating injury.
---
I can't take my eyes off of Bruno Tonioli singing
November 25th, 2019 under Bruno Tonioli, Dancing with the Stars. [ Comments:

none

]

On Saturday, Bruno Tonioli did something he has never done on Strictly Cone Dancing and Dancing with the Stars before. The dancer turned judge decided to try singing on the BBC dancing competition.
How did he do singing Franki Valli's Can't Take My Eyes Off Of You? He made a sweet romantic song sexy. So much so, I hope we get to hear him perform on this side of the pond.
Tonioli told his fans how much his performance meant to him, "Thank you all so much for your kind comments on my singing!! I was so nervous, I've been practising so much as well as having singing lessons… something different and certainly took me outside my comfort zone xx" The singing lessons really paid off, don't you agree?
If I were a judge, I would give him a 10!
---