The Cool Kids is highlarious, Doom Patrol is theraputic
March 29th, 2019 under David Alan Grier, Leslie Jordan, Vicki Lawrence. [ Comments: none ]

Tonight's episode of The Cool Kids on Fox at 8:30p is the show's best one yet. And there have been plenty of greats ones.
Sid's (Leslie Jordan) ex-wife (Jennifer Coolidge) comes to visit him and to meet his new boyfriend John (Jere Burns). Is she bitter that he lied to her during all of those years they were married?
Then Margaret (Vicki Lawrence) and Charlie (Martin Mull) are all excited to see Fleetwood Mac, but Hank (David Alan Grier) has the keys to the van. He wants to go to Costco, and nothing will stop him. Therefore, if they agree to go to Costco with him, he will take them to the concert. But there are rules, so many rules. Good thing Charlie has a bag full of edible Gummy Bears. Now you know why I said this episode is highlarious!

Over on DC Universe, Doom Patrol is back with another super episode.
The episode starts out with Cliff (Brendan Fraser) still messed up after finding out what is up with his daughter now. Therefore, he is still very upset about that and that is making him crazy. Cyborg (Joivan Wade) decides to help him and holds a group therapy session with all of the Doom Patrol members.
What does therapy start with? Your childhood! In this episode, we get to see what they were all like as children and how it shaped them to become the adults that they are today. We also learn what year they were kids and that gives us more of a perspective of how old they are.
Not only that, they all have major breakthroughs. What and how it will change them? Well, you just have to watch and see in the best superhero show on television. This is not like all those other Marvel and DC shows, it is so much better.

---
Santa Clarita Diet's third season is very charming!
March 29th, 2019 under Drew Barrymore, Netflix, Timothy Olyphant. [ Comments: none ]

Santa Clarita Diet is back for a third season on Netflix today and it is so delicious. You don't have to be a Zombie to want to eat up this show.
The season premiere picks up the next day and Sheila (Drew Barrymore) and Joel Hammond (Timothy Olyphant) are dealing with the repercussions from the night beforehand. You know when their cop neighbor (Natalie Morales) finds them burying a body and holding Gary's (Nathan Fillion) talking head in the desert. Thankfully, she is a religious person and gets a sign, a huge explosion, and thinks that Sheila is a prophet. Therefore, Anne wants to help them now. But the couple cannot tell her Sheila is a Zombie. It is better for Anne if she just thinks that Sheila is invincible.
Talking about that explosion, Sheila and Joel's daughter, Abby (Liv Hewson) and her BFF Eric (Skyler Gisondo) are the ones who caused it. This season, they will have to do everything in their power not to be caught by the FBI who suspects them. All while trying to help her parents not get caught in general. That is a lot for any high school student to handle and yet they are much more mature than their parents.
If only trying to keep those secrets was all they had to deal with, but it is not. The Knights of Serbia have to come to Santa Clarita and they want to kill all the Zombies. Guess who is on their list? Sheila! She and Joel have to find a way to keep her secret from them as they try to find a way to kill her.
Then there is Ron (Jonathan Slavin), he wants to live forever too. Therefore, he comes up with a way to do it. What happens when he is one of the undead? He does things that will cause a lot of problems for everyone because he is Ron.
These are just a few of the many crazy things that happen this season on the endearing show, and you don't want to miss a single minute of it.
Did I mention Ball Legs is let out of the freezer and starts to run free? That will cause them to have a lot of explaining to do. Also, Linda Lavin has a great role in the series and it is her best role since Alice.
One more thing, pay attention to each episode because it all comes together for the season finale. It is a brilliant mapping of events and people that all lead to one moment that ties the whole season together.
Plus, a great final moment that sets up for next season. Which we better get Netflix.

---
David James Elliott brings JAG to NCIS: LA
March 29th, 2019 under CBS, NCIS. [ Comments: none ]

Long before there was NCIS, NCIS: LA and NCIS: NoLa, there was JAG, the show they spun off of. On May 12th, Los Angeles will get a little taste of JAG. That is because David James Elliott will reprise his role as Harmon Rabb for a few episodes.
According to CBS, the first episode he appears in is about, "The NCIS team uncovers ISIS sympathizers who look to be planning an attack on US aircraft carriers. The terror threat will result in Callen (Chris O'Donnell) and Sam (LL COOL J) working directly with Rabb, the XO Captain on the USS Intrepid."
I wonder if this is CBS's way of saying that if these episodes do well, then they will bring back JAG?
Did you know that JAG started out on NBC, got cancelled and was saved by CBS? I wonder if NBC kicks themselves whenever they hear that NCIS is the #1 show? I am sure they do.

---
Is that a 4′ python in your pants or are you happy to see me?
March 29th, 2019 under In Your Pocket?. [ Comments: none ]

A man walked into I Love My Pets in Rockford, Mi on March 20th to buy a rat and a python, left with both but only paid for the rat. Did they give him the snake for free? Of course not.
The man was caught on survelince video putting the 4-foot python in his pants and walking out with it. The store was the none the wiser until they saw him do it on video. Believe or not he continued to walk around the place for 4 minutes as though everything was normal according to WDIV.
I would say he has big balls, but he would not be able to fit the snake in there if he did.
Rockford Police are looking for help to capture the guy. If you know who he is or have seen a guy walking around like he has a snake in his pants, they would like to talk to you.

---
Law & Order: SVU is old enough to drink
March 29th, 2019 under Dick Wolf. [ Comments: none ]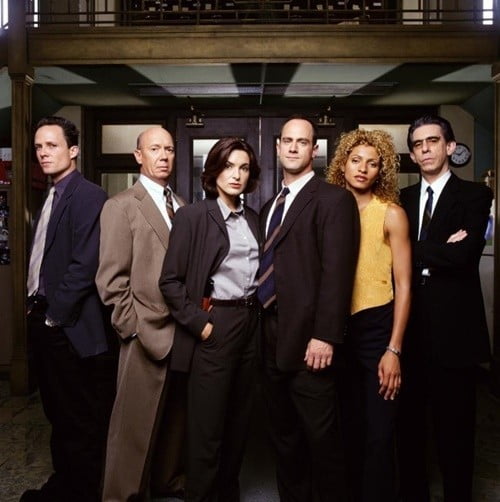 NBC announced today that it picked up Law & Order: SVU for a 21st season. That makes it the longest-running primetime live-action series in television history. Beating the record that Gunsmoke held since 1975. This is the second record that Gunsmoke lost this year, The Simpsons took the title of most episodes produced by a scripted show away. Poor Gunsmoke, their records are going up in, well, gunsmoke.
But this is not about the Western, it is about the Special Victims Unit of the New York City Police Department, an elite squad of detectives who investigate crimes of sexual assault, child abuse and domestic violence.
One of those detectives is Lt. Oliva Benson and she is the longest-running female character in a primetime live-action series. Which is hard to believe because Mariska Hargitay has not aged a day since the show debuted in 1999. What is her secret?
Congrats to all involved. Celebrate it like you just turned 21 all over again. Which means ending the night worshiping the porcelain Gd.

---