Hey Joel McHale, is that an anaconda between your legs, or are you happy to see me?
February 27th, 2023 under In Your Pocket?, Joel McHale. [ Comments: none ]
Joel McHale is a guest on The Jennifer Hudson Show today, and he brought some friends with him. As in the ones that are the first word in the title of his new Fox sitcom Animal Control.
However, he didn't bring any cute ones like cats or dogs. Instead, he brought an anaconda and an iguana. Well, as soon as Hudson saw the 12′ snake, she ran faster than you can sing "my anaconda don't."
But the anaconda do with McHale. That is because the reptile wrapped his tail around the actor's leg and gave him a second penis.
And since the snake has comedic timing like the human tree he was attached to, he knew when to shake his tail at all the right times.
So much so, I am not sure that was safe for daytime TV. Especially when the host touched his anaconda…

---
Hey Nick Cannon, is that a microphone in your pocket?
December 6th, 2021 under In Your Pocket?, Nick Cannon. [ Comments: none ]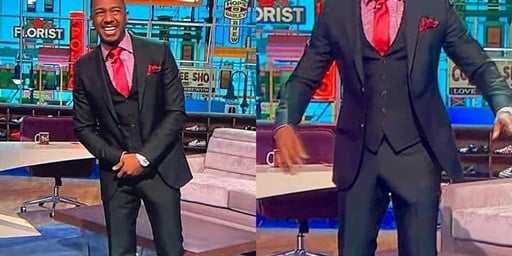 OK Sis/Twitter
Nick Cannon was trending on Twitter today. And it is not because he is expecting another baby. However, it is baby related. As in, his baby maker. Who knew Cannon has a cannon in his pants? But he does. No wonder women like Mariah Carey are getting impregnated by him. He sticks it in, and the sperm is already at the cervix. It doesn't have to travel anywhere with that long stick.
Well, I am assuming that it is his penis and not his friend Kevin Hart hiding out in his pants.
What do you have?

---
Vin Diesel is that a banana or are you happy to see me?
December 18th, 2019 under In Your Pocket?, Vin Diesel. [ Comments: 1 ]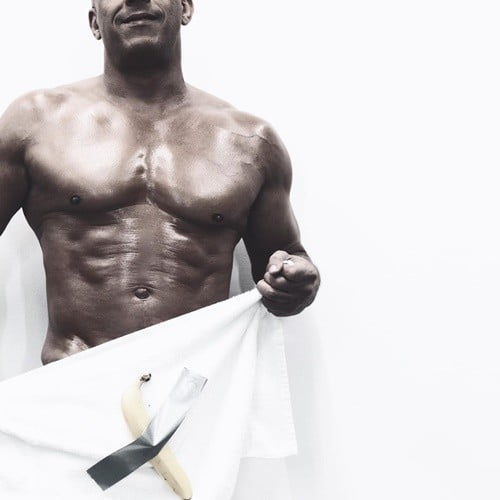 You know that stupid banana that that "artist" hung on a wall with duct tape? Well, it inspired Vin Diesel. He put one a towel over his crotch and it is the first thing he has done that I liked since he did my high school alum's (Ben Younger) movie Boiler Room. So we are going back a long while.

---
Will Smith, is that a giant lamp on your crotch or are you happy to see me?
May 21st, 2019 under Ellen DeGeneres, In Your Pocket?, Will Smith. [ Comments: none ]

Ellen DeGeneres thought it would be fun to play a new game with Will Smith called Rub My Lamp in honor of him playing the Genie in the live-action version of Alladin.
It already sounds pretty sexually explicit, right? Imagine how much worse it gets when they place a huge padded genie lamp over his crotch and tell everyone to rub it. Especially when it looks like it already has been rubbed, rubbed really good! It is up and ready to release the genie.
Can you believe this is airing during the daytime because it looks like something that would be on Skinemax?
UPDATE: Will Smith is afraid of mice, and Ellen wanted to help him get over his fear. To see how it worked out, then click here!

---
Is that a 4′ python in your pants or are you happy to see me?
March 29th, 2019 under In Your Pocket?. [ Comments: none ]

A man walked into I Love My Pets in Rockford, Mi on March 20th to buy a rat and a python, left with both but only paid for the rat. Did they give him the snake for free? Of course not.
The man was caught on survelince video putting the 4-foot python in his pants and walking out with it. The store was the none the wiser until they saw him do it on video. Believe or not he continued to walk around the place for 4 minutes as though everything was normal according to WDIV.
I would say he has big balls, but he would not be able to fit the snake in there if he did.
Rockford Police are looking for help to capture the guy. If you know who he is or have seen a guy walking around like he has a snake in his pants, they would like to talk to you.

---