A Gen X boy's wet dream: Mindy Cohn, Vicki Lawrence and Marla Gibbs!
July 12th, 2023 under Marla Gibbs, The Facts of Life, Vicki Lawrence, Wet dream. [ Comments: none ]
Back in the '70s and '80s, boys were enjoying watching The Facts of Life, The Carol Burnett Show, and The Jeffersons. However, they never saw Mindy "Natalie" Cohn, Vicki "Mama" Lawrence, and Marla "Florence" Gibbs together.
Over the weekend, a few of them had their wet dream become a reality because the three actresses attended Fanboy Expo in Knoxville, Tennessee, and we got this photo!
Don't the three of them look fabulous? They look even better now than they did then. Don't you agree?

---
A Mama's Family mini-reunion
October 19th, 2021 under Vicki Lawrence. [ Comments: none ]
Vicki Lawrence is back on the road with her two-woman show that is partially based on her Mama's Family character. During her performance at the Ameristar Kansas City, there was a familiar face in the audience. That face belonged to Allan Kayser, who played her grandson on the sitcom.
After the show, they reunited, and we got this sweet photo of the two of them. The actors still look as close now as they did in the late '80s. And they both still look fantastic. Well, Lawrence looks younger now than she did then. But that is because they aged her for the role, and she never ages.
I wish they could do a revival, but Mama Harper would be like 100. Could you imagine how grumpy she would be? Wait, it would be awesome.

---
Vicki Lawrence is just like us women adjusting to post-pandemic life
May 19th, 2021 under Vicki Lawrence. [ Comments: none ]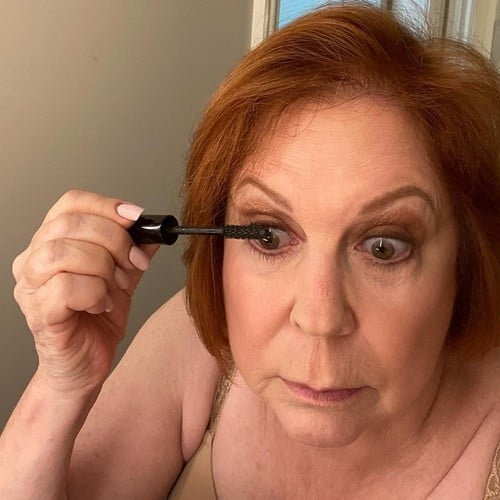 For the last year and a half, us women, have been able to go out without makeup on. That is because we have been wearing masks. Now that, us vaccinated, people can take it off; we have to put it back on.
Putting on makeup is not like riding a bike. It is going to take some time to get back to where were.
Vicki Lawrence is trying to get her 2019 face on. "I don't know about you all but I swear, I have forgotten how to do my makeup! I haven't worn it for what..16 months!? #nakedface," she wrote. "And then when I'm done…I'm pretty sure I look like a #geisha or a #dragqueen 😂😂 I wore all this stuff on my face everyday? #crazy"
To see if she looks like a Geisha or a Drag Queen, then click here!

---
The Cool Kids ends its run with its funniest episode
May 10th, 2019 under David Alan Grier, Fox, Leslie Jordan, Vicki Lawrence. [ Comments: none ]

Vicki Lawrence announced today that Fox cancelled her highlarious show The Cool Kids. She wrote, "One last new episode of Cool Kids tonight. End of season 1, end of @thecoolkidsfox 😟 We have been cancelled. I've had a good #cry I'll probably have another. I will miss #myboys" I will miss the four of them too. Even though, they had a crappy pilot, every episode after that got better and better.
Case in point, on tonight's series finale at 8:30p. Hank (David Alan Grier), Charlie (Martin Mull) and Sid (Leslie Jordan) are going to celebrate their friendiversary and decide not to include Margaret (Lawrence). When she finds out that Sid was not their first choice, she decides to tell him. He gets all catty with his BFFs and joins the cat lady group with Margaret. She realizes he is better with their old friends and comes up with a plan to reunite them all. That is when it gets really funny. So funny, I scared my cat when I laughed out loud. And she did not even mind all the cats they had on the show. Oh and I don't want to spoil anything but Jamie Farr has the most outrageously hysterical moment of the night.
I am sad this show is ending because it really made me happy every week. Unlike Last Man Standing which has not been as good on Fox. Could be because I hate the new Mandy, She is not as endearing as the original one. Like tonight's episode, she is not ready to move out and her parents are doing everything in their power to get her to move. It is not like she is moving that far away. She can visit all the time.
The Cool Kids was not the only show to get the dreaded axe on Fox. They also pulled the plug on The Passage. I had to look up what show that was because I could not remember what it was. Do you?

---
Last Man Standing turns 150, The Cool Kids causes more mayhem
April 19th, 2019 under David Alan Grier, Leslie Jordan, Tim Allen, Vicki Lawrence. [ Comments: none ]
https://twitter.com/i/status/1119299627545575424
There was a time that it looked like Last Man Standing was not going to have a 150th episode because ABC cancelled it after 130 episodes. Then, a year later, Fox resurrected the comedy and tonight at 8p, it will celebrate its 150th episode!
Mandy (Molly McCock) is looking for an easy way to get her fashion career started, but her dad (Tim Allen) doesn't think she knows what she is doing. Therefore, he takes her to his job at the Outdoor Man to meet a businesswoman (Melissa Peterman). He thinks she will shun his daughter, but the opposite happens. What is Mike going to do sabotage his daughter's career?

Then at 8:30p, it is time for The Cool Kids to celebrate its 20th episode. Sid (Leslie Jordan) is avoiding his boyfriend (Jere Burns) because he thinks he is going to propose to him.
Margaret (Vicki Lawrence) on the other hand is going out with a Harvard man (Robert Pine) because she told him she went to Yale. Will he find out her secret?
Finally, Hank (David Alan Grier) is waiting for the results of his mole removal. Since the doctor did not call him back before 5p on Friday, he is convinced that he is dying. Charlie (Martin Mull) convinces him to break into their doctor's office to get the results. What could go wrong besides everything?
All of this leads to a hilarious final moment that ties it all together. While The Cool Kids started off kind of slow, the show has really found its groove to be on the funniest on TV this season.

---