Will Arnett is going to improvise a murder mystery with celebrity guests
January 13th, 2022 under Netflix, Will Arnett. [ Comments: none ]
Will Arnett has done scripted and unscripted shows. Coming on February 3rd, he is going to combine the two with Murderville on Netflix.
The six-episode procedural is described as "Meet Senior Detective Terry Seattle (Will Arnett), Homicide Division. For Terry, every day means a new murder case and a new celebrity guest star as his partner. But here's the catch: each episode's guest star isn't being given the script. They have no idea what's about to happen to them. Together, the guest star and Terry Seattle will have to improvise their way through the case… but it will be up to each celebrity guest alone to name the killer."
Who are the celebrity detectives? They are Annie Murphy, Conan O'Brien, Ken Jeong, Kumail Nanjiani, Marshawn Lynch, and Sharon Stone. I think Conan's episode will be the funniest, and Lunch is going to surprise us. What does a football player know about improv? We will find out.
I can't wait to see what mayhem they bring because you know they are going to bring it.

---
What happens when you call the 1-800 number in Just Look Up?
January 5th, 2022 under Netflix. [ Comments: none ]
via Party Shirt
Did you watch the movie Just Look Up on Netflix and wondered what happened when you dialed the number for FEMA/Bash? Well, thanks to TikTok, we know. It sends you to a Sex Chat Line! And ladies, it is free for us. So it is a win/win.
Thank you, Adam McKay. This was the best joke from the movie. And there were several good ones.

---
There was a lot of kissing on Netflix this year
December 28th, 2021 under Netflix. [ Comments: none ]
There are a lot of couples who Netflix & Chill and kiss. Well, they are not the only ones, so are the people that they are watching. And I am not just talking about the kissing in The Kissing Booth 3.
Therefore the streaming service decided to put their smooches together in one video. There is only one problem, well two, there is nothing from Bridgerton or Sex/Life. But then again, who watched the latter for the kissing? We all watched for the third episode about 20 minutes in. That was the most-talked-about scene of the year. Can you tell me a bigger one, both literally and figuratively?

---
Bridgerton's second season gets a premiere date!
December 25th, 2021 under Netflix, Shonda Rhimes. [ Comments: none ]
Netflix gave fans of Bridgerton the gift they have been waiting for. They announced that Season 2 is going to debut three months from today. So mark your calendars because you don't want to miss what happens next when the erotic period drama returns on March 25th!

---
Get the tissue ready because After Life's final season streams on January 14th
December 14th, 2021 under Netflix, Ricky Gervais. [ Comments: none ]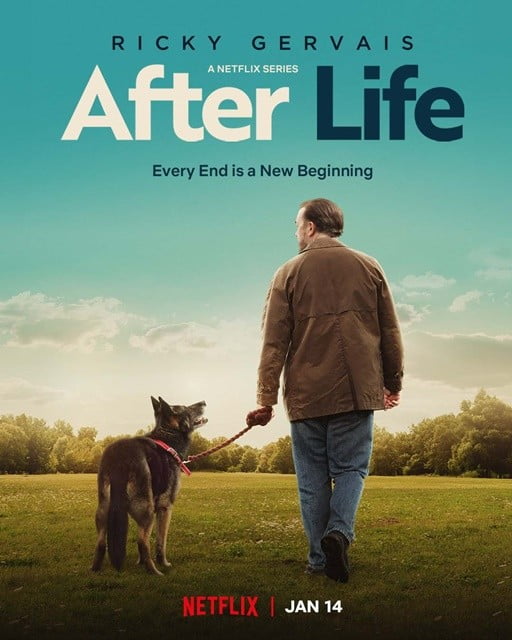 Ricky Gervais is so brilliant that he can make us laugh and cry in the same breath on his show After Life. It is such a talent that we cannot help but to love him and the show with all of our hearts.
However, he broke our hearts when he announced that the series' third season will be its last one. But, maybe we can forgive him for that when it starts streaming on Netflix on January 14th.
We don't know what to expect, but he has said on more than one occasion that his dog does not die. So does that mean that Gervais' character will join his wife and dad in heaven? We shall find out in a month from today.

---