Law & Order: SVU is old enough to drink
March 29th, 2019 under Dick Wolf. [ Comments:

none

]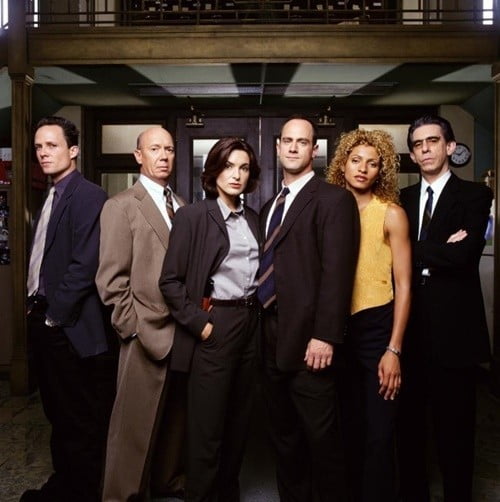 NBC announced today that it picked up Law & Order: SVU for a 21st season. That makes it the longest-running primetime live-action series in television history. Beating the record that Gunsmoke held since 1975. This is the second record that Gunsmoke lost this year, The Simpsons took the title of most episodes produced by a scripted show away. Poor Gunsmoke, their records are going up in, well, gunsmoke.
But this is not about the Western, it is about the Special Victims Unit of the New York City Police Department, an elite squad of detectives who investigate crimes of sexual assault, child abuse and domestic violence.
One of those detectives is Lt. Oliva Benson and she is the longest-running female character in a primetime live-action series. Which is hard to believe because Mariska Hargitay has not aged a day since the show debuted in 1999. What is her secret?
Congrats to all involved. Celebrate it like you just turned 21 all over again. Which means ending the night worshiping the porcelain Gd.
---
Ice T and Snoop Dogg, 2 West Coast Rappers shooting on the East Coast
March 25th, 2019 under Dick Wolf, Ice-T/ Coco, Snoop Dogg. [ Comments:

none

]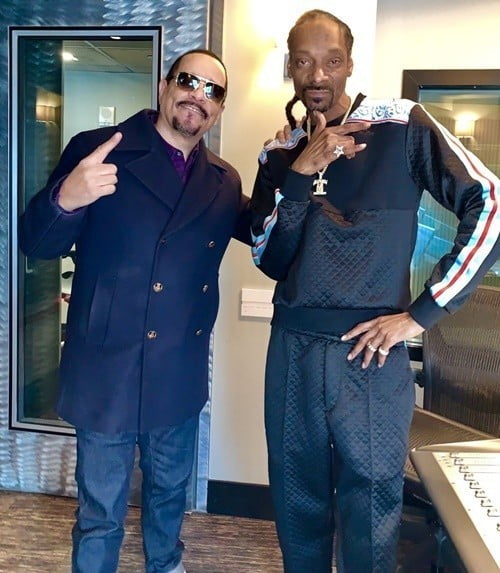 Two of the biggest West Coast Rappers are working on a project together on the East Coast. Ice T revealed today that Snoop Dogg is guest starring on an upcoming episode of Law & Order: SVU. Ice T did not say if Snoop is a good guy or a bad one on the NBC procedural, but he says it is titled Diss. I am sure it will be the shiznit and nothing to diss.
It is amazing that the two men, who have had their run-ins with the law, are working on a cop show. The irony is not lost on me. It also shows people do change.
It just dawned on me, when I was trying to figure out if they worked together before, that I interviewed both of them on the red carpet for Flavor Flav's Comedy Central Roast.
---
Can you dance to the Law & Order theme song?
March 22nd, 2019 under Dick Wolf. [ Comments:

none

]

We all know the theme song to Law & Order, but can you dance to it like the one from Friends? That is what Jimmy Fallon wanted to find out. Therefore, he sent The Tonight Show crew down to Rockefeller Plaza and asked some of the tourists to give it try.
Turns out you can. You can do The Floss, breakdancing, ballet and so much more to that beat. Maybe NBC should change up the opening to Law & Order: SVU dick next season and show Ice-T and Mariska Hargitay busting a move to it. How amazing would that be?
What other theme songs do you wonder if people could dance to it too?
---
One Chicago all get one more season!
February 26th, 2019 under Dick Wolf. [ Comments:

none

]

NBC announced today that it picked up Chicago Med, Chicago Fire and Chicago PD for another season bringing their totals to 5, 8 and 7 respectively. Although, the decision was a no brainer because they have won all 15 Wednesday nights that they have aired this season thus far. Which makes you wonder why it took them so long to renew Dick Wolf's shows based in Chicago and when are they going to renew Law & Order: SVU for his 258th season? Or something like that.
BTW no word if they will keep Chicago One on one night, but I think we can all agree they would be stupid not to do that. I still don't understand why CBS has never done that with all the NCISes and CSIs when they were on the air. At least ABC realized it was a good idea when they did with Shonda Rimes' shows on Thursdays.
---
It's time for a wedding on Chicago Med as Fire heats up
December 5th, 2018 under Dick Wolf. [ Comments:

none

]

It has been a wedding we have been waiting for since season one and tonight at 8p on NBC's Chicago Med it is finally going to happen. Dr. Halstead (Nick Gehlfuss) and Dr. Manning (Torrey DeVitto) are ready to walk down the aisle, what could possibly go wrong?
Halstead's past catches up to him and he can no longer run from it. Ray the mobster takes a turn for the worse and his sons kidnap Halstead from the church. They tell the doctor to save their father or else. What will Manning think when he goes missing? Will their wedding become a funeral?
Back at the hospital, April (Yaya DaCosta) and Dr. Choi (Brian Tee) deliver a breech baby to a couple who are on vacation. While Dr. Charles (Oliver Platt) helps a woman who stabbed her husband because she thinks he is an imposter. Can he figure out what caused her to do that the man she loves?
Bring the tissues is all I can tell you.
Then at 9p on Chicago Fire, Casey (Jesse Spencer) and Naomi get very close to exposing the company who is manufacturing the faulty appliances that are causing deadly fires. That is not the only thing that they are getting very close on…
Meanwhile back at the house, a car accident sends 51 to the hospital for one of their own. The accident will have more than one of them rethinking things.
All leading to a shocking cliffhanger that will make you say why do I have to wait until 2019 for another new episode.
---