Kim Kardashian found a way to get ever more press!
December 30th, 2012 under Kanye West, The Kardashians. [ Comments: none ]

Kanye West will be in next year's Kardashian Kristmas Kard because Kim Kardashian is pregnant with his child. That's right the most over-publicized couple will be getting even more publicity. According to Eonline she is 12 weeks along which means we have 28 more weeks to know everything and more about her pregnancy.
BTW no word from E! when the fetus will be getting their own show on the network, but I am assuming it will debut in about 30 weeks.

UPDATE: Here is Kanye's klassy way of announcing that Kim is pregnant.

---
Michael Strahan says Alec Baldwin has a nice bleep!
December 30th, 2012 under Alec Baldwin, Kelly Ripa and Mark Consuelos, Michael Strahan. [ Comments: none ]

Alec Baldwin was on Friday's Live with Kelly and Michael and the hosts asked him a few questions. We basically found out that Jack Donaghy is 30 Rock hard all the time with his wife. Then Baldwin turned the tables on the hosts and Michael Strahan confirmed that when he saw the actor in the dressing room. To which Kelly Ripa responded "once you go Baldwin, you don't go back."
BTW I know some people were hesitant about the former football player joining the show, but I think he has proven himself and then some. Don't you agree?

---
Matthew McConaughey's son is as big as Texas!
December 30th, 2012 under Matthew McConaughey. [ Comments: none ]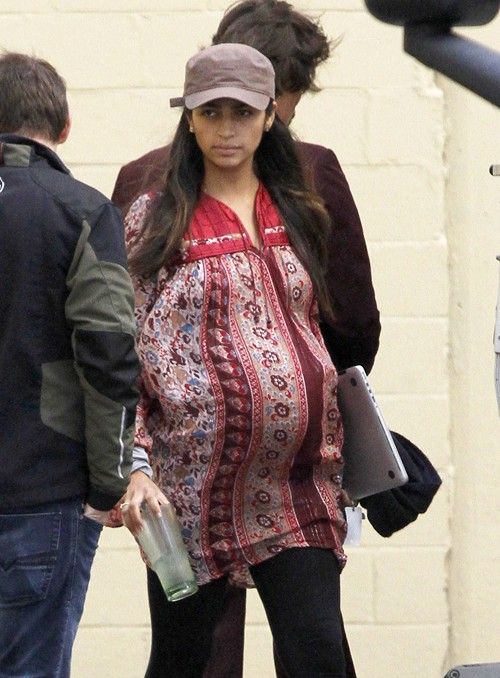 (photo from Fame Flynet)


Camila Alves gave birth to her third child with Matthew McConaughey on Friday and the little guy was a big one. McConaughey Tweeted, "Camila (@iamcamilaalves) gave birth to our third child yesterday morning. Our son, Livingston Alves McConaughey was born at 7:43am on 12.28.12. He greeted the world at 9lbs. and 21 inches. Bless up and thank you for your well wishes. Happy New year, and just keep livin, Camila and Matthew McConaughey." That is one big baby boy!
Livingston has a 4 year old brother Levi and almost 3 year old sister Vida and I am sure he will be as beautiful as them.

---
Angela Kinsey will do anything you want her to do on New Year's Eve!
December 29th, 2012 under NBC. [ Comments: none ]

Ever wanted to make a celebrity do whatever you wanted them to do, well you can dare Angela Kinsey to do whatever you want during NBC's New Year's Eve with Carson Daly. All you have to do is Tweet what you want her to do with the hashtag #CarsonsNewYears. Although The Office star seems to have some limits, "@twittertv ok up for 'anything' might be pushing it a little. ;)" So leave the stripping for Kathy Griffin to do on CNN.

---
Richards Simmons is the nicest guy you ever want to hit with your car
December 28th, 2012 under Richard Simmons. [ Comments: none ]

Richard Simmons was talking to some of his fans, who were on one of those Hollywood Tour Buses, when his neighbor accidentally ran over his foot. Instead of doing what someone who was run over by Lindsay Lohan would do, he told the driver he was OK and continued to talking to the people on the bus. Not only that, he took pictures with them even though he was in pain.
And according to TMZ he was in a so much pain today that he is currently being looked at at a hospital. Hopefully he will be OK soon.
BTW if more men were like him in a situation like that, then the world would be a much better place.

---