What has Alec Baldwin praying on his knees every day?
September 18th, 2020 under Alec Baldwin, Conan O'Brien. [ Comments:

none

]

Alec Baldwin was on Conan yesterday, and of course, they talked about him playing Donald Trump on Saturday Night Live. The good news is that he will be back under the atrocious wig. The bad is that he will only be able to do it when he is not filming Dr. Death for Peacock.
That 8-episode series will film over four months, and the new dad is hoping that he won't have to be back on SNL when it is done. So much so, he is praying for it on his knees every day. He is not the only one. Not by a long shot.
I understand why he is praying for that, but I would think he would be praying for his sperm to stop working. Otherwise he will have baby #6 before he knows it.

---
Alec Baldwin had another kid
September 9th, 2020 under Alec Baldwin. [ Comments:

none

]

Alec Baldwin has so many kids with Hilaria Baldwin that he can count them on one hand. Last night the couple, who have been married for eight years, welcomed their fifth child, a baby boy.

Baby cinco joins 6-year-old Carmen, 5-year-old Rafael, 3-year-old Leonardo, and 2-year-old Romeo. Alec is also a father to Ireland, 24, with his ex-wife Kim Basinger.

I would assume baby #6 will come during the spring of 2022, and baby #7 a year after that. Just in time for Alec to become a senior citizen.

---
Hilaria Baldwin suffers another miscarriage
November 12th, 2019 under Alec Baldwin. [ Comments:

none

]

Back in April, Hilaria and Alec Baldwin revealed that she had suffered a miscarriage. Then in September, the couple shared the happy news that baby #5 was on the way. Sadly, Hilaria posted on Instagram yesterday that this baby was also not meant to be.
Mrs. Baldwin posted a video telling her only daughter Carmen Gabriela that the baby sister she was looking forward will not be coming in 5 months likes they thought. The little girl comforted a mother with a sweet kiss. Someday, Carmen will be the best big sister that a girl could ask for.
The Baldwins also have 3 sons: Rafael Thomas, 3, Leonardo Ángel Charles, 2, and Romeo Alejandro David, 10 months.

---
Alec Baldwin drops trou
October 21st, 2019 under Alec Baldwin, Jimmy Fallon. [ Comments:

3

]

Alec Baldwin was on The Tonight Show on Friday, but he still has not gotten over what Jimmy Fallon did to him the last time he was on. When he was on before, the NBC show made up a dummy to look like the actor. They even included a pillow to give it a little gut.
That was then, this is now and that gut is gone. Baldwin is so proud of his weight loss, he dropped his pants to show how loose they are now.
What is his secret? He did not say, I am assuming lots of sex and having 4 kids under 7 and one of the way. That will make anyone skinny or crazy or both.

---
Words With Friends celebrates 10 years with Alec Baldwin
August 1st, 2019 under Alec Baldwin. [ Comments:

none

]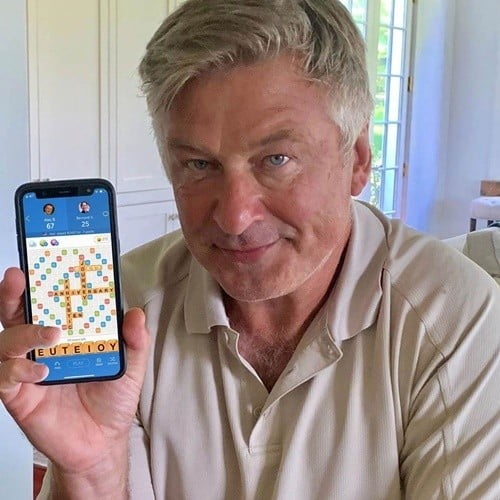 Back in 2011, Alec Baldwin got kicked off of a plane for refusing to turn off his phone because he was playing Words With Friends. Since then you can say, he is their most famous player.
This year, the popular game is turning 10 and they asked the actor to help promote the app. Starting this fall, be prepared to see him talking about WWF. However, we don't have to wait until then to find out he feels about the honor. He said, "I have been playing Words With Friends for nearly a decade, on soundstages, in greenrooms, and on airplanes," Then he added, "It's great to play a game that engages your intellect and your social side simultaneously—that's why I spelled 'Y-E-S' when Zynga asked me to get involved."
I think it is only fair that we get to play a round with him. Although, I would be afraid if I beat him. I doubt I would be able to because he has been playing longer than me.

---