Bobby Campo talks about The Final Destination!!!
August 31st, 2009 under The Final Destination. [ Comments: none ]

Seconds before Bobby Campo snuck in to watch himself in The Final Destination at the Warner Bros premiere of the film that is out now, he talked about to me about the hit franchise and his role in the #1 movie!
When I asked him if he was a fan of the Final Destination series, he told me, "I snuck in to the first one as a wee one. So I love these movies. They're great. They take your everyday fears and they put them right in front of you, in your lap." He sure isn't kidding, especially in this one because it was done in 3D and that really adds to the feel of the movie.
Campo plays Nick O'Bannon, the person in this Final Destination who gets the premonition before the mass deadly accident and saves his friends and a few other people before the killer crash at the race track takes place. Well he saves them for a short time anyways because as we know death doesn't like when anyone messes with his plans.
I think that Campo is the best one in the role since Devon Sawa got the vision in first one. In this movie like the last 3, not only is he trying to save his friends, but he also trying to save a bunch of strangers who are all ahead of him on death's list. Will he be able to break the chain and save himself or will he succumb to death's plan? You are just going to have to see the movie to find out. Plus you are going to want to see the escalator death scene he was talking about, because it is one of the many awesome kills in the movie. And in this one not all deaths are as they seem…
BTW you really have to listen to the interview above because he is accent is so endearing!

---
Joel Madden and his mini-me!
August 31st, 2009 under Good Charlotte. [ Comments: 4 ]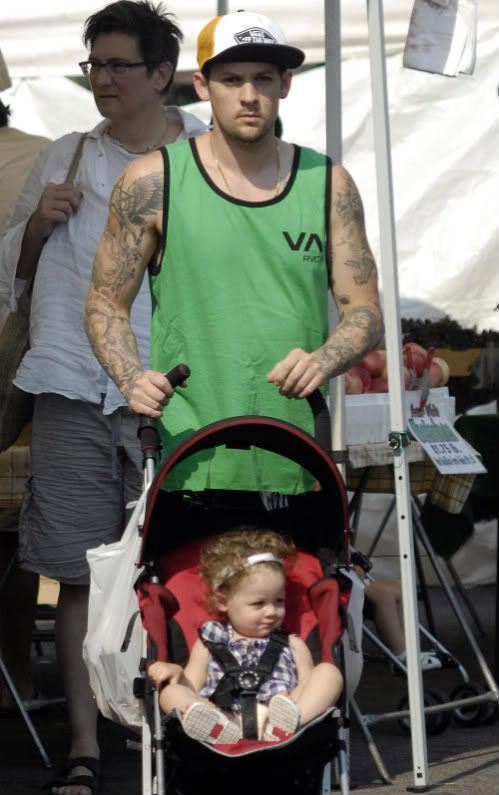 Fame Pictures
Joel Madden gave up his Lifestyles of the Rich and Famous for a little bit to spend his day with his mini-me Harlow! How awwwdorable is it to see the 19 month old give her dad a big squeeze like that? Seriously she is getting so cute now that her hair is growing out.

---
Paula Abdul finally talks about American Idol
August 31st, 2009 under American Idol 9+, Paula Abdul. [ Comments: none ]

Finally after weeks of being silent, Paula Abdul opens up to TV Guide Magazine on why she left American Idol.
You're looking amazing, Paula. And you seem so happy today. No regrets about leaving American Idol?
You know, to say 'no regrets' isn't easy. I feel like I have been such a big, huge part of the success of the show from day one. I loved being able to be the artist's artist; being there from my point of view of knowing what it feels like to be vulnerable and to be out there wanting to achieve the most magical moment in a minute and thirty seconds. To be able to do that was an amazing experience and the show was wonderful for me in that regard.

Will you still tune in?
Of course I will. I'll watch it as much as I can. I had some really unforgettable moments that hit plateaus for me and I'm very blessed to have been a part of what made television history.

Is there anything the show could do to get you back?
That's a hard question to answer right now. I mean, I don't think I can answer that right now.

Is it just about the money?
It's never…I stand on principle where many people stand on money. I'm a hard-working artist. I've lasted in this business for 23 years. And you can't do that unless you are good at what you do. I believe in myself and you have to have your own self respect. And sometimes decisions are very difficult to make, but I've always believed that at the core I'm a survivor. There's not one thing I've done that I've really set my mind to that I've failed at.

Lastly, what do you want to tell your many TV Guide Magazine fans who will be missing you next season on American Idol?
The fans all should know I adore, love, appreciate and respect how much they've expressed their outpouring of love and support for me. That's what keeps me going in lots of ways. The fans are supporting and rooting for me in all the future endeavors I'm doing. I love that and I'm grateful to American Idol for allowing all of that to happen.
Kind of like her judging on American Idol, she really hasn't said anything but I have to know every word she is saying. I wonder if she is being so wishy-washy because they rumors that she will be back in January are true?
Check out TV Guide Magazine to see what she is doing next and what she wants to do now that she is no longer committed to American Idol.

---
The hottest pussy at the Daytime Emmys red carpet!
August 31st, 2009 under TV Soaps. [ Comments: 1 ]

WireImage
Stacy Haiduk from The Young and The Restless walked the red carpet with the hottest accessory at yesterday's Daytime Emmys, her co-star Kitty! Gotta love an actress who is willing to bring her furry friend with her wherever she goes, especially a stuffed cat like that. Seriously how real does that Kitty look? A lot more real than her storyline on Y&R sounds for sure!

---
Demi Moore denies getting plastic surgery
August 31st, 2009 under Ashton Kutcher, Demi Moore. [ Comments: 3 ]

(photo from WireImage)


Demi Moore who has been famously rumored to have a multiple plastic surgery operations is now denying all of them according to The Sun.
"It's completely false – I've never had it done."
The Indecent Proposal star said: "I would never judge those who have. If it's the best thing for them then I don't see a problem.
"But I don't like the idea of having an operation to hold up the ageing process. It's a way to combat your neurosis.
"The scalpel won't make you happy."
Demi, whose third husband ASHTON KUTCHER is 31, did not rule out ever having surgery.
She told a French magazine: "The day I start crying when I look at myself in the mirror might be the day when I'm less adamant about not having it done.
"For now I prefer to be a beautiful woman of my age than try desperately to look 30."
Do you believe her? I am torn, I think she could actually be telling the truth because you can see in that picture she is starting to get wrinkles around her lips. But then what took her so long to deny it because that rumor is like over 10 years old.

---