Good Charlotte turns bad with Dr. Phil
September 14th, 2018 under Dr Phil, Good Charlotte, James Corden. [ Comments:

none

]

James Corden came up with a brilliant plan to have Dr. Phil perform with Good Charlotte. Therefore, they rehearsed together and performed Lifestyles of the Rich & Famous as a group on The Late Late Show yesterday.
How did it go? Let's just say we will all need to see a therapist after that because it has emotionally scarred us for life. And it needs to be any other psychologist but Dr. Phil because he broke the Hippocratic Oath's first rule. Do no harm. My ears are ringing and I know it is not because someone is talking about me for one. It is because of the television doctor's singing voice.
---
Words of Wizdumb from Joel Madden
November 18th, 2011 under Good Charlotte. [ Comments:

none

]

(photo from People)


When you look at Joel Madden and all of his tattoos, you have a certain impression of what he will be like. But yesterday he posted something on Twitter that made me think the Emo Rocker is really a sweet poet. The Good Charlotte singer said the sweetest thing in less than 140 characters, he Tweeted "I love being married. Wife and kids is the coolest thing ever. Stoked on life 🙂 I always hope for everyone to find that kind of happy" Nicole Richie, Harlow and Sparrow are very lucky to have a man like that in their life.
How many women after reading what he wrote were like if Nicole ever leaves him (which she won't), that she would be happy to be his new wife. I know I am swooning over him now. Seriously more people should follows his loving words.
---
Good Charlotte play a good game of Family Double Dare!
March 15th, 2011 under Good Charlotte. [ Comments:

none

]

Good Charlotte debuted their new music video for Last Night on Funny or Die and it will bring many of us back to the happy times in out childhood. Just like what Weezer did with Happy Days, the band has done by recreating their favorite (and ours) game show Family Double Dare! I guess when you are living the Lifestyles of the Rich and Famous, you can live out your childhood fantasies!
The band wanted to recreate the original feel so much so that they borrowed cameras from a Korean TV station to get that '90s look. Getting that look was easier than trying to get Marc Summers to recreate his role as the host of the show. But the band worked their magic and got him aboard. Here is what the game show said about it, ""Having never done anything quite like this, I was a bit nervous and out of my element," Summers said. "The guys from Good Charlotte went out of their way to make me feel comfortable immediately. It was fun for me to see them become about eleven years old as they played on the set of their dreams!" Now I want to know if it was Paul Thomas' dream to play the mom and kiss his bandmate Dean Butterworth? I wonder if he would say it was Worth it because Dean's kiss was like Butter! Yes that was a cheesy joke, but wasn't that made Family Double Dare so awesome? And that is what made Good Charlotte's video so freaking perfect.
To quote Charlie Sheen, the video for Last Night is "Winning!" Just like their fifth album Cardiology that is out now!!!
One last note, I am so happy that Good Charlotte not only went back to the '90s to bring back a fun game show, but also went back to creating a real music video like they used to make back in the day. I miss music videos that were more than the artist just singing and/or dancing to their song.
---
It was a Good Charlotte day for White Wedding!
December 12th, 2010 under Good Charlotte. [ Comments:

none

]

Joel Madden and Nicole Richie finally tied the knot yesterday at her father's estate. According to People, "They wanted an Old Hollywood, glamorous feel to their wedding. They're going all-out with the decor. Nicole wanted a memorable, elegant affair for only their closest friends and family on their special day." No word what their two children Harlow, 2 and Sparrow, 1 played in the wedding but I am sure they were big part of it.
The couple have been dating for four years and engaged for almost a year.
---
Nicole Richie's little ballerina!
March 26th, 2010 under Good Charlotte. [ Comments:

1

]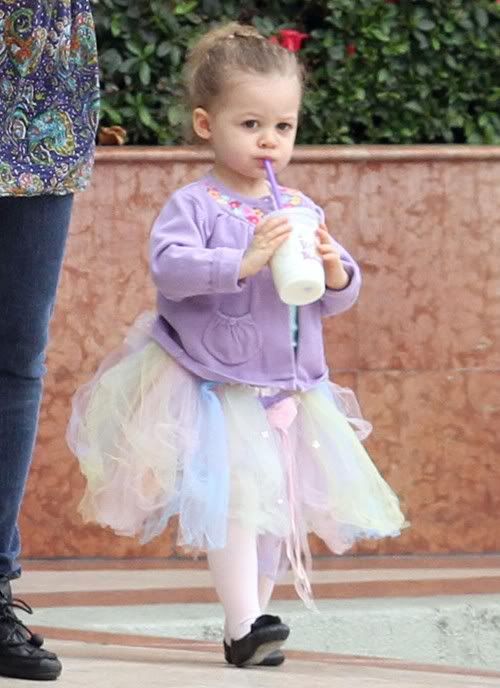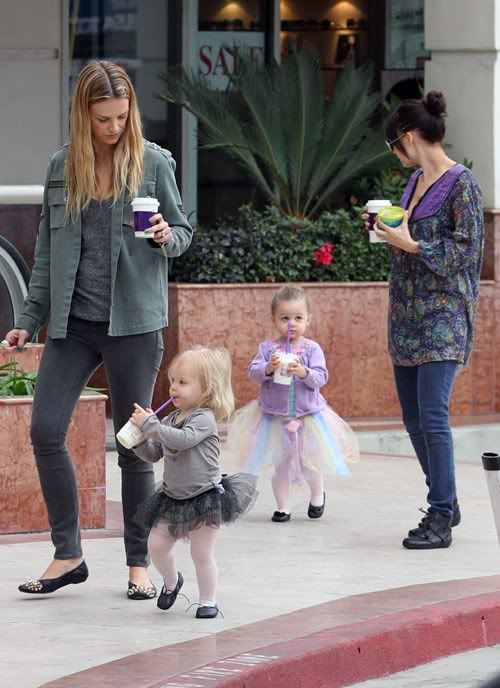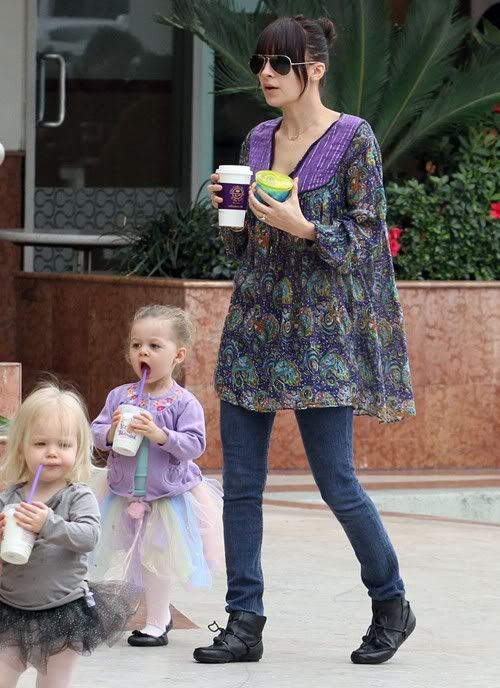 Fame Pictures
Nicole Richie's little girl Harlow Madden is taking ballet lessons and we got to see her in little colorful tutu! How awwwwdorable is Joel Madden's and Nicole's daughter? I love how in the middle picture she knows how to use the cute face! You know she gets everything she wants with that face!!!
---