The Bold and the Beautiful is turning 9,000
September 1st, 2022 under The Price is Right, TV Soaps. [ Comments: none ]
CBS Daytime is going to have some big milestones season, and it starts with The Young and the Restless celebrating its 50th season on the air starting on September 30th. In honor of the Soap Opera's actual 50th birthday in March, we can expect several fan favorites to return home to Genoa City. I hope that Doug Davidson is one of them.
Then on April 14th, The Bold and the Beautiful will air its 9,000th episode. Imagine how many weddings, fights, deaths, and births we have witnessed in all of that time.
Almost as much money as Drew Carey has given away during his 15 seasons on The Price is Right.
That is one more season than Wayne Brady has been hosting. Let's Make a Deal. And that game show is kicking off the season on September 19th by giving luxury cars all week long.
It is going to be busy on CBS when the sun is out this season, so make sure to rest up for it.

---
Peacock is offering a discount for fans of Days of our Lives
August 30th, 2022 under Peacock, TV Soaps. [ Comments: none ]
Days of our Lives is moving from NBC, exclusively to Peacock on September 12th, and that means that Soap Opera will no longer be free to watch. However, the steaming service wants to keep its loyal viewers, so they are offering a great price for their service.
For $1.99 a month or $19.99 for the year, you can get Peacock and all it has to offer. So you can watch Days, Bel-Air, Halloween Ends, or the Saved By the Bell revival anytime you want.
What are you waiting for? For the price of a cup of regular coffee, you can get hours of television to binge. Hurry because this offer won't last forever.
And what is up with Diedre Hall making it sound like an ActionAid commercial? And why did I follow suit?

---
General Hospital's Marcus Coloma has to dance for Maurice Bernard's approval
August 24th, 2022 under TV Soaps. [ Comments: none ]
Maurice Bernard is not only the King of Port Charles, but he is also the King behind the scenes.
Therefore, Marcus Coloma needs to impress him so that he can get the good storylines. How is Coloma going to do that? He danced like the King, the King of Rock and Roll, aka Elvis Presley.
Did Nikolas Cassadine get Sonny Corinthos' approval? Nope. Kin Shriner already beat him to it, and he didn't have to dance for his supper.
Now, let's talk about Coloma shaking his assets. I would say he needs to do that more often on the Soap Opera, but his tush is not safe for daytime.

---
Emma Samms returns to General Hospital for her 40th anniversary!
August 22nd, 2022 under TV Soaps. [ Comments: none ]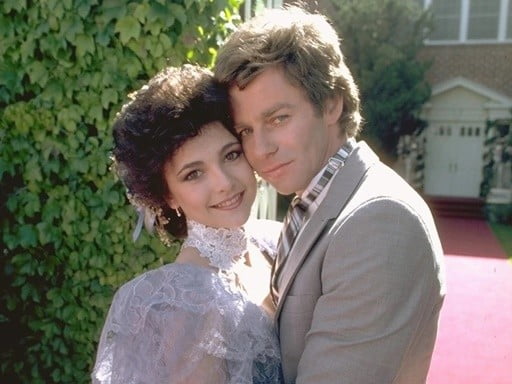 Back in 1982, Emma Samms was cast as Holly Sutton on General Hospital. Since then, she has been playing that part on and off. The last time she appeared on the Daytime Drama was in 2020. Deadline is reporting that she is be returning to the Soap Opera in October.
"I can't believe that it's been 40 years since I first appeared on General Hospital and that, once again, I get to play the wonderful character of Holly Sutton," Samms told the site. "No one is more interested in what's happened to her since we saw her two years ago, being held captive by a mysterious villain, than me!"
While we have to wait over a month to find out what happened to Holly, we know what has been happening to the actress since then. The actress has been suffering from long COVID and is finally on the other side of it.

---
Days of Our Lives moves to Peacock next month
August 3rd, 2022 under TV Soaps. [ Comments: 10 ]
In huge, and possibly devastating, Soap Opera news, the sands of the hourglass have run out for Days of Our Lives on NBC. But Peacock turned the hourglass around and will start it all over again on September 12th, according to Josef Adalian at Vulture.
That means, for the first time in 73 years, the network will not be airing a Daytime Drama, and that is devastating news for the genre that will only see three shows left on ABC and CBS. But, who knows, maybe DOOL will find a new audience on the streaming service.
So what prompted the move for the series, which has one more year left on its contract? "This programming shift benefits both Peacock and NBC and is reflective of our broader strategy to utilize our portfolio to maximize reach and strengthen engagement with viewers," Mark Lazarus, chairman, NBCUniversal Television and Streaming said of the decision. "With a large percentage of the Days of Our Lives audience already watching digitally, this move enables us to build the show's loyal fanbase on streaming while simultaneously bolstering the network daytime offering with an urgent, live programming opportunity for partners and consumers." NBC will fill the gap left by Days with a new one-hour news program, NBC News Daily, anchored by Kate Snow, Aaron Gilchrist, Vicky Nguyen and Morgan Radford.
ABC cancelled All My Children and One Life to Live for some talk shows that are no longer on the air. So, I am not sure how well another news program will do. However, it is a lot cheaper to produce than a Soap.
So, their decision could make sense if it wasn't such a nail in the coffin for the Soaps.
I just hope that NBC and Peacock made this decision because the two Days limited series events that aired on Peacock did so well that they think the mothership will do just as well.
I am rooting for Days to succeed on its new home because I grew up watching it. And it is all about me.

---