BTWF: Diane Franklin on As the World Turns
April 24th, 2019 under Before They Were Famous, TV Soaps. [ Comments:

none

]

Before Diane Franklin was the Last American Virgin, she gave up a room so her friends would not be on As the World Turns. She looks the same now as she did when she was 17 on that 1979 episode.
---
The moment Genoa City finds out about Neil Winters' death
April 23rd, 2019 under TV Soaps. [ Comments:

none

]

On February 3rd Kristoff St. John died of a broken heart, and today The Young and the Restless dealt with his passing. The beloved character passed away in his sleep while his loved ones were at a party.
When Winters did not show up, his son Devon (Byron James) went to check on him. That is when Devon learned the sad truth. The devastated son then went back to the party and told his sister Lily (Christel Khalil) about their dad. As she broke down, everyone else learned about his death.
Tomorrow and throughout the rest of the week, they will continue to deal with his passing including a tear-inducing funeral. Then on Monday, his past and current castmates will remember him in a tribute episode.
---
The first look at Shemar Moore's return to Y&R to say goodbye to Kristoff St. John
April 19th, 2019 under Shemar Moore, TV Soaps. [ Comments:

none

]

Today, at the end of The Young & The Restless, CBS previewed what we can expect from next week's episodes that includes the death of Niel Winters. Since the show wants to send Kritoff St. John off properly, Christel Khalil, Eileen Davidson and Shemar Moore are all returning to say goodbye to their friend, both on the show and in real life.
Moore wrote this about his 2-episode return to the show, "Next week APRIL 25th & 26th I join my Y&R Family as Malcom Winters to pay tribute and say goodbye to my BEST FRIEND and BROTHER …. Kristoff St. John AKA Neil Winters ….. KRISTOFF ST. JOHN ….. NEVER FORGOTTEN ❤️ LOVED FOR ETERNITY … You live on in ALL of our HEARTS ♥️ "
Get the tissues ready because if these 30 seconds are just a hint of what we can expect starting on April 23rd, we are going to desperately need them.
---
Kristoff St. John gets a 4-episode sendoff on The Young & The Restless
April 15th, 2019 under TV Soaps. [ Comments:

none

]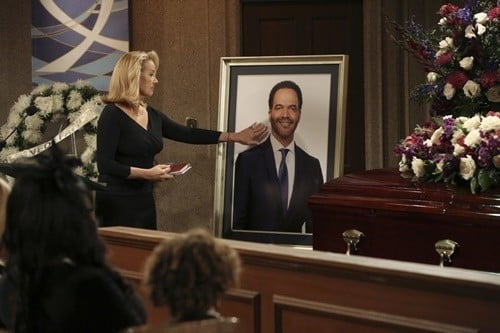 On Febraury 3rd, Kristoff St. John passed away suddenly. That left The Young & The Restless in a tough situation. How would they handle the real life death of one of its longest characters. Today, they revealed how they will write off Neil Winters, a man who has been with them for 27 years.
Starting on April 23rd, Genoa City will be shocked to learn of his sudden passing. Over the next three days, they will remember their friend and family member. Shemar Moore, Christel Khalil and Eileen Davidson will return to say goodbye to him. Stan Shaw, Kristoff's longtime friend and co-star from Roots: The Next Generations will appear as the Reverend at his funeral on April 25.
Then on April 29th, St. John will get a stand-alone tribute episode where current and past cast members like Victoria Rowell and Mishael Morgan will talk about the man that touched all of their lives.
This is a storyline no soap opera wants to do, but you know they will do a good job remembering someone that has been with them for over a quarter of a century. Get the tissues ready because we are going to need them.
---
Y&R celebrates Nikki Newman's 40th anniversary on Wednesday!
February 19th, 2019 under TV Soaps. [ Comments:

none

]

On February 20 1979, The Young and the Restless introduced us to Nikki Newman, and this Wednesday on CBS she will get a whole episode dedicated just to her.
Melody Thomas Scott has to say this about playing the same role for 4 decades, "I would never have guessed when I first accepted the role of 'Nikki Newman' in 1979 that I would be fortunate enough to be playing her 40 years later. I treasure the gifts and memories it has given me immensely. I feel most fortunate to have enjoyed every minute of these 40 years."
How many people can say they held the same job for 40 years, but there are two people on the daytime drama who can say that, Scott and Doug Davidson. Pretty impressive, as long as you don't consider all they have been through since the late '70s. How many sex scenes, drinks, children aging unnaturally, cast changes, different writers, marriages, divorces, being let go and so on. They have lived lifetimes in just one.
In case you wondering, there are two actors, who are currently on soaps, that have been on their longer shows than them. Suzanne Rogers has been on Days of our Lives for 44 years and Leslie Charleson joined General Hospital in 1977.
BTW Y&R turns 46 next month.
---