Is Katherine Kelly Lang really 59?
January 18th, 2021 under Are they really their age?, TV Soaps. [ Comments:

none

]

Katherine Kelly Young shared a photo of herself from a shoot she did for Vanity Fair Italia, and I can't believe she is 59 years old with those legs and everything above them. Not only does she star on The Bold and the Beautiful, but she is also bold and beautiful. The Soap vixen is as timeless as the daytime drama.

Isn't she stunning? Can you believe she will turn 60 in six months?

---
This is Kristian Alfonso's last week as Hope on Days of Our Lives
October 12th, 2020 under TV Soaps. [ Comments:

none

]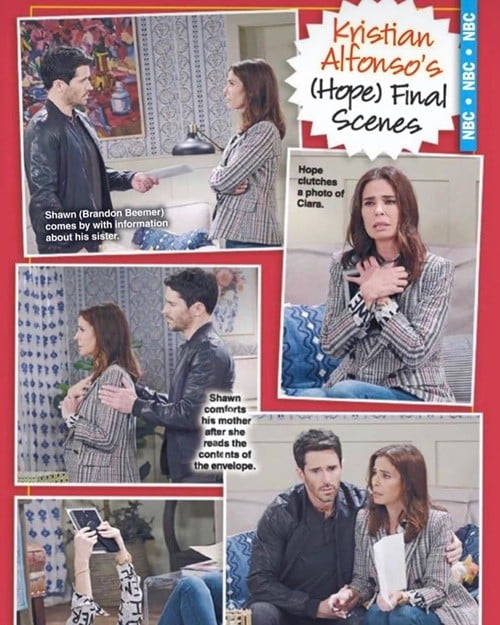 Soap Opera Digest via Kristian AlfonsoBack in July, Kristian Alfonso announced that she was leaving Days of Our Lives again, but didn't say when her last episode would air. Now we know that it is airing this week.
The actress posted some photos from her final scenes, and it looks like we will need some tissues. A lot of tissues.
Are you going to miss her as Hope? Personally, I think she will be back. Don't you?

---
BTWF: Finola Hughes for the Plymouth Duster
August 25th, 2020 under Before They Were Famous, TV Soaps. [ Comments:

none

]

Before Finola Hughes was driving police cars on General Hospital, she was getting around town in a Plymouth Duster. She looks the same now as she did when she was 25 in that 1984 commercial.
While the name of the car is awful, that ad is absolutely fantastic.

---
S.W.A.T. and Family Feud are getting ready to get back to work
August 3rd, 2020 under CBS, Steve Harvey, TV Soaps. [ Comments:

1

]

Normally at this time of year, broadcast's scripted television would be back in full production. However, COVID-19 has other ideas about that. This year, the only shows back at work are game shows, reality TV, and soap operas.
Well, that is about to change soon. Deadline is reporting that S.W.A.T., the midseason show that just made it back on the fall lineup, is expected to start filming tomorrow in Los Angeles. By the end of the month, it could be joined by The Goldbergs. These Sony produced shows join their studio brethren Jeopardy, Wheel of Fortune, Shark Tank, The Bold and the Beautiful, and The Young and The Restless in production.
Y&R joins B&B and will begin airing new episodes starting on August 10th, according to CBS.
There is one more Sony show getting ready to go back to work, and that is The Good Doctor in Vancouver. It is not the only show that tapes in Canada that is gearing up to begin filming. So is Supernatural, The Flash, Riverdale, A Million Little Things, and Charmed. When Calls the Heart went back into production last week with Jack Wagner.
That is north of Hollywood to the west, Family Feud will forego an audience in Atlanta later this month per The Wrap. Up north in New York City, The Blacklist is not being blacklisted from filming.
All of these shows will constantly be testing the cast and crew to make sure they are still coronavirus negative. It will be costly, but not producing new episodes is even more expensive. However, human lives are priceless, and they will do everything they can to protect them.

---
The Bold & the Beautiful will be back with new episodes next week
July 13th, 2020 under TV Soaps. [ Comments:

none

]

Back in March, all of the scripted television production was forced to stop shooting because of the coronavirus pandemic. Last month, the Governor of California said that filming could resume, and The Bold and the Beautiful was the first show to get back to work.

After a slight testing hiccup, they were back at full time. The Daytime Drama has done such a good job that CBS says that they will start airing new episodes starting on Monday, July 20th. Here is a little spoiler about what we can expect from their first show back. On Monday, July 20, catch up on the latest drama surrounding the Forrester family. Katie (Heather Tom) fills in Carter (Lawrence Saint-Victor) on how Quinn (Rena Sofer) sabotaged Brooke (Katherine Kelly Lang) and Ridge's (Thorsten Kaye) reunion party. Then, Zoe (Kiara Barnes) and Carter discuss her whirlwind romance with Thomas (Matthew Atkinson), how he was exposed for his manipulations and lies at their wedding, and how Hope (Annika Noelle) and Liam (Scott Clifton) were able to overcome everything and reunite. Finally, Zoe and Carter learn about Sally's (Courtney Hope) illness and what Wyatt (Darin Brooks) and Flo (Katrina Bowden) did when they found out.

My hat is off to them. The Soap Opera is getting new shows on the air before any of the other scripted soaps get back into the production. Both The Young and the Restless and General Hospital have had their start dates pushed back, while Days of Our Lives is taking the summer off.

I have never watched B&B, even though an HS alum is on it, but I am going to check it out to see how they handle working during the COVID-19 era. Will you be tuning in?

To read about the rest of the week's episodes, then click here!

---