BTWF: Christian Slater on All My Children
March 30th, 2020 under Before They Were Famous, TV Soaps. [ Comments:

none

]

Before Christian Slater knew everything about security on Breaking In, he knew all about the woods on All My Children. How cute was the 16-year-old in that 1986 episode?
---
The Young & The Restless is no longer the #1 soap opera after 31 years
March 30th, 2020 under TV Soaps. [ Comments:

none

]

Ever since the final week of 1988, The Young and the Restless has been the #1 soap opera in the ratings. However, Showbizz411 is reporting that last week it lost that title to CBS's other soap, The Bold and the Beautiful. I guess you can say it was bold of them to do and it was not a beautiful thing for Y&R.
Yet, we can say it was quite an accomplishment for Y&R. Thirty-one years as #1 is something to be extremely proud of. How many other things can say they have been #1 for that long? I can't think of anything, can you?
---
Did Coronavirus just kill the Daytime Emmy Awards?
March 19th, 2020 under TV Soaps. [ Comments:

none

]

NATAS announced today that they are postponing the June Daytime Emmy Awards indefinitely.
The awards show has been struggling to find a home for the last few years. I wonder if they will go on after the pandemic is over, and last year's show was not the last one. I hope it does go on. These are some of the hardest working people in the business and deserve to be recognized.
However, they did say, "Judging continues, and we look forward to announcing our incredibly talented nominees later this Spring. We are working on some interesting alternative ideas for how to best recognize the honorees later this year and will share more details in the weeks ahead."
Save the Daytime Emmy Awards!
---
The Young & The Restless will continue to get old and tired!
January 30th, 2020 under TV Soaps. [ Comments:

none

]

The Young & The Restless is in its 47th season and they are not getting old and tired as I said in the headline. In fact, a day after Days of Our Lives got another season, CBS decided to up the renewal game. They picked up the Soap Opera for not one, not two, not three but four more years. That means the Daytime Drama will be on the air until at least 2024!
All of this is great news! So many people want to write off this genre, but it is still going strong. If you can survive working in Soaps, you can survive anything in Hollywood. It is the best training ground with the most loyal fans. Something so many people overlook. Like ABC did when they canceled All My Children and One Life to Live. Such a stupid mistake. However, just one of their many.
Anyways, congrats to DOOL and Y&R!
---
It's Vicki and Gretel from One Life to Live
December 18th, 2019 under TV Soaps. [ Comments:

none

]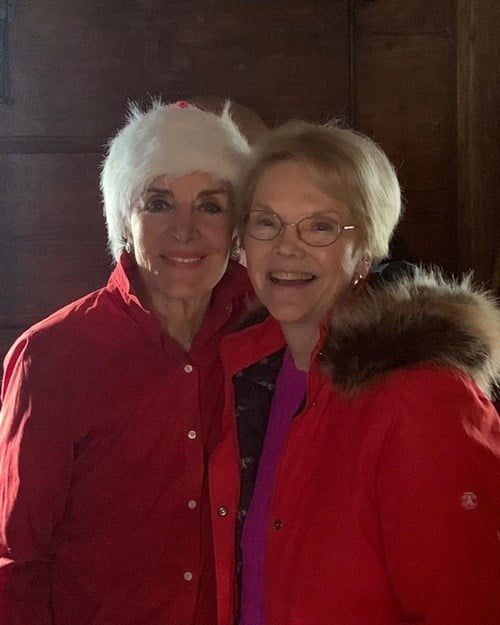 It has been six years since One Life to Live ended, and Linda Dano and Erika Slezak are still friends. Their characters might have had their issues on the soap opera; but in really life they get along.
Not only that, they have not aged a day since they were the soap divas that everyone loved to hate!
PS Never watched OLTL, but of course, I know who these gorgeous women are.
---