It's Vicki and Gretel from One Life to Live
December 18th, 2019 under TV Soaps. [ Comments:

none

]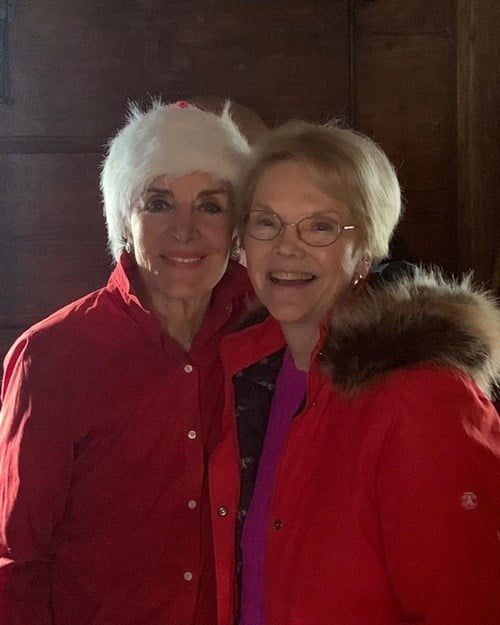 It has been six years since One Life to Live ended, and Linda Dano and Erika Slezak are still friends. Their characters might have had their issues on the soap opera; but in really life they get along.
Not only that, they have not aged a day since they were the soap divas that everyone loved to hate!
PS Never watched OLTL, but of course, I know who these gorgeous women are.
---
Days of our Lives picked up for another season!
November 22nd, 2019 under TV Soaps. [ Comments:

none

]

Last week, it was reported that Days of Our Lives released all of the cast members from their contracts as they wait to find out whether or not NBC would pick up the soap opera for another season. Well, Entertainment Weekley says that Executive Producer Ken Corday had some good news for the cast yesterday, the daytime drama will be back for another year.
Who will be back for season 56? Only the sands in the hourglass know that answer for now. Hopefully, they are getting a big ratings boost, thanks to the time jump story, that they will all be back. Even though I have not watched DOOL in years, I want to see it go on and on!
---
Has the sand run out of Days of our Lives' hourglass?
November 12th, 2019 under TV Soaps. [ Comments:

none

]

Days of our Lives is just about to wrap up production on its 55th season, but as of now a deal has not been made between NBC and Sony for anymore seasons.
Therefore, TVLine is reporting that everyone in the cast has been released from their contacts.
Does that mean that NBC's lone soap opera is over? Not quite yet? The show tapes 8 months in advance, so there are episodes into the summer. There is hope that it will be back and production can begin again in March.
Here is the snafu, now that the actors do not have contracts, there is nothing that says to they can get their old salaries back. For the cast members who have been their a long time, their salaries might be greatly reduced. Thus, it will be up to them to decide if they want to come back at a lower rate. Which means some favorites might not return if the show is to return.
As someone who grew up watching DOOL, I hope they find a way to bring it back. Especially since this year time jump off such an interesting concept.
---
BTWF: Jonathan Groff on One Life to Live
August 19th, 2019 under Before They Were Famous, TV Soaps. [ Comments:

none

]

Before Jonathan Groff was dancing on Glee, he showed off his smooth moves on One Life to Live. He looks better now than he did when he was 21 in that 2007 episode.
To hear what he said on Live with Kelly and Ryan about his TV debut, then click here!
---
BTWF: Melody Thomas Scott in Piranha
July 3rd, 2019 under Before They Were Famous, TV Soaps. [ Comments:

none

]

Before Melody Thomas Scott was a very successful businesswoman on The Young and the Restless, she was a camp counselor in Piranha. She looks the same now as she did when she was 21 in that 1978 movie.
---