Is Demi Moore really 58 years old?
September 6th, 2021 under Are they really their age?, Demi Moore. [ Comments:

none

]
Demi Moore's driver's license says that she is 58 years old, but her boobs say, look at me. And that is exactly what the boys were doing at a Women in Film event over the weekend.
You know they went home and watched Striptease because they could not believe that she and her girls haven't aged a day since that movie came out in 1996.

---
BTWF: Demi Moore in Young Doctors in Love
August 5th, 2021 under Before They Were Famous, Demi Moore. [ Comments:

none

]
Before Demi Moore checked into General Hospital, she was an intern in Young Doctors in Love. She looks the same now as she did when she was 18 in that 1982 movie.

---
Is Demi Moore really 58?
July 14th, 2021 under Demi Moore. [ Comments:

none

]
Demi Moore shared a photo of herself in a black bikini, and I cannot believe she is 58. She looks just as good now as she did when she did the 1996 movie Striptease.
Can you believe she 2 years away from turning 60? I never would if I didn't know how old she was.

---
Gwyneth Paltrow and Demi Moore go makeup free
February 20th, 2020 under Demi Moore, Gwyneth Paltrow, No makeup. [ Comments:

none

]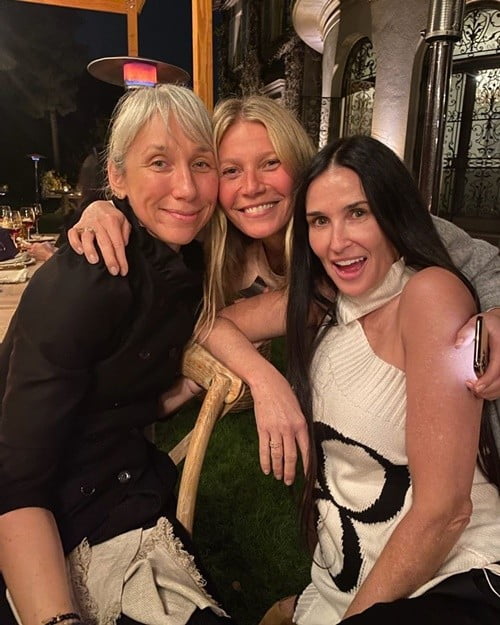 Gwyneth Paltrow threw a party, and there was one requirement from all of the guests. They were not allowed to wear any makeup. Since almost everyone there is a famous woman over 40, that is a big ask. However, they did it.
One of the attendees was Demi Moore, and the 57-year-old looks almost exactly the same. However, Paltrow, who is ten years younger, looks ten years older than her friend. Maybe she needs to use some more of the expensive GOOP stuff she sells.
On that I note, I wonder if the party was lit by using her This Candle Smells Like My Vagina candles. Who pays $75 for a candle?
To see what some of the other guests looked like, then click here!

---
Which film does Demi Moore think is her worst movie?
October 24th, 2019 under Demi Moore, James Corden. [ Comments:

none

]

Demi Moore has done some good movies like The Seventh Sign, Ghost, A Few Good Men and One Crazy Summer, but she has also done some really bad ones like Blame It On Rio, The Butcher's Wife, Striptease, GI Jane and LOL. Yesterday when she was The Late Late Show, James Corden asked her which movie she considers to be her worst one when they were playing Spill Your Guts or Fill Your Guts.
Would she choose to eat a 1,000-year-old egg or tell him which film she regrets doing? She had no problem telling him it was one of her first movies, Parasite 3D that was released in 1982.
If you have never seen the movie, then you do not know that she is right. It was a really bad film. Want to see it, then click here!

---