Bruce Willis' family gives an update on his condition
February 16th, 2023 under Bruce Willis, Demi Moore. [ Comments: none ]
Last year, Bruce Willis' family announced that he was retiring from acting because he is suffering from aphasia. Today, they gave an update on his diagnosis.
As a family, we wanted to take this opportunity to thank you all for the outpouring of love and compassion for Bruce over the past ten months. Your generosity of spirit has been overwhelming, and we are tremendously grateful for it. For your kindness, and because we know you love Bruce as much as we do, we wanted to give you an update.

Since we announced Bruce's diagnosis of aphasia in spring 2022, Bruce's condition has progressed and we now have a more specific diagnosis: frontotemporal dementia (known as FTD). Unfortunately, challenges with communication are just one symptom of the disease Bruce faces. While this is painful, it is a relief to finally have a clear diagnosis.

FTD is a cruel disease that many of us have never heard of and can strike anyone. For people under 60, FTD is the most common form of dementia, and because getting the diagnosis can take years, FTD is likely much more prevalent than we know. Today there are no treatments for the disease, a reality that we hope can change in the years ahead. As Bruce's condition advances, we hope that any media attention can be focused on shining a light on this disease that needs far more awareness and research.
My heart goes to his wife, Emma Hemming, their daughters, Evelyn and Mable Ray, his ex-wife Demi Moore and their daughters, Rumer, Scout, and Tallulah. I lost my father to dementia and Parkinson's. It is incredibly difficult to watch them decline and know there is nothing you can do to help them.
I hope that Willis is able to enjoy Rumer's baby, who will be his first grandchild because babies are great medicine.

---
Surprise, Rumer Willis is pregnant!
December 21st, 2022 under Demi Moore. [ Comments: none ]
Bruce Willis and Demi Moore are entering the hot kooky unhinged grandparent era because their oldest daughter is pregnant!
Rumer Willis, 34, and Derek Richard Thomas, lead singer of Vista Kicks, are expecting their first child sooner rather than later. The two have been dating for two years.
I really hope that Rumer recreates the famous photo that her mom took when she was pregnant with her.
Congrats to them all!

---
Is Demi Moore really 59?
July 7th, 2022 under Are they really their age?, Demi Moore. [ Comments: none ]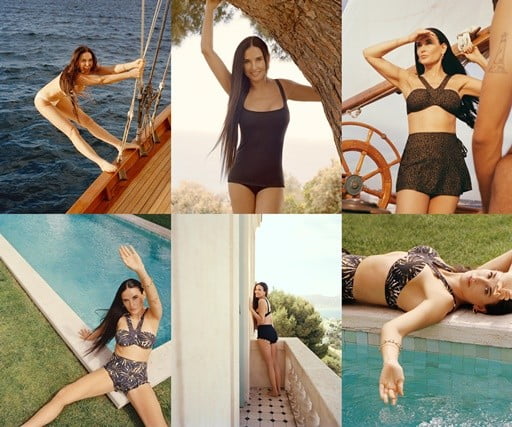 Demi Moore has defied aging all of her life, and she is still defying it.
The actress has a body that women a third her age wish they could have. And now she is showing it off in a line of bathing suits she created with Melanie Travis from Andie Swim.
The 59-year-old looks better in a bikini now than she did when she starred in 1986s One Crazy Summer. I think she needs to share her Fountain of Youth secret with all of us because it is not fair that she is keeping it all to herself.

---
BTWF: Demi Moore in Parasite
March 14th, 2022 under Before They Were Famous, Demi Moore. [ Comments: none ]
Before Demi Moore was having One Crazy Summer, she was having one crazy life in Parasite. She looks the same now as she did when she was 19 in that 1982 movie.

---
Andrew McCarthy and Demi Moore have a mini-St. Elmo's Fire reunion
March 14th, 2022 under Andrew McCarthy, Brat Pack, Demi Moore, Reunions. [ Comments: 7 ]
Back in 1985, a movie came out called St. Elmo's Fire, and it is said to be the movie that launched the Brat Pack. It starred Andrew McCarthy, Demi Moore, Rob Lowe, Ally Sheedy, Mare Winningham, Judd Nelson, and Emilio Estevez. Every teenager in the '80s wanted their 20s to be like the characters in that movie.
That was then. The movie never got a sequel, so we were left to imagine what would happen to those friends when they were in the 50s. Over the weekend, we got to see that Jules and Kevin would still be hanging out in the year 2022.
So why did Andrew McCarthy and Demi Moore reunite? The actor wrote, "Great talking with my old friend Demi Moore today for my Brat Pack documentary!" Now, I want to know all about that doc that he is making and who is going to be in it. If the documentary is as good as his autobiography, Brat, it is going to be even better than St. Elmo's Fire.
Now, let's talk about how incredible the two 59-year-olds look. They look even better now than they did then.

---