Murderville kills it with the jokes on Netflix
February 3rd, 2022 under Conan O'Brien, Ken Jeong, Netflix, Sharon Stone, Will Arnett. [ Comments: none ]
Will Arnett teamed up with Netflix to give us Murderville, a murder mystery show that is half scripted and half improv. Will Arnett and a few other cast members are given a basic script, and the episode's guest star is not given one. That guest has to pay attention because they have to solve the murder of the week.
Who are the victims? I mean guest cops, who work alongside Terry Seattle (Arnett)? They are Annie Murphy, Conan O'Brien, Ken Jeong, Kumail Nanjiani, Marshawn Lynch, Sharon Stone. Believe it or not, football star Lynch was the best one of them all, and they were all great as they put up with the comedic punches.
Each episode starts off with Chief Rhonda Jenkins-Seattle (Haneefah Wood) telling her soon-to-be ex-husband that he is getting a new partner. Then Seattle banters with them before they go to the morgue. When they get there, they are greeted by Medical Examiner Amber Kang (Lillian Bowen). She tells them how each victim was murdered and gives them some clues. Now, Seattle and his partner of the week are off to interview three different suspects. At the end of the interrogations, the guest star has to reveal who they think did and why? Once they make their reveal, the chief comes out and tells them if they are correct or if they are wrong.
Sounds easy, it isn't. This is one of the few police procedurals where I didn't get any of the killers correct. But then again, it could be because the biggest guest star was the cop and not the murderer. How evil is that?
Not as evil as Arnet is to all of them. He keeps them on their toes with his humor. All of the guest stars have to play off of him and not laugh. Jeong kept breaking while Stone was able to one-up his crazy antics. And there is Conan, who was taken down by a little girl. It was so awesome to watch.
Actually, all six episodes are fun to watch, and I hope that Netflix orders more because I need and want it. I need an episode with Will Forte!
Murderville is the type of show that you binge in one afternoon. However, you are going to watch it again to see if you can resolve all of the crimes now that you know who committed them and why.

---
Will Arnett is going to improvise a murder mystery with celebrity guests
January 13th, 2022 under Netflix, Will Arnett. [ Comments: none ]
Will Arnett has done scripted and unscripted shows. Coming on February 3rd, he is going to combine the two with Murderville on Netflix.
The six-episode procedural is described as "Meet Senior Detective Terry Seattle (Will Arnett), Homicide Division. For Terry, every day means a new murder case and a new celebrity guest star as his partner. But here's the catch: each episode's guest star isn't being given the script. They have no idea what's about to happen to them. Together, the guest star and Terry Seattle will have to improvise their way through the case… but it will be up to each celebrity guest alone to name the killer."
Who are the celebrity detectives? They are Annie Murphy, Conan O'Brien, Ken Jeong, Kumail Nanjiani, Marshawn Lynch, and Sharon Stone. I think Conan's episode will be the funniest, and Lunch is going to surprise us. What does a football player know about improv? We will find out.
I can't wait to see what mayhem they bring because you know they are going to bring it.

---
What does the J.J. stand for in J.J. Abrams?
August 6th, 2021 under Jason Bateman, JJ Abrams, Sean Hayes, Will Arnett. [ Comments: none ]
Have you wondered what the J and the J in J.J. Abrams stands for? We are not alone. Jason Bateman, Will Arnett, and Sean Hayes also wanted to know. So they asked him when he was on their podcast, Smartless.
Enough backstory, the moment of truth is here. His name is Jeffrey Jacob Abrams.
How does it feel to finally have a J.J. Abrams mystery solved? If only we could do that with hie show Lost too. I still don't know what happened after all of these years.

---
Lego Master is hosting Lego Masters
October 30th, 2019 under Will Arnett. [ Comments: none ]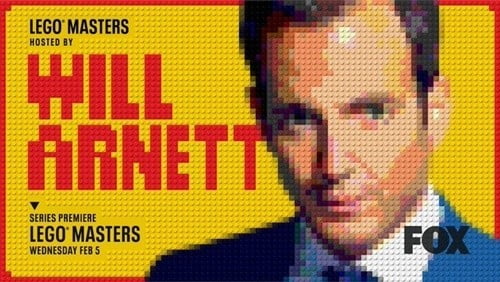 On February 5th, Lego enthusiasts are going to compete on Lego Masters and today Fox announced who will be hosting the competition show. It is Batman. As in Lego Batman aka Will Arnett. The plastic superhero had this to say about his new job, "It gives me piece of mind to be able to continue building my relationship with The LEGO Group."
What exactly is the game show? It will bring imagination, design and creativity to life when teams of LEGO enthusiasts go head-to-head, with infinite possibilities and an unlimited supply of LEGO bricks. Teams of two will compete against each other in ambitious brick-building challenges to be crowned the country's most talented amateur LEGO builders. In each episode, the competing pairs who impress the judges the most will progress to the next round, until the finale.
As someone who knows people who are addicted to Lego, I cannot wait to see what they do on the game show. It is incredible what they can do with those little plastic blocks that hurt to step on.
You know what would be awesome? Is if each week, the eliminated pair had to walk over a Lego carpet as they bid adieu.

---
Netflix sends BoJack Horseman to the glue factory
September 27th, 2019 under Netflix, Will Arnett. [ Comments: none ]

BoJack Horseman has a had a good run on Netflix, but it is almost over. The streaming site announced today that the alcoholic acting horse is starring in his last season with them starting on October 25th. Since they don't want to ruin your Halloween, you will have to wait until January 31st for the second part of his final season.
I enjoyed the first few seasons of the animated show, but it became way too depressing for me. I stopped watching because I have enough things to be depressed about. I don't need a show to make me feel melancholy.

---