Will Arnett is going to improvise a murder mystery with celebrity guests
January 13th, 2022 under Netflix, Will Arnett. [ Comments: none ]
Will Arnett has done scripted and unscripted shows. Coming on February 3rd, he is going to combine the two with Murderville on Netflix.
The six-episode procedural is described as "Meet Senior Detective Terry Seattle (Will Arnett), Homicide Division. For Terry, every day means a new murder case and a new celebrity guest star as his partner. But here's the catch: each episode's guest star isn't being given the script. They have no idea what's about to happen to them. Together, the guest star and Terry Seattle will have to improvise their way through the case… but it will be up to each celebrity guest alone to name the killer."
Who are the celebrity detectives? They are Annie Murphy, Conan O'Brien, Ken Jeong, Kumail Nanjiani, Marshawn Lynch, and Sharon Stone. I think Conan's episode will be the funniest, and Lunch is going to surprise us. What does a football player know about improv? We will find out.
I can't wait to see what mayhem they bring because you know they are going to bring it.

---
What does the J.J. stand for in J.J. Abrams?
August 6th, 2021 under Jason Bateman, JJ Abrams, Sean Hayes, Will Arnett. [ Comments: none ]
Have you wondered what the J and the J in J.J. Abrams stands for? We are not alone. Jason Bateman, Will Arnett, and Sean Hayes also wanted to know. So they asked him when he was on their podcast, Smartless.
Enough backstory, the moment of truth is here. His name is Jeffrey Jacob Abrams.
How does it feel to finally have a J.J. Abrams mystery solved? If only we could do that with hie show Lost too. I still don't know what happened after all of these years.

---
Lego Master is hosting Lego Masters
October 30th, 2019 under Will Arnett. [ Comments: none ]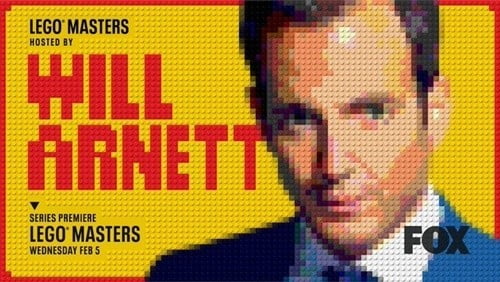 On February 5th, Lego enthusiasts are going to compete on Lego Masters and today Fox announced who will be hosting the competition show. It is Batman. As in Lego Batman aka Will Arnett. The plastic superhero had this to say about his new job, "It gives me piece of mind to be able to continue building my relationship with The LEGO Group."
What exactly is the game show? It will bring imagination, design and creativity to life when teams of LEGO enthusiasts go head-to-head, with infinite possibilities and an unlimited supply of LEGO bricks. Teams of two will compete against each other in ambitious brick-building challenges to be crowned the country's most talented amateur LEGO builders. In each episode, the competing pairs who impress the judges the most will progress to the next round, until the finale.
As someone who knows people who are addicted to Lego, I cannot wait to see what they do on the game show. It is incredible what they can do with those little plastic blocks that hurt to step on.
You know what would be awesome? Is if each week, the eliminated pair had to walk over a Lego carpet as they bid adieu.

---
Netflix sends BoJack Horseman to the glue factory
September 27th, 2019 under Netflix, Will Arnett. [ Comments: none ]

BoJack Horseman has a had a good run on Netflix, but it is almost over. The streaming site announced today that the alcoholic acting horse is starring in his last season with them starting on October 25th. Since they don't want to ruin your Halloween, you will have to wait until January 31st for the second part of his final season.
I enjoyed the first few seasons of the animated show, but it became way too depressing for me. I stopped watching because I have enough things to be depressed about. I don't need a show to make me feel melancholy.

---
BTWF: Will Arnett on Sex and the City
May 29th, 2019 under Before They Were Famous, Sex and the City, Will Arnett. [ Comments: none ]

Before Will Arnett had a disastrous sex life as BoJack Horseman, he had a phenomenal one on Sex and the City. How sexy was the 28-year-old in that 1998 episode that lived up to the show's title?

---