Kelly Ripa wants Sharon Stone to marry her 26-year-old son
November 9th, 2023 under Kelly Ripa and Mark Consuelos, Sharon Stone. [ Comments: none ]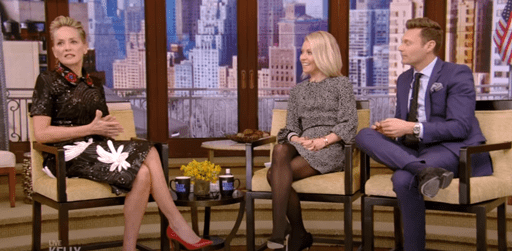 Kelly Ripa is an open book, too open. And on her latest podcast, Let's Talk Off Camera, she said something to her guest, Sharon Stone, that even shocked me. That is not something that is easy to do.
Ripa was talking about how her two sons, who don't agree on anything, agree on Stone's hotness. And then the host told the Basic Instinct star, "Sharon, I could set you up with my son [Michael Consuelos] right now. He's 26. I would love for you to be my daughter-in-law. That would be the greatest honor of our family." Then she added, "'Have you met my daughter-in-law Sharon Stone?' Would it be weird if we introduced you as our daughter-in-law, Sharon Stone?" In one word, "YES!"
So, would the 65-year-old actress date Ripa's son? Even though she has dated younger, her cut-off age is 45. Thank Gd because 40 years is way too much of an age difference.
To hear the full podcast, then click here!

---
BTWF: Sharon Stone for Seagram's Wine Cooler
August 15th, 2023 under Before They Were Famous, Bruce Willis, Sharon Stone. [ Comments: none ]
Before Sharon Stone and Bruce Willis starred in Alpha Dog, they drank Seagram's Wine Cooler. How beautiful was the 27-year-old in that 1986 commercial?

---
Is Sharon Stone really 65?
May 24th, 2023 under Are they really their age?, Sharon Stone. [ Comments: none ]
Sharon Stone is a senior citizen. However, you would never know it looking at this photo of her in a bikini.
Doesn't the actress look even better now than when she starred in Basic Instinct over 30 years ago? She is just stunning.

---
Is Sharon Stone really 64?
August 29th, 2022 under Are they really their age?, Sharon Stone. [ Comments: none ]
In just over six months, Sharon Stone is going to turn 65 years old. However, looking at her in a bikini, you would never believe that she is going to be a senior citizen in March. Because she doesn't look like any elderly person, I saw at Shady Pines.
Stone looks so amazing; even Marilyn Monroe is lusting over the actress.

---
Murderville kills it with the jokes on Netflix
February 3rd, 2022 under Conan O'Brien, Ken Jeong, Netflix, Sharon Stone, Will Arnett. [ Comments: none ]
Will Arnett teamed up with Netflix to give us Murderville, a murder mystery show that is half scripted and half improv. Will Arnett and a few other cast members are given a basic script, and the episode's guest star is not given one. That guest has to pay attention because they have to solve the murder of the week.
Who are the victims? I mean guest cops, who work alongside Terry Seattle (Arnett)? They are Annie Murphy, Conan O'Brien, Ken Jeong, Kumail Nanjiani, Marshawn Lynch, Sharon Stone. Believe it or not, football star Lynch was the best one of them all, and they were all great as they put up with the comedic punches.
Each episode starts off with Chief Rhonda Jenkins-Seattle (Haneefah Wood) telling her soon-to-be ex-husband that he is getting a new partner. Then Seattle banters with them before they go to the morgue. When they get there, they are greeted by Medical Examiner Amber Kang (Lillian Bowen). She tells them how each victim was murdered and gives them some clues. Now, Seattle and his partner of the week are off to interview three different suspects. At the end of the interrogations, the guest star has to reveal who they think did and why? Once they make their reveal, the chief comes out and tells them if they are correct or if they are wrong.
Sounds easy, it isn't. This is one of the few police procedurals where I didn't get any of the killers correct. But then again, it could be because the biggest guest star was the cop and not the murderer. How evil is that?
Not as evil as Arnet is to all of them. He keeps them on their toes with his humor. All of the guest stars have to play off of him and not laugh. Jeong kept breaking while Stone was able to one-up his crazy antics. And there is Conan, who was taken down by a little girl. It was so awesome to watch.
Actually, all six episodes are fun to watch, and I hope that Netflix orders more because I need and want it. I need an episode with Will Forte!
Murderville is the type of show that you binge in one afternoon. However, you are going to watch it again to see if you can resolve all of the crimes now that you know who committed them and why.

---