Has the Will & Grace cast changed a lot in 20 years?
December 20th, 2019 under Debra Messing, Megan Mullally and Nick Offerman, Sean Hayes. [ Comments:

3

]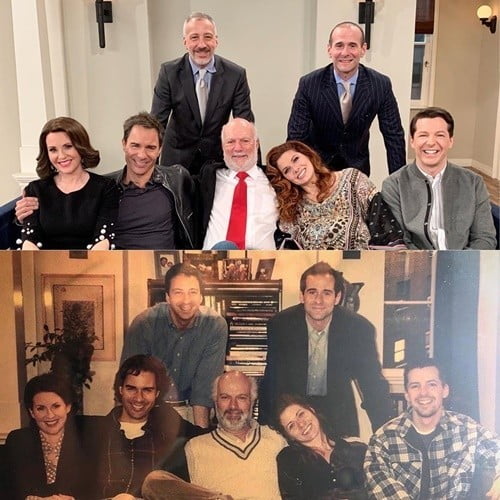 Back in 1998, Debra Messing, Eric McCoirmack, Megan Mullally and Sean Hayes got the job of a lifetime when they landed their roles on Will & Grace.
Twenty-one years later, they are still playing the same parts. However, not for much longer. That is because the sitcom is coming to an end.
Before they say goodbye, they shared a photo from the beginning of the show's run and one as they prepare to tape their last episode for a long time. In the two decades, neither the cast nor director James Burrows nor creators Max Mutchnick and David Kohan have aged a day. They just got better haircuts!
---
Will & Grace will honor I Love Lucy with Lucie Arnaz
November 25th, 2019 under Debra Messing, Megan Mullally and Nick Offerman, Sean Hayes. [ Comments:

6

]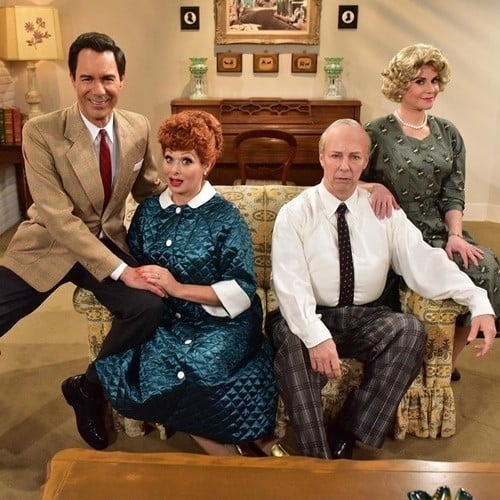 Anyone who watches Will & Grace can tell that Debra Messing has been heavily influenced by Lucille Ball. Well this week, she and the cast of the NBC sitcom will be filming an episode that will be paying tribute to I Love Lucy.
According to Entertainment Weekly: Messing, Sean Hayes and Megan Mullally will each play Lucy in a different dream sequence while Eric McCormack will recreate Ricky Ricardo. The mag says that, "Messing gets to play Lucy in a 'Vitameatavegamin' scene, Hayes will assume the title role in the chocolate factory, and Mullally will recreate the memorable grape stomping moment."
The sitcom got the go-ahead to do it from Lucie and Desi Arnaz, Jr. with the former appearing on the special episode. We do not know what she will be doing, but she teased us with, "A very special guest star, playing a very fun role … Any guesses??" I have none.
While I cannot tell you what she will be doing on the show, I can tell you it will air sometime in the Spring before the sitcom signs off for a second time.
UPDATE: Lucie Arnaz shared a photo from the set in makeup. To see if you got the answer right, then click here!
---
BTWF: Sean Hayes in Mo' Money
November 18th, 2019 under Before They Were Famous, Sean Hayes, Seth Meyers. [ Comments:

none

]

Before Sean Hayes starred in The Three Stooges, he worked with the modern-day stooges in Mo' Money. He looks the same now as he did when he was 20 in that 1992 movie.
Last week when he was on Late Night, he told Seth Meyers why he got fired from the movie shortly after they filmed that cameo. I guess you can say he was not able to wiggle it out of that situation.
---
Who looks better bald: Sean Hayes or Eric McCormack?
November 8th, 2019 under Better than..., Sean Hayes. [ Comments:

none

]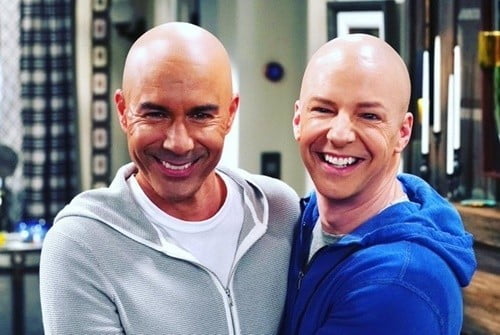 Yesterday on Will & Grace, Will (Eric McCormack) convinced Jack (Sean Hayes) to go bald because he said he was going to do the same. Therefore, at the end of the episode, we got to see both actors shiny chromes. Now that you have seen them without any hair, who do you think looks better? I say they both are hot as hell, although McCormack reminds me of the late sexy Telly Savalas.
Did they really go under the razor? Nope, they each spent two hours in the makeup chair to achieve that hairless style that took less than three minutes to remove.
---
Will & Grace gives birth to its final season
October 24th, 2019 under Debra Messing, Megan Mullally and Nick Offerman, Sean Hayes. [ Comments:

none

]

Tonight at 9:30p, Will & Grace & Grace begins its second final season. It takes place months after last season's finale.
Grace (Debra Messing) is living with Will (Eric McCormack) again after vacationing in Italy where she had lots of sex. She also got bit by a bug, so she goes to the doctor to see if the bite is safe. Since she was not safe in Italy, she finds out she is pregnant.
Will is dealing with how to make things work his new fiance' (Matt Bomer) who is working in London. Will they be able to make this love work with an ocean between them.
Jack (Sean Hayes) is getting used to being married to Estefan (Brian Jordan Alvarez). They have not had their first fight yet, and Jack will do anything not to have it. However, he does something that might lead to it. I cannot tell you what it is, but I can tell you they get extra trashy tonight.
Finally, Karen (Megan Mullally) has phone sex with one of the other three leads tonight. Can you guess who?
All I know is that I don't want this show to end. Yet, it looks like it will be going out on top.
---