Who looks better bald: Sean Hayes or Eric McCormack?
November 8th, 2019 under Better than..., Sean Hayes. [ Comments:

none

]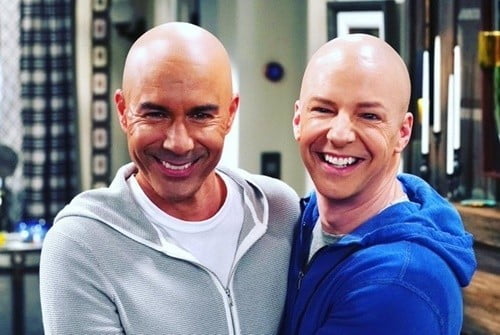 Yesterday on Will & Grace, Will (Eric McCormack) convinced Jack (Sean Hayes) to go bald because he said he was going to do the same. Therefore, at the end of the episode, we got to see both actors shiny chromes. Now that you have seen them without any hair, who do you think looks better? I say they both are hot as hell, although McCormack reminds me of the late sexy Telly Savalas.
Did they really go under the razor? Nope, they each spent two hours in the makeup chair to achieve that hairless style that took less than three minutes to remove.
---
Will & Grace gives birth to its final season
October 24th, 2019 under Debra Messing, Megan Mullally and Nick Offerman, Sean Hayes. [ Comments:

none

]

Tonight at 9:30p, Will & Grace & Grace begins its second final season. It takes place months after last season's finale.
Grace (Debra Messing) is living with Will (Eric McCormack) again after vacationing in Italy where she had lots of sex. She also got bit by a bug, so she goes to the doctor to see if the bite is safe. Since she was not safe in Italy, she finds out she is pregnant.
Will is dealing with how to make things work his new fiance' (Matt Bomer) who is working in London. Will they be able to make this love work with an ocean between them.
Jack (Sean Hayes) is getting used to being married to Estefan (Brian Jordan Alvarez). They have not had their first fight yet, and Jack will do anything not to have it. However, he does something that might lead to it. I cannot tell you what it is, but I can tell you they get extra trashy tonight.
Finally, Karen (Megan Mullally) has phone sex with one of the other three leads tonight. Can you guess who?
All I know is that I don't want this show to end. Yet, it looks like it will be going out on top.
---
Jane Lynch reveals why they curbed the booze on Hollywood Game Night
August 22nd, 2019 under Conan O'Brien, Jane Lynch, Sean Hayes. [ Comments:

none

]

Jane Lynch was on Conan yesterday and Andy Richter mentioned how much drinking they did on the NBC show. The game show host said that it used to be that a glass never went empty on HGN.
However, things have changed and now they do not serve as much alcohol as they used to. Why? Simply too many, celebs and contestants got really wasted.
How drunk? She said that one person was so upset that they missed out on a point that they got into a fetal position and tears were flowing down her face. Another one got so drunk, that he could not stand up anymore. The last instance she talked about is someone gave a speech to the audience about how hard it is to find a good nanny.
I guess you can understand why Sean Hayes, who produces the show, put his foot down and stopped encouraging the players from having an unlimited amount of liquor. I mean he does not have kids, what does he know about hiring nannies? I guess it was for those people who found themselves crying like an infant or couldn't walk. What nanny wants to put up with that.
Of course, I am joking about Hayes being the one. Here is the IMDB page listing who has been on the show. Who do you think are the answers to her blind items? I think Kelly Clarkson or Kristen Bell was the crier and Jason Biggs was the person who has nanny issues. They are just the three names who popped into my head.
Side note: Jane Lynch and Andy Richter have been worked together almost 30 years ago. To see then do their take of The Brady Bunch, then click here.
---
Sean Hayes misses an upcoming episode of Will & Grace?
August 15th, 2019 under Sean Hayes. [ Comments:

2

]

Even though Will & Grace is an ensemble cast, is it really an episode of the show without Jack McFarland? That is something we might find out during the final season of the revival.
Eric McCormack posted the above video and wrote, "Breaking News: @seanhayes replaced by cardboard cutout on #WillandGrace! We miss you, buddy!" He did not say why his co-star is missing from the quartet nor did he say for how long it will be.
When Hayes saw the video, he wrote, "Hopefully when you watch this episode, you won't know the difference between me and a cardboard cut-out." Does that mean we are getting a Jack-less episode?
Hayes has been posting photos and videos from his trip to Massachusetts, so he is no where near Hollywood. Therefore, it looks like it might be the case. Thankfully, it is not. Hayes told a fan, "Aww. Not to worry. I'm in the episode. We are shooting my scenes after I get back from my scheduled vacation. 👍🏼"
Hey, you had to worry about this for a few minutes. I, on the other hand, had to wait 16 hours to find out we had nothing to worry about.
You know, for the first time in his life, Sean Hayes was flat. He is always such a character and that is why we love him.
---
Will & Grace is ending…again
July 25th, 2019 under Debra Messing, Megan Mullally and Nick Offerman, Sean Hayes. [ Comments:

2

]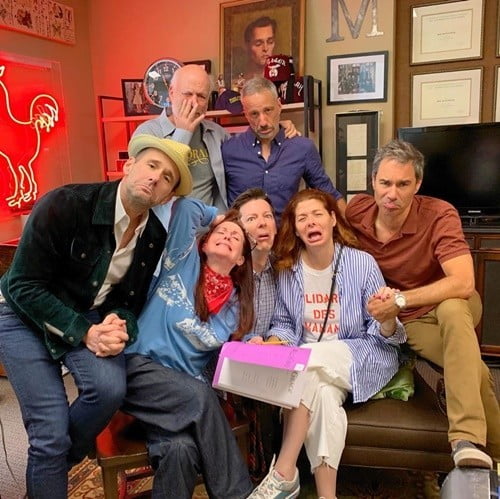 Back in 2006, NBC cancelled Will & Grace. Then in 2017, they picked it up for another season and two more after that. Today, the cast announced that this season will be the show's last…again. At least for now because with this sitcom, you never know.
Debra Messing wrote, "ANNOUNCEMENT~ to the best fans IN THE WORLD, W&G fans, we wanted to tell you that this will be the last season of the Reboot. The creative team (pictured) got together and we decided it was the right time. We were so lucky to have the opportunity to reunite and do the show AGAIN. It was only supposed to be 10 episodes, but because of you, the fans, it has turned into 3 YEARS. What a miracle. We are all committed to making this season the best ever, and to wrap up the story of Will, Grace, Jack and Karen in a way that feels meaningful and right. THANK YOU @nbc and @bobgreenblattpics for bringing us all back together. We have been spoiled,once again, by brilliant writers and producers, and the best crew in town. I love you all. ❤️"
Eric McCormack had this to say, "Well, we're taking this one out like we brought it in: with love, laughs, gratitude… and on our own terms. Season 3 of #WillandGrace (we'll, season 11) will be our grand finale… and it's gonna be fantastic!"
Megan Mullally said, "all things must pass, and the Will & Grace television program is no exception. we've decided to end the show after this 3rd revival season… i know, it's very sad! we'll miss you! the 3rd and final season of #willandgrace will begin airing on #nbc january #2020, so don't miss out. lots of love and huge thanks to you from everyone at Will & Grace 🙋‍♀️🙋‍♂️🙋‍♀️🙋‍♂️ @nbcwillandgrace"
Finally, Sean Hayes weighed in with, "For all 'Will & Grace' fans, I am sharing the news that this is going to be our last and final season (which premieres this winter). To everyone who watched the first run and to everyone that encouraged this reboot, we did it all for you.
"What a blast it's been reliving these characters for these three seasons. Thank you so much for allowing us the opportunity to entertain you. I am forever grateful. ❤️ We'll see you in 10 years for the third installment! 😃"
I am sad to see Will & Grace end. I did not watch it the first time around, caught up before the revival and now I am hooked. It always makes me laugh. Now that I am losing The Good Place and Will & Grace, I wonder how NBC is going to continue to bring the funny. And I am not talking the reality show with Kenan Thompson and Jeff Foxworthy and Chrissy Teigen.
---