Tom Jones wants you ladies to stop throwing underwear!
August 1st, 2010 under Tom Jones. [ Comments: none ]

(undies thown at :20 in)


Tom Jones has a request for his female fans, stop throwing your underwear at him. The She's A Lady singer told The Telegrapgh, ""It's just wrong. I'm laying my soul down here. And people start laughing." I don't know maybe its just me, but It's Not Unusual or What's New Pussycat? are not very soulful.
I also never got why women throw their undies at him? It could be because of his reaction the first pair of knickers that came his way. He said he used them to wipe his brow and I am sure from that story lead to other woman wanting him to use their pussycat holder to wipe the sweat off of his face. I guess it is their special connection with him.

---
It's Not Unusual…to go gray!!!
January 31st, 2009 under Tom Jones. [ Comments: none ]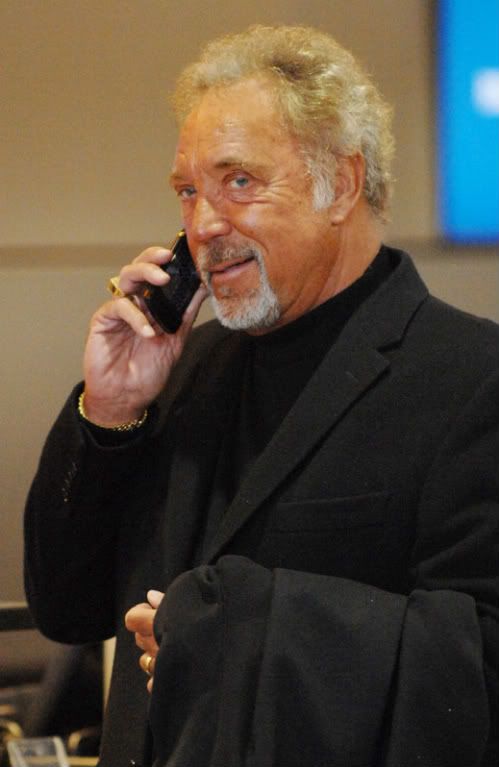 What's New Pussycat? Tom Jones stopped dying his hair! He is in finally letting his natural color show at 68 and I have to say I like him gray!!!

---
Bret Michaels does Barry Manilow and Tom Jones!
April 29th, 2008 under Barry Manilow, Bret Michaels, Tom Jones. [ Comments: 3 ]




I can't wait to see Bret Michaels do those songs and others on tomorrow night's Don't Forget the Lyrics at 8p on Fox! It is great to see him make a fool of himself and this time he is doing it what he does for a living…singing not trying to find love!

---
Who is aging better…Tom Jones or Luke Perry?
November 19th, 2007 under Beverly Hills 90210 / Melrose Place, Tom Jones. [ Comments: 2 ]
Considering that Tom Jones is in his late 60's and Luke Perry is in 40's and they both look the same age, I am going with Tom Jones.

---
Who will be KO'd Pussycat…Tom Jones or Mike Tyson?
October 20th, 2006 under Mike Tyson, Tom Jones. [ Comments: none ]
Welsh pop veteran Tom Jones will be stepping into the boxing ring with Mike Tyson in a celebrity bout planned for later this year. The former world heavyweight champion, nicknamed Iron Mike, revealed his surprising opponent shortly after expressing a desire to also take on female Texan boxing champ Ann Wolfe. The fights are part of a series of high-profile charity events designed to propel the boxer back into the limelight. Tyson, who served three years in jail for a rape conviction in 1992 and once bit off part of boxer Evander Holyfield's ear, retired from boxing in June 2005. He says, "It's just going to be marvelous. Tom Jones is going to be one of the boxers. What if I get beat? Who knows – I might even enjoy it! I'm not interested in smashing people. This is gonna be fun."
My money is on Tom Jones winning! All his fans will throw their granny underwear into the ring thus blinding Tyson!

---